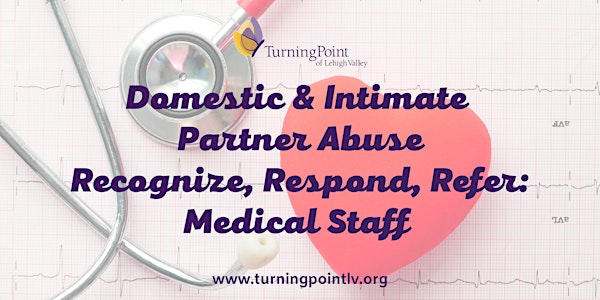 Domestic & Intimate Partner Abuse-Recognize, Respond, Refer -Medical Staff
Overview of services available, how to recognize, respond and refer for suspected domestic and intimate partner abuse.
About this event
Join us for a drop-in session and learn about the highlights of Turning Point's services, an overview on what is domestic and intimate partner abuse, health implications, Traumatic Brain Injury, and best practice in screening and referral. This presentation is geared towards students, office staff and physicians in any hospital, doctor's office, mental health practice or clinic. Certificate of attendance available upon request.
If you have any questions or would like to request any of our materials, contact our training facilitator, Medical Outreach Advocate, Melissa Grimmer at MelissaG@turningpointlv.org or (610) 797-0530, ext. 315 or Community Outreach Director, Meredith Mecca, at MeredithM@turningpointlv.org or 610-797-0530, ext. 221.
If you or someone you know needs help with a domestic or intimate partner abuse situation in Lehigh or Northampton Counties, please reach out to our 24/7 helpline at 610-437-3369 / Toll-free: 877-438-4957 / TTY: 610-419-4594. www.turningpointlv.org.