Domestic Church Day: Strengthening the Family with Mary

Saturday, September 23, 2017 from 12:30 PM to 6:30 PM (EDT)
Event Details
Join fellow Catholic couples and families for a "Domestic Church Day" with the theme of Strengthening the Family with Mary. This half-day family retreat will feature a reflection on how Mary walks with families in dynamic catechesis sessions for all the members of the family, spiritual devotions including a multi-cultural rosary in front of a hand-embroidered tilma of Our Lady of Guadalupe, and vigil Holy Mass celebrated by His Excellency, Bishop Mario Dorsonville, Auxiliary Bishop of the Archdiocese of Washington. The day will conclude with fun cultural activities and pupusas, tacos, and tamales. The cost of attendance is $10 per adult ($10.00 plus $1.49 processing fee) and free for children under the age of 18. The full schedule can be found below (after the Spanish announcement).
Únanse a parejas y familias católicas para un "Día de la iglesia doméstica" con el tema Fortalecimiento de la Familia con María, el sábado 23 de septiembre, 2017 de 12:30 a 5:30 p.m. en el Santuario Nacional San Juan Pablo II.
Este retiro de medio día dedicado a la familia contará con una reflexión sobre cómo María camina con las familias en sesiones de catequesis para toda la familia, devociones espirituales, además de un Rosario Multicultural que se rezará ante una Tilma de Nuestra Señora de Guadalupe bordada a mano, y una Santa Misa de vigilia presidida por Obispo Mario Dorsonville. La jornada concluirá con alegres actividades culturales, así como con pupusas, tacos y tamales. El costo de participación es de $10 por adulto ($10.00 mas $1.49 cuota de procesamiento) y gratis para niños menores de 18 años.

This event is sponsored by the Archdiocese of Washington Office of Cultural Diversity and the Saint John Paul II National Shrine.
El evento es auspiciado por la Oficina de Diversidad Cultural y Enlace de la Arquidiócesis Washington y el Santuario Nacional San Juan Pablo II.
Schedule (Horario):
12:30 p.m. to 1:15 p.m. Registration, Check-In for the Event, and Check-in for Children's Catechesis (Registracion para toda la familia)

1:15 - 1:30 p.m. Welcome and Opening Prayer (Bienvenida y Oracion)

1:30 to 2:30 p.m. Catechesis Sessions (Sesiones de catequesis para toda la familia)
Married Couples / Engaged Couples – "A Reflection on Mary Walking with Families" by Father Mario Majano (bio below)

Teens (13 to 17) – "Loving Jesus through Mary" by Samuel Vasquez

Children (7 to 12) – Fun activities and catechesis about Mary by the Servants of the Lord Sisters 

Children (2 to 6) – Fun activities and catechesis about Mary by the Servants of the Lord Sisters 

 2:30 to 4:00 p.m. Free Time for Various Spiritual Devotions (Tiempo libre para varias devociones espirituales)

Prayer at the Hour of Mercy and Divine Mercy Chaplet led by the Sisters of Our Lady of Mercy (3:00 P.M. Redemptor Hominis Church)

Multi-cultural Rosary in front of a beautiful, hand-embroidered tilma of Our Lady of Gaudalupe (3:30 P.M. Redemptor Hominis Church)

Family Veneration of the Saint John Paul II Relic (Luminous Mysteries Chapel)

New Children or Adult Audio Tour of A Gift of Love: The Life of Saint John Paul II exhibit
Snack for young children

 4:00 to 5:00 p.m. Vigil Holy Mass with Bishop Mario Dorsonville  (Santa Misa)

 5:30 to 6:30 p.m. Fun cultural activities on the lawn and Mexican food - papusas, tacquitos, and tamales (Actividades culturales con bocadillos mexicanos)

 Other information:
Registration is welcome on the day of the event, but we can only accept cash or check.
Se acepta registraciones el dia del evento, pero solo en efectivo o por cheque.

Parking is free. El estacionamiento es gratuito.

This event will go on rain or shine. El evento continuirá si acaso hay lluvia.
No refunds. No hay reembolsos.

If you have any questions about the event, then please email the Evangelization and Catechesis team at events@jp2shrine.org 

Favor de contactarnos al events@jp2shrine.org si tiene alguna pregunta.
Key Note Speaker for the Adults: Father Mario Majano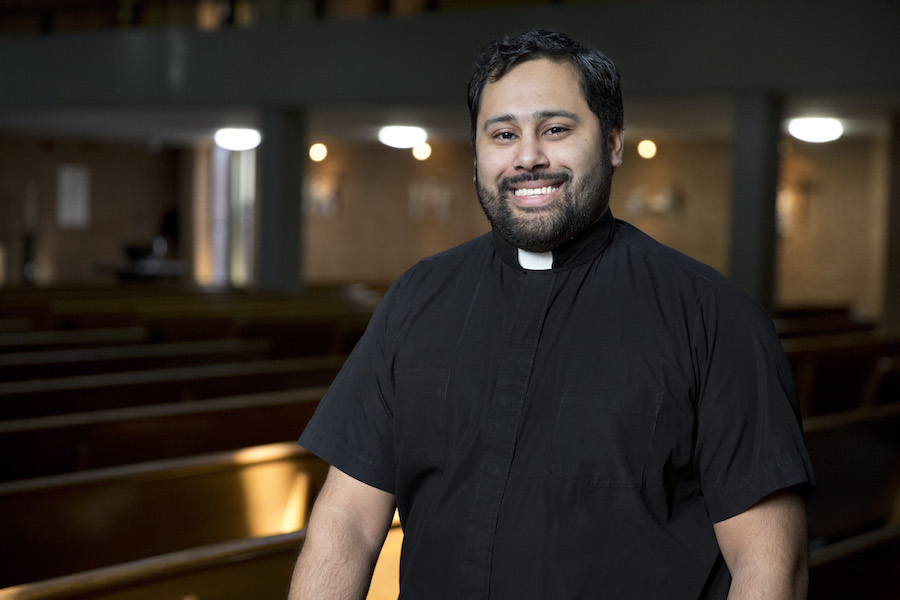 Fr. Majano is currently assigned as the parochial vicar at St. Andrew the Apostle Parish in Silver Spring, Maryland with a special assignment at Mision San Andres Apostol which serves the Hispanic community in the area.
Fr. Majano is very happy in his vocation as a priest, made obvious by his comment, "There is a certain joy of seeing in people the comfort of knowing there is a priest with them. So even in the saddest moments, you can see people kind of latch onto that hope that God is doing something in their lives. I think that's the most priceless part of the priesthood; you walk into every moment of different people's lives and you can see Christ entering. You can see Christ lighting something in their eyes and in their lives." -Father Majano
We are excited for him to be part of this Domestic Church Day!
When & Where

Saint John Paul II National Shrine
3900 Harewood Road Northeast
Washington, DC 20017


Saturday, September 23, 2017 from 12:30 PM to 6:30 PM (EDT)
Add to my calendar
Organizer
The Saint John Paul II National Shrine is a place of worship, religious formation, and cultural renewal to feed the minds and souls of its visitors. It is a place of pilgrimage with a first-class relic of St. John Paul II's blood available for veneration. Through liturgy and prayer, art, cultural events, and religious celebrations, pilgrims can enter into our patron's deep love for God and for man. A major permanent exhibit highlights significant events in the life of Pope John Paul II and his momentous influence as the spiritual father of one billion Catholics and as a world leader. From its conception, the Shrine was intended as a response to St. John Paul II's call for a "new evangelization," which was repeated by Pope Benedict XVI and Pope Francis. It is meant to be a place of genuine encounter with God that leads to a renewal of individuals, families, societies, and cultures — a place where God, who "entered history" (John Paul II, Homily, Dec. 24, 1999), heals and renews every dimension of human life. The United States Conference of Catholic Bishops designated the Shrine a national shrine on March 14, 2014.