A Weekend Full of Immersive Fulldome Films, IMERSA Panels, Planetarium Presentations, Industry Vendors, Mixers, and More!
About this event
NOTE: Tickets will ONLY be available online through Eventbrite. Please purchase your tickets in advance.
COVID POLICY : Fans must agree to the terms below prior to ticket purchases & event entry. Please note these confirmations will apply to all members of your party before they are allowed to enter the event and to any users of the tickets purchased by you.
By purchasing tickets for this event, I confirm that at the time of the event I will have received a negative COVID-19 test within 72-hours of the event, OR be fully vaccinated (14 days past final vaccination shot) against COVID-19. Children under 12 years of age will be required to take a COVID-19 diagnostic test within 72-hours before the event, and will provide proof of negative result to prior to entering the venue.
AN EVENT NOT TO MISS! There is something for everyone to love during Dome Fest West.
We invite you to join us at the first DOME FEST WEST, an Immersive Fulldome film festival and IMERSA Days conference. This unique event will bring together the Immersive Dome Community with Hollywood's up-and-coming content creators. Come see the new and better way to watch immersive video content; on a planetarium dome!
In partnership with IMERSA, Dome Fest West will include over 30 Dome film screenings, technology presentations, industry panels, festival mixers, and interactive workshops. All-Access Festival passes are available that include access to all of the Dome Fest West events taking place over the weekend, as well as All-Access Screening passes that allow for unlimited access to the screening portion of the festival.
Over this exciting weekend, immersive filmmakers from across the globe will have a chance to watch the most cutting-edge experiences and programs, learn from the best producers in the Entertainment Industry, and ultimately take immersive Dome content to another level. 

It's clear that Dome content isn't just for planetariums or science centers anymore! As more Dome venues come online in 2021, moviegoers will have a brand new way to watch Hollywood-caliber immersive content -- all without requiring a VR headset.
EVENT HOURS
** Registration Table Opens at 6 pm Friday, October 8th. **
Friday - Opening Night Ceremony - 7:30 PM to 9 PM
Saturday - 8 AM to 9 PM
Sunday - 9 AM to 8 PM
FILM SCREENING SCHEDULE
Friday Oct. 8, 7:30pm @ Planetarium
OPENING NIGHT PROGRAM "Hollywood x Fulldome"
**PRESENTED BY COSM**
Atlas of a Changing Earth
Filmmaker Q&A
Saturday Oct. 9, 10:00am @ Planetarium
Block 1 | Children's Educational| "Learning Made Fun"
In the Land of the Flabby Schnoock
GranPa & Zoe - Mission: Light
Tycho Goes To Mars
Legend of the Enchanted Reef
Saturday Oct. 9, 1:00pm @ Planetarium
Block 2 | Experimental | "Expanding Horizons"
SUPREMATISM. The day before
site-inflexion
A toothless Grin
SOLARIX
Polydomous
tx-reverse 360°
New World
Big Astronomy
Saturday Oct. 9, 4:00pm @ Planetarium
Block 3 | Visual Music | "Feel Beyond The Music"
**PRESENTED BY COSM**
BEAUTIFICA
Rukh
Joris Daniel - Give It All
déjà
Astro
Emersive
Sat Oct 9, 7:30pm @ Planetarium
LIVE in the Dome! | Performances by J-Walt and Michael Strauss
J-Walt
Michael Strauss
Sunday Oct. 10, 10:00am @ Planetarium
Block 4 | Contemplative | "Inner Journeys"
**PRESENTED BY COSM**
The Journey
The Being 360
Piano Under the Stars
Uninhabited Memories
LABYRINTH
Ayahuasca - Kosmik Journey Dome Experience
Sunday Oct. 10, 12:00pm @ Planetarium
Block 5 | Visual Music | "See Beyond the Music"
Guarania
Horizons of the Future
FLOW - Visions of Time
Sunday Oct. 10, 3:00pm @ Planetarium
Block 6 | Science Education | "Searching Beyond"
Narcissus
Living Worlds
Atlas of a Changing Earth
Tree Huggers
Hayabusa 2
IMERSA DAYS PANELS
Sat Oct 9, 8:00am - Lecture Hall
FULLDOME 101: An Introduction to the Medium
Saturday Oct. 9, 9:00am @ Lecture Hall
The Potential of Immersive Storytelling in a Transmedia Age
Saturday Oct. 9, 11:00am @ Lecture Hall
Impacting Audiences in the Age of COVID
Sat Oct 9, 1:00pm @ Lecture Hall
Shared Reality: The Future of Immersive Experience
Sat Oct 9, 3:00pm @ Planetarium
Live Action Cameras for Fulldome
Sat Oct 9, 5:15pm @ Lecture Hall
THE TRANSFORMATIONAL POWER OF IMMERSIVE: Domes and XR for Wellbeing
Sunday Oct. 10, 9:00am @ Lecture Hall
StoryWorld Revolution: The Immersive Era Is NOW!
Sunday Oct. 10, 11:00am @ Lecture Hall
Future of Immersive Venues Panel
Sunday Oct. 10, 1:00pm @ Lecture Hall
Masters of the Universe
Sunday Oct. 10, 2:00pm @ Planetarium
Virtual Production Tools for Immersive Media
PASS TYPES
All-Access Festival Pass - Includes entry to all Dome Fest West events including all six fulldome film screening blocks, IMERSA Days events, Discussion Panels, Awards Gala, and Evening Mixers.
All Access Screening Pass - Includes entry (capacity-permitting) to all six Dome Fest West film festival screening blocks.
Individual Screening Block Ticket (GA) - Grants the beholder entry into one screening block of films playing at the OCC Planetarium during the festival.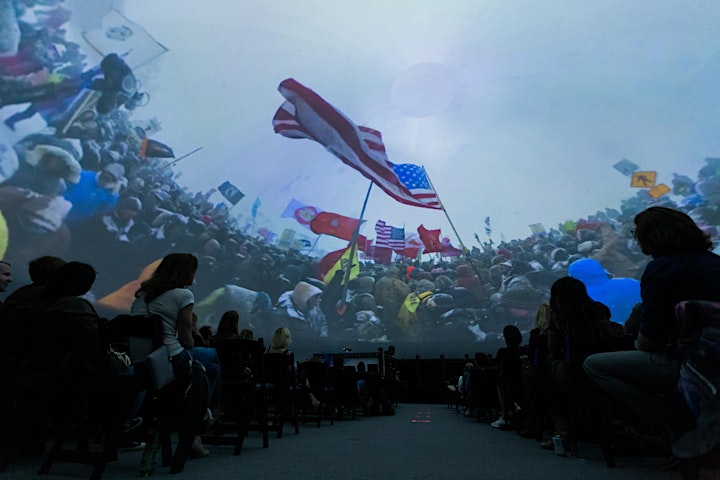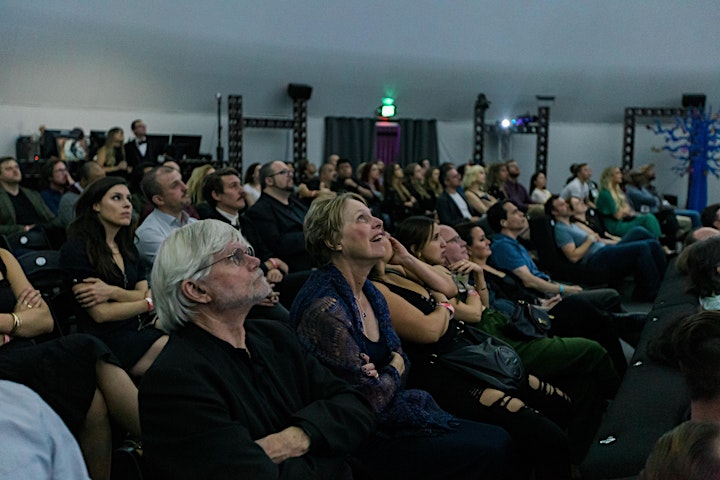 📌 Location: Orange Coast College Planetarium
💰 Admission: Event tickets are available only through Eventbrite and must be purchased online prior to arriving at the event.
🚗 Parking is free. ADA parking is available.
🐾 Sorry, no pets are allowed.
🖥 Visit our website for more info: Click Here
📸 Follow us on Instagram: Click Here
EVENT SAFETY GUIDELINES:
Masks are REQUIRED for NON-VACCINATED individuals. We highly recommend wearing a mask.
Per California Department of Public Health (CDPH) guidelines, attendees are recommended to be fully vaccinated or obtain a negative COVID-19 test before arriving at the event.
The following individuals are exempt from wearing masks at all times (CDPH):
Persons younger than two years old. Very young children must not wear a mask because of the risk of suffocation.
Persons with a medical condition, mental health condition, or disability that prevents wearing a mask. This includes persons with a medical condition for whom wearing a mask could obstruct breathing or who are unconscious, incapacitated, or otherwise unable to remove a mask without assistance.
Persons who are hearing impaired, or communicating with a person who is hearing impaired, where the ability to see the mouth is essential for communication.
Increased Sanitation:
Handsanitizing stations will be strategically placed around the event area.
High-touch surfaces will be disinfected throughout the event.
EVENT FAQ
Is there parking available at the event?
Yes. Parking is free. Please use lot E located on the Orange Coast College campus.