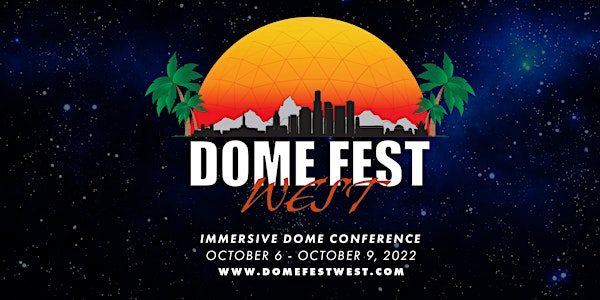 Dome Fest West 2022 Fulldome Film Festival
A Weekend Full of Immersive Fulldome Films, Informative Panels, Planetarium Presentations, Industry Vendors, Mixers, and More!
When and where
Location
Orange Coast College Planetarium 2701 Fairview Road Costa Mesa, CA 92626
Refund Policy
Contact the organizer to request a refund.
Eventbrite's fee is nonrefundable.
About this event
NOTE: Tickets will ONLY be available online. Please purchase your tickets in advance.
AN EVENT NOT TO MISS! There is something for everyone to love during Dome Fest West. See last year's selection in the trailer above!
We invite you to join us at DOME FEST WEST, an Immersive Fulldome film festival conference. This unique event will bring together the Immersive Dome Community with Hollywood's up-and-coming content creators. Come see the new and better way to watch immersive video content; on a planetarium dome!
Dome Fest West 2022 will include over 45 Dome film screenings, technology presentations, industry panels, festival mixers, and interactive workshops. All-Access Festival passes are available that include access to all of the Dome Fest West events taking place over the weekend, as well as All-Access Screening passes that allow for unlimited access to the screening portion of the festival.
Over this exciting weekend, immersive filmmakers from across the globe will have a chance to watch the most cutting-edge experiences and programs, learn from the best producers in the Entertainment Industry, and ultimately take immersive Dome content to another level. 

It's clear that Dome content isn't just for planetariums or science centers anymore! As more Dome venues come online in 2022, moviegoers will have a brand new way to watch Hollywood-caliber immersive content -- all without requiring a VR headset.
EVENT HOURS
** Registration Table Opens at 6 pm - Thursday, October 6th. **
Thursday - 6 PM to 9 PM
Friday - 9 AM to 9 PM
Saturday - 9 AM to 9 PM
Sunday - 9 AM to 7 PM
DAILY SCHEDULE
FULL LIST OF SCREENING FILMS HERE: https://www.domefestwest.com/schedule
Thursday, October 6th, 2022
6:00 PM - Festival Registration Opens
7:30 PM - Planetarium Theater Doors Open
8:00 PM - FILM SCREENINGS - Opening Night Program
Friday, October 7th, 2022
9:00 AM - FILM SCREENINGS - EPIC VOYAGES: Stories that go from the Oceans to Outerspace
1:00 PM - FILM SCREENINGS - STAR LESSONS & DREAMS: Educational Star Experiences & Stories
4:00 PM - FILM SCREENINGS - IMMERSIVE NARRATIVES: Story-focused Immersive Films
8:00 PM - FILM SCREENINGS - EXPERIMENTAL ART SHORT FILMS: Experimental Art Short Films Films
Saturday, October 8th, 2022
9:00 AM - FILM SCREENINGS - THROUGH A CHILD'S EYES: Films for even the youngest science fans!
11:00 AM - Discussion Panel "Immersive Art Education for Youth" moderated by Timmy Edens
1:00 PM - "Domes and XR Stages: Grand Convergence?" Keynote Presentation by Ed Lantz
3:00 PM - Presentation of DFW Live Fulldome Show Finalists & Discussion with Creators
4:00 PM - FILM SCREENINGS - MUSIC x ART: Visual Journeys Into Music
8:30 PM - LIVE Fulldome Program @ WisdomeLA
10:00 PM - Evening Reception @ WisdomeLA
Sunday, October 9th, 2022
9:00 AM - FILM SCREENINGS - MORNING MEDITATIONS: Meditative Experiences in the Dome
1:00 PM - FILM SCREENINGS - DOCUMENTARY FROM A NEW PERSPECTIVE: Immersive Documentary-style Stories
4:00 PM - FILM SCREENINGS - COSMIC FAMILY FUN (SATELLITES, ROCKETS, AND RIDE!): Fun Films for the Whole Family!
6:00 PM - Awards Ceremony
8:00 PM - Festival Closing Party @ Ave of the Arts Hotel Bar
PASS TYPES
All-Access Festival Pass - Includes entry to all Dome Fest West events including all fulldome film screening blocks, Workshop events, Discussion Panels, Awards Gala, and Evening Mixers.
All Access Screening Pass - Includes entry (capacity-permitting) to all Dome Fest West film festival screening blocks.
Individual Screening Block Ticket (GA) - Grants the beholder entry into one screening block of films playing at the OCC Planetarium during the festival.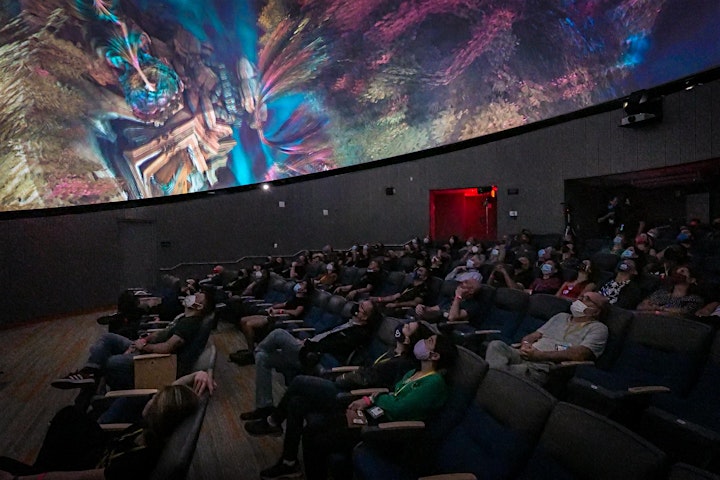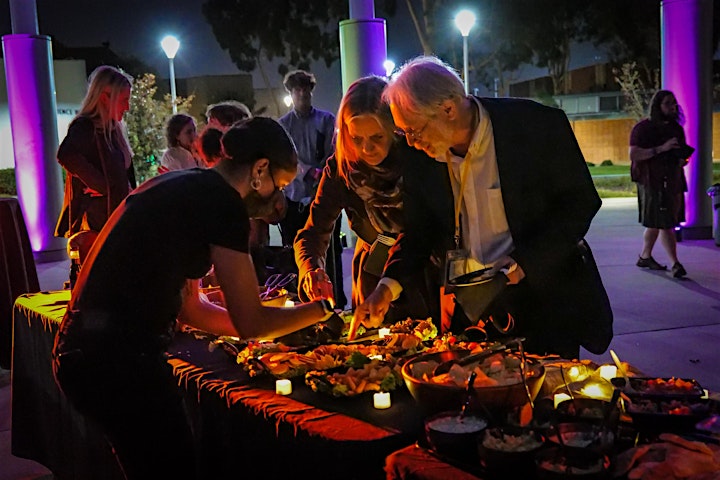 📌 Location: Orange Coast College Planetarium
💰 Admission: Event tickets are available only through Eventbrite and must be purchased online prior to arriving at the event.
🚗 Parking is free. ADA parking is available.
🐾 Sorry, no pets are allowed.
🖥 Visit our website for more info: Click Here
📸 Follow us on Instagram: Click Here
EVENT SAFETY GUIDELINES:
Masks are REQUIRED for NON-VACCINATED individuals. We highly recommend wearing a mask.
Per California Department of Public Health (CDPH) guidelines, attendees are recommended to be fully vaccinated or obtain a negative COVID-19 test before arriving at the event.
The following individuals are exempt from wearing masks at all times (CDPH):
Persons younger than two years old. Very young children must not wear a mask because of the risk of suffocation.
Persons with a medical condition, mental health condition, or disability that prevents wearing a mask. This includes persons with a medical condition for whom wearing a mask could obstruct breathing or who are unconscious, incapacitated, or otherwise unable to remove a mask without assistance.
Persons who are hearing impaired, or communicating with a person who is hearing impaired, where the ability to see the mouth is essential for communication.
Increased Sanitation:
Handsanitizing stations will be strategically placed around the event area.
High-touch surfaces will be disinfected throughout the event.
EVENT FAQ
Is there parking available at the event?
Yes. Parking is free. Please use lot E located on the Orange Coast College campus.