About this Event
Family and friends of Dolores Huerta invite you to Stockton Celebrates Dolores Huerta's 90th Birthday on Saturday, April 11th, 2020. Join us in celebrating a hometown SHE-RO and Assembly Bill 2644, which California Governor Jerry Brown signed into law, designating April 10th of each year as Dolores Huerta Day—a day when all Californians will recognize Dolores's lifelong work as a civil rights activist and community organizer. Dolores is the first and only living Californian to be bestowed this honor.
Your participation supports the community organizing work of the Dolores Huerta Foundation (DHF), which seeks to inspire and organize communities to build volunteer organizations empowered to pursue social justice. Proceeds raised will help fund projects to improve educational outcomes, promote LGBTQ equality, increase civic engagement and voter turnout in underrepresented communities, and ensure a more accurate count of every individual in the 2020 Census, securing political representation and critically needed federal funding for our neighborhoods.
The event will be held at the American Legion - Karl Ross Post No. 16 at 2020 Plymouth Rd. It begins at 6 p.m. with a program, dinner, and dancing to follow. You may register online at https://stocktoncelebratesdh90th.eventbrite.com. You may also confirm your attendance by mailing payment to Stockton Celebrates at P.O. Box 2087, Bakersfield, CA 93303, or by contacting Juanita Chavez, jchavez@doloreshuerta.org, (661) 748-3430.
Please consider supporting the DHF by becoming an event sponsor and/or donating items and/or memorabilia for our silent auction. You may make a tax-deductible contribution online at Give2DHF.org or mail donations to Stockton Celebrates, P.O. Box 2087, Bakersfield, CA 93303.
Thank you for your continued support of our work. We look forward to your participation in this historical event.
!Si Se Puede! Camila ChavezExecutive Director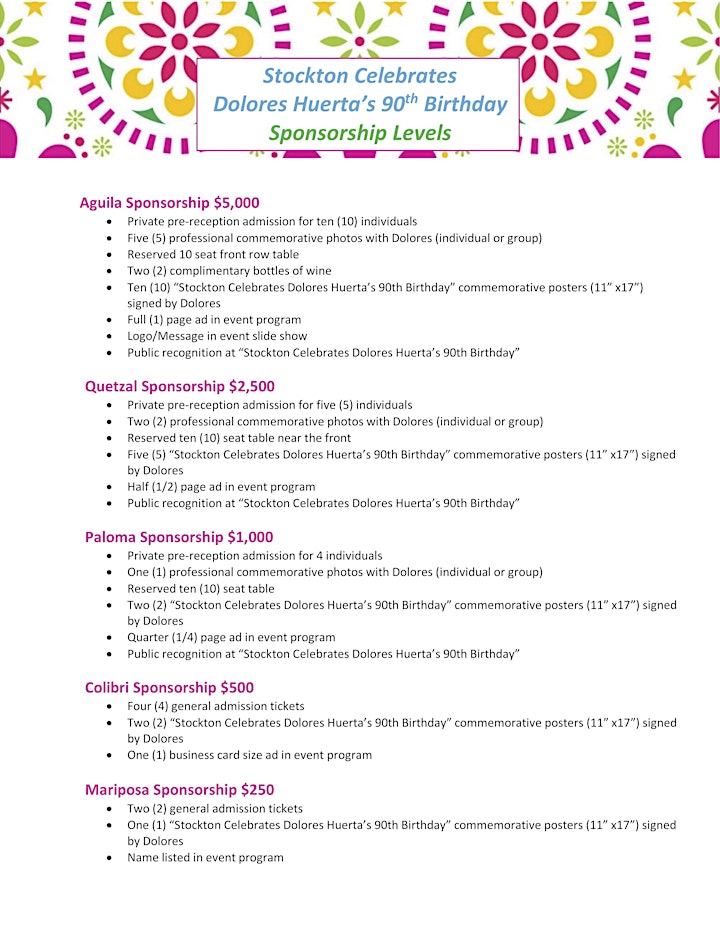 Stockton Celebrates
Dolores Huerta's 90th Birthday
Sponsorship Levels
Aguila Sponsorship $5,000
• Private pre-reception admission for ten (10) individuals
• Five (5) professional commemorative photos with Dolores (individual or group)
• Reserved 10 seat front row table
• Two (2) complimentary bottles of wine
• Ten (10) "Stockton Celebrates Dolores Huerta's 90th Birthday" commemorative posters (11" x17") signed by Dolores
• Full (1) page ad in event program
• Logo/Message in event slide show
• Public recognition at "Stockton Celebrates Dolores Huerta's 90th Birthday"
Quetzal Sponsorship $2,500
• Private pre-reception admission for five (5) individuals
• Two (2) professional commemorative photos with Dolores (individual or group)
• Reserved ten (10) seat table near the front
• Five (5) "Stockton Celebrates Dolores Huerta's 90th Birthday" commemorative posters (11" x17") signed by Dolores
• Half (1/2) page ad in event program
• Public recognition at "Stockton Celebrates Dolores Huerta's 90th Birthday"
Paloma Sponsorship $1,000
• Private pre-reception admission for 4 individuals
• One (1) professional commemorative photos with Dolores (individual or group)
• Reserved ten (10) seat table
• Two (2) "Stockton Celebrates Dolores Huerta's 90th Birthday" commemorative posters (11" x17") signed by Dolores
• Quarter (1/4) page ad in event program
• Public recognition at "Stockton Celebrates Dolores Huerta's 90th Birthday"
Colibri Sponsorship $500
• Four (4) general admission tickets
• Two (2) "Stockton Celebrates Dolores Huerta's 90th Birthday" commemorative posters (11" x17") signed by Dolores
• One (1) business card size ad in event program
Mariposa Sponsorship $250 

• Two (2) general admission tickets
• One (1) "Stockton Celebrates Dolores Huerta's 90th Birthday" commemorative posters (11" x17") signed by Dolores
• Name listed in event program