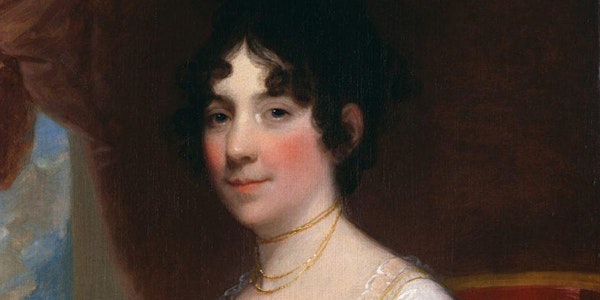 Dolley Madison - Film History Livestream (Now Sat. April 1)
Dolley Madison - Film History Livestream with Robert Kelleman - Washington, DC History & Culture.
By Washington DC History & Culture
Date and time
Saturday, April 1 · 12 - 2pm PDT
Refund Policy
Contact the organizer to request a refund.
Eventbrite's fee is nonrefundable.
About this event
POSTPONED: First Ladies Series: Dolley Madison - History Livestream
Hello, unfortunately today's Dolley Madison program is postponed.
This is a two-part program, part one a talk on Dolley Madison, and part two a docu-drama on Dolley Madison. Film trailer: https://www.youtube.com/watch?v=-hVHpwqDnao
Unfortunately the DVD we were going to stream the film from is now corrupted. : (
We have a new DVD on order but it will take a few days to get here.
Therefore, we will postpone our program until next Saturday.
Sorry for the short notice.
Additional details to follow.
Saturday, March 25 - Previous Date
Saturday, April 1 - New Date
12:00 pm - Los Angeles, CA / San Francisco, CA
2:00 pm - Dallas, TX / Chicago, IL
3:00 pm - Washington, DC / New York, NY
7:00 pm - London, England (UK now 4 hours ahead of DC & NY)
Please note daylight saving time in the United States!
___________________________
We invite you to join us for our latest film history livestream program: "Dolley Madison: America's First Lady", starring Eve Best in the title role.
The first portion of our two-part program (approximately 30 minutes) will be a brief overview of the "Dolley Madison: America's First Lady" film, including the historical context, things to look for, accuracy, etc.
The second portion of our two-part program will be a full screening of the "Dolley Madison: America's First Lady" film (90 minutes).
Dolley Madison lived through the two wars that established the U.S., was friends with the first 12 Presidents, and watched America evolve from a struggling young republic to the first modern democracy in the world. She was nicknamed "Queen Dolley," and when she died in 1849 at the age of 81 — one of the last remaining members of the founding generation - Washington City honored her with the largest state funeral the capital had ever seen for a woman.
Born prior to the signing of the Declaration of Independence, Dolley Payne grew up during a time when the country was striving to develop an identity. The daughter of strict Quaker parents, Dolley showed an early interest in contemporary dress and gossip - what her friends considered the evil temptations of the material world. Growing up in the capital city of Philadelphia presented many social opportunities for Dolley, but she acquiesced to her father's wishes that she marry a young Quaker lawyer, John Todd. After only three years of marriage, though, Dolley's husband died of Yellow Fever in an epidemic that also claimed her youngest son. Widowed and a single parent, she soon met U.S. Congressional Representative James Madison. Four months later, the couple married.
When James Madison became the fourth President of the United States in 1809, Dolley assumed the then ill-defined role of presidential wife. Throughout the world, other nations were ruled by kings and emperors who communicated their power and legitimacy through bejeweled crowns and thrones. In the still new America, and in its capital of Washington, the rules of presidential behavior in a democratic republic had not yet been established by the time the Madisons came to Washington.
As the president's wife, Dolley Madison created a uniquely American style - one that combined power with republican values. She presided over the first Inaugural Ball in Washington, opening it to the public; she took charge of transforming the President's House into a public space that was both elegant and democratic; and as her successors have done ever since, she adopted a social cause of her own, raising funds for an orphanage and advocating for children left parentless by the War of 1812.
Hosting weekly socials where Washington's elite could mingle in an unofficial capacity, Dolley Madison ushered in a new era of bipartisanship and behind-the-scenes politicking. After the War of 1812, when several politicians talked of abandoning the ravaged capitol and returning to Philadelphia, Dolley Madison continued to host social events, sending a clear message to influential members of Congress and Washington society that Washington was not beyond repair.
Over time, Dolley Madison earned a reputation as skillful diplomat, humanitarian, style icon, and politically savvy hostess. She defined the role of the President's wife and became, in effect, America's first First Lady, and in the process changed the face of the American presidency.
Dolley Madison features Tony Award-nominee Eve Best (Nurse Jackie) as Dolley Madison and Tony Award-winner Jefferson Mays as James Madison (I Am My Own Wife).
Film Trailer:
https://www.pbs.org/wgbh/americanexperience/films/dolley/#part01
________________________
Your host for this program is Robert Kelleman, the founder/director of the non-profit community organization Washington, DC History & Culture.
John F. Kennedy Assassination - November 22, 1963
YouTube previously recorded program with Robert Kelleman
https://www.youtube.com/watch?v=LZ-i4xFllak
Donations Support Our Non-Profit Community Programs - Thank You!
PayPal: DCHistoryAndCulture@gmail.com
Venmo: @DCHistoryAndCulture
GoFundMe: https://gofund.me/d29491c0
__________________________
Zoom Connection:
This educational and entertaining program is open to all regardless of age, geographic location, etc. and since it is an online/virtual event via Zoom you can connect from anywhere in the world.
Zoom events have a limit on the number of people that can participate and therefore the event may "sell-out" once a certain number of registrations has been reached.
Zoom Connection Link Will Be Emailed:
Login info will be emailed several times beginning 24 hours prior to the event.
If you don't receive the Zoom connection link please contact us.
Zoom Connection Suggestions:
Connecting a few minutes early is strongly recommended.
To join the event simply click the Zoom link and follow the instructions.
If clicking the link doesn't work try copying and pasting it instead.
Password not required.
Zoom may work better in some browsers/devices than others - if one doesn't work try another.
When all else fails please read and follow the directions. : )
Didn't Receive the Zoom Connection Info?
Check your spam folder, make sure you didn't sign-up with your other email address (personal vs. work, etc.), and also review the email settings on your Eventbrite account (you may have turned off our notifications)- link below:
https://www.eventbrite.com/account-settings/email-preferences
Additional Eventbrite Troubleshooting Link:
https://www.eventbrite.com/support/articles/en_US/Troubleshooting/did-my-email-send-invitations-order-confirmations-reminders?lg=en_US
_________________________
Washington, DC History & Culture
Experience the history and culture of Washington, DC - and the world!
For more entertaining and educational programs visit us at:
https://www.Facebook.com/DCHistoryAndCulture
https://DCHistoryAndCulture.Eventbrite.com
https://www.Meetup.com/DCHistoryAndCulture
http://www.youtube.com/c/WashingtonDCHistoryCulture
We look forward to seeing you - thanks!
Robert Kelleman
rkelleman@yahoo.com
202-821-6325 (text only)
History & Culture Travels / Washington, DC History & Culture
About the organizer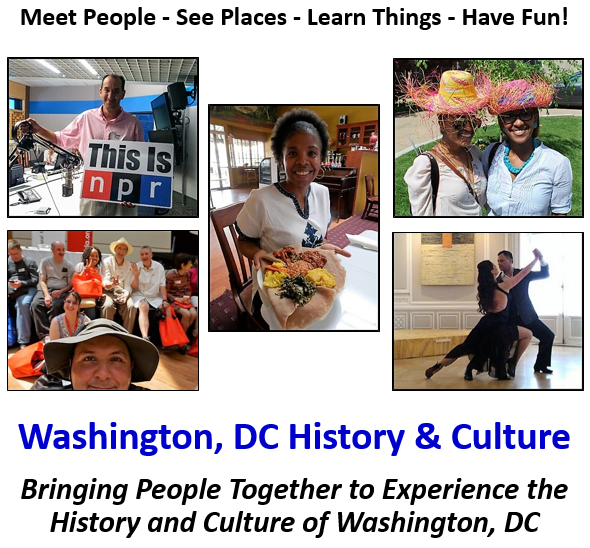 Meet People ~ See Places ~ Learn Things ~ Have Fun!

Washington, DC History & Culture

Bringing People Together to Experience the History and Culture of Washington, DC.


We look forward to seeing you - thanks!

Robert Kelleman

rkelleman@yahoo.com