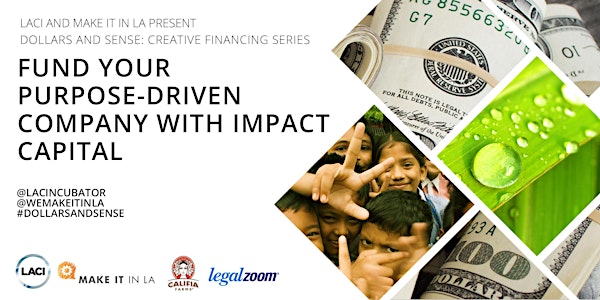 Dollars & Sense: Fund Your Purpose-Driven Company with Impact Capital
Event Information
Location
La Kretz Innovation Campus
525 South Hewitt Street
Los Angeles, CA 90013
Description
Do you have a business with a double or triple bottomline, where you are combining profit with purpose, i.e with an environmental or social impact? If so, there is potential capital that can help you grow your business and your impact. Impact investors include foundations, community development organizations, banks, individuals, family offices, non-profits, insurance companies and fund managers. There are many tools, products and strategies that impact investors use to help companies...and more are being created every year. Come hear from experts in the field and learn if/how your company can benefit from this type of capital.
AGENDA
10:00 Arrival
10:15 Welcome and overview
10:30 Deep Dives
11:50 Q&A
12:00 Adjourn
SPEAKERS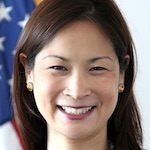 Christine Harada
Christine is President of i(x) investments. i(x) is a permanently capitalized holding company that provides individual and institutional investors a historic opportunity to create economic growth and catalytic social impact. Harada brings over 20 years' experience leading government and management consulting organizations. Most recently she was a partner at Ridge-Lane LP, a strategic advisory firm and merchant bank co-founded by former Pennsylvania Governor and Homeland Security Secretary Tom Ridge. Previously Harada served as Chief Sustainability Officer of the United States during the Obama administration where she was responsible for promoting environmental and energy sustainability across all federal government operations.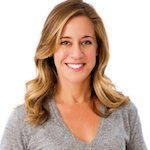 Maggie Neilson
Maggie is a co-founder and CEO at Global Philanthropy Group (GPG) where she leads efforts on issues including the status of Latinas in the U.S., education reform, global poverty alleviation, the use of technology and its social impact, women's mental health, conflict resolution, cause marketing, and kids with serious illnesses or disabilities for clients including The Eva Longoria Foundation, The Avril Lavigne Foundation and The Whitaker Peace and Development Initiative.
Previously, Maggie has addressed domestic and international social issues ranging from microfinance to childhood obesity and has provided strategy, communications and management services to multiple public and private sector organizations including the United Nations, Amazon.com, Unitus, Rachael Ray's Yum-o! Organization, John Legend's Show Me Campaign, the Cobalt Group, the M.A.C. Global AIDS Fund, Synergos and the E&J Gallo Winery.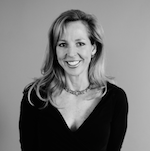 Tara Roth
Tara Roth is the president of the Goldhirsh Foundation. Prior to this role, Tara bridged the worlds of marketing, media, and philanthropy as the founding COO of GOOD and a social strategy advisor. Tara began her career in marketing and business development for NBCinternet and Infoseek. She has worked with organizations such as Participant Media, Fifteen Foundation, and the New Schools Venture Fund. As a senior advisor to GOOD, Tara helped launch the Pepsi Refresh Project. Tara received a bachelor's degree at Cornell University, and has an MBA from Oxford University where she was awarded a Skoll scholarship in social entrepreneurship. Tara is a member of the L.A. Sustainability Leadership Council and serves on the board of Southern California Grantmakers, USC's Sol Price School of Public Policy, and UCLA's School of Arts and Architecture and on the regional advisory boards of Opportunity Fund, FUSE Corps, and 826LA. She is a Senior Fellow at USC's Brittingham Social Enterprise Lab.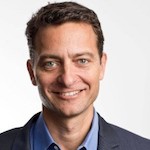 Brent Kessel
Brent Kessel, CFP is the co-founder and CEO of Abacus Wealth Partners, which provides fee-only, comprehensive financial advice to help individuals and families expand what's possible with money.
As an impact investment advisor, Abacus helps clients define their most important social values and financial goals, and then manages all aspects of their financial lives in service of both. Abacus has been a dedicated impact investment advisor for over 20 years, including providing seed funding for the world's first sustainable index mutual funds, and being an early anchor investor in several of the most successful and impactful private equity funds in industry history.
Brent's book, It's Not About the Money (Harper Collins), was named one of Kiplinger's Top Five Business Books of the Year. Abacus is a founding B Corp., is carbon-neutral, and donates over 5% of profits to charity each year.
ABOUT THE SERIES
Let us guess...One of the biggest hurdles for your company's growth is access to financing, right? But your company doesn't fit the profile that venture capitalists, angel investors, and traditional bank loan officers are looking for.
Welcome to the club! But good news: There are many more avenues to finance your business than you typically hear about. And we're here to share them with you. You'll get inspired with new ideas, discover which ones might be a fit for you, and learn what you need to do to pursue them.
This series brought to you by:

With special thanks to our sponsors:


Date and time
Location
La Kretz Innovation Campus
525 South Hewitt Street
Los Angeles, CA 90013