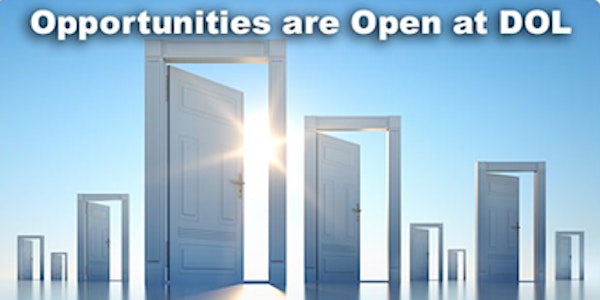 DOL Virtual Career Fair - Opportunities are Open
OPPORTUNITIES ARE OPEN in 2022! Immerse yourself in this live virtual event June 24th with the U.S. Department of Labor.
About this event
Join us for a live virtual career fair showcasing 17 federal government agencies within the U.S. Department of Labor (DOL). Keynote speakers from various agencies will provide insight into their organization and a variety of occupations. This event will also feature pro tips from Human Resource professionals on the federal application process, special hiring authorities and information on our competitive federal benefits.
View HOW TO ATTEND! for important information to have the best experience.
View the schedule of agency sessions!
Participating U.S. DOL agencies:
DOL posts all job opportunities on USAJOBS.GOV, the official website for searching for and applying to the federal government.