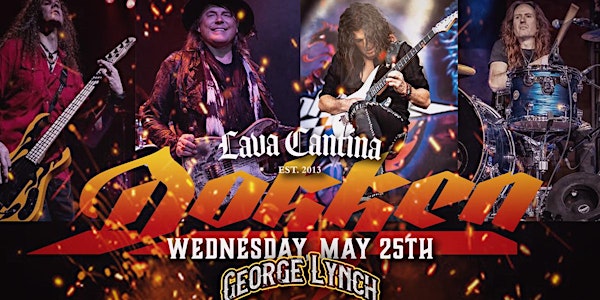 Dokken & Lynch - Live at Lava Cantina The Colony
Presented by Lava Cantina
Event Information
Performers
Location
Lava Cantina, The Colony
5805 Grandscape Blvd
The Colony, TX 75056
Dokken with George Lynch is LIVE at Lava Cantina The Colony on Wednesday, May 25th starting at 7pm!
About this event
The moment has arrived...Dokken is BACK with George Lynch at Lava Cantina! Dokken & Lynch will be LIVE at Lava Cantina on Wednesday, May 25th at 7pm!
General Admission for this show is CHARGED. Reserved seating on our VIP Patio and Balcony is available for purchase; Limited availability. All reserved seating is priced PER SEAT along the railing and tables.
Performers
Date and time
Location
Lava Cantina, The Colony
5805 Grandscape Blvd
The Colony, TX 75056
Refund policy