Beaumont, Troy NICU expansion campaign event!! Join us for a fun night, partnered with Beaumont Children's + Children's Miracle Network.
About this event
#doitforthebabies
That's exactly what this fundraising event is all about, the babies. Their most critical time when a patient at the Neonatal Intensive Care Unit (NICU) at Beaumont Hospital, Troy. The NICU provides care for the hospital's youngest and most fragile patents, many of whom stay for days, weeks or even long, and who all require 24-hour attention and care.
The Level III Troy NICU is staffed with compassionate, highly trained caregivers who seek to provide the very best for these special patients, but they currently are providing that care in an outdated, crowded space. In the past decade, the need for NICU services has grown more than 300 PERCENT, yet they still have the same space from the 1990's. Your support will help create the kind of state-of-the-art facility that patients, staff and family need and deserve.
Premature and ill infants are different from any other patient by the very fact they are still developing, making the physical environment so important to their immediate health and future growth. With your support we are seeking to expand the NICU at Troy to 15,000 square feet – more than THREE times the size of the current space.
THE NEW FACILITY WOULD:
• Create up to 24 private rooms to ensure comfort and space for families to bond with their babies.
• Offer state-of-the-art monitoring systems and technology.
• Create a welcoming family reception room to provide a comfortable space when families are visiting
• Designate a family stay room for parents or family members to use for much-needed rest
• Provide a breast-feeding support room for privacy and education with nursing staff
• Include LARGE windows for natural light – something that benefits both infants and their family
DID YOU KNOW?
• Approximately one in 10 babies is born prematurely. Of these, about 70 percent will require a stay in the NICU.
• Beaumont Hospital, Troy has about 3,600 births each years with more than 500 of these babies being admitted to the NICU.
*THE RENOVATION AND EXPANSION OF THE TROY NICU IS A COLLABORATIVE EFFORT AND REQUIRE A TOTAL INVESTMENT OF $6.2 MILLION. THROUGH THE GENEROSITY OF DONORS, THEY ARE MORE THAN HALF WAY TOWARD COMPLETION OF $3.1 MILLION IN PHILANTHROPIC GOAL!!!!
LET'S #DOITFORTHEBABIES….
JOIN US AT THE PALAZZO GRAND ON FRIDAY, MARCH 27, 2020 FROM 7PM TO 11PM. TICKETS INCLUDE ENTRY TO THE EVENT, FULL DINNER BUFFET, OPEN BAR, DJ ENTERTAINMENT, RAFFLES AND MORE! (Cocktail Attire)
*** ALL TICKETS AND DONATIONS ARE FINAL AND NON REFUNDABLE ***
OPEN SEATING, FIRST COME FIRST SERVE BASIS FOR OPEN TICKETS – VIP SEATING AND RECOGNITION FOR GROUP/BUSINESS TABLE PURCHASES.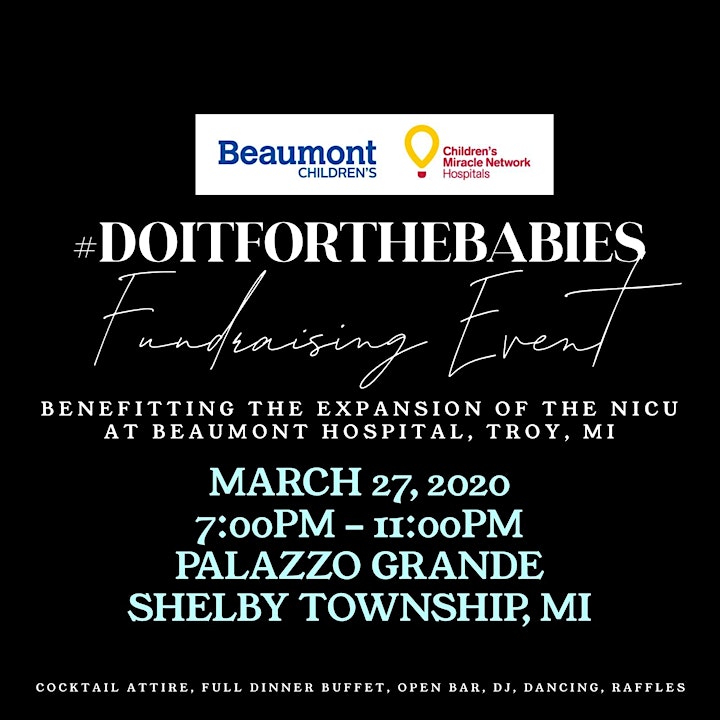 Organizer of #doitforthebabies {Troy Beaumont NICU Expansion Fundraising Event}