Dirty Water Media & Skrewball Peanut Butter Whiskey present an evening with Boston's most dynamic brands for a night of food, fashion & fun!
About this event
On Thursday, September 16, 2021, 5-8PM, enjoy a mid-summer night of food, fashion, cocktails, fitness, shopping, networking and live music with Skrewball Peanut Butter Whiskey, Dirty Water Media and Doing the Most Marketing out on the patio at the new 110 Grill & Evviva Trattoria in Malden, MA.
Come meet the personalities behind the brands that flourished in the midst of a challenging pandemic to bring laughter, style and inspiration to so many including: Jen Deangelis - 1987 Active, Julia Scaparotti - Shop June Third, Kevin Cooney - Dangerously Caffeinated, Julianna Curtis - Energy Barre, and Shannon Fairweather - Doing the Most Marketing. The dynamic partners headlining this event were hand selected because they represent the "Doing the Most" mentality necessary for success!
The event - hosted by local social media influencers and Dirty Water Media Talent - Kendra Middleton, Gianna Gravalese & Shell Rodriguez - will serve as the backdrop for an all new Dirty Water TV taping to air on NESN.
Space is LIMITED - RSVP NOW - to guarantee your spot at this fun and engaging event that features food, drink, swag, fashion shows, live music and more!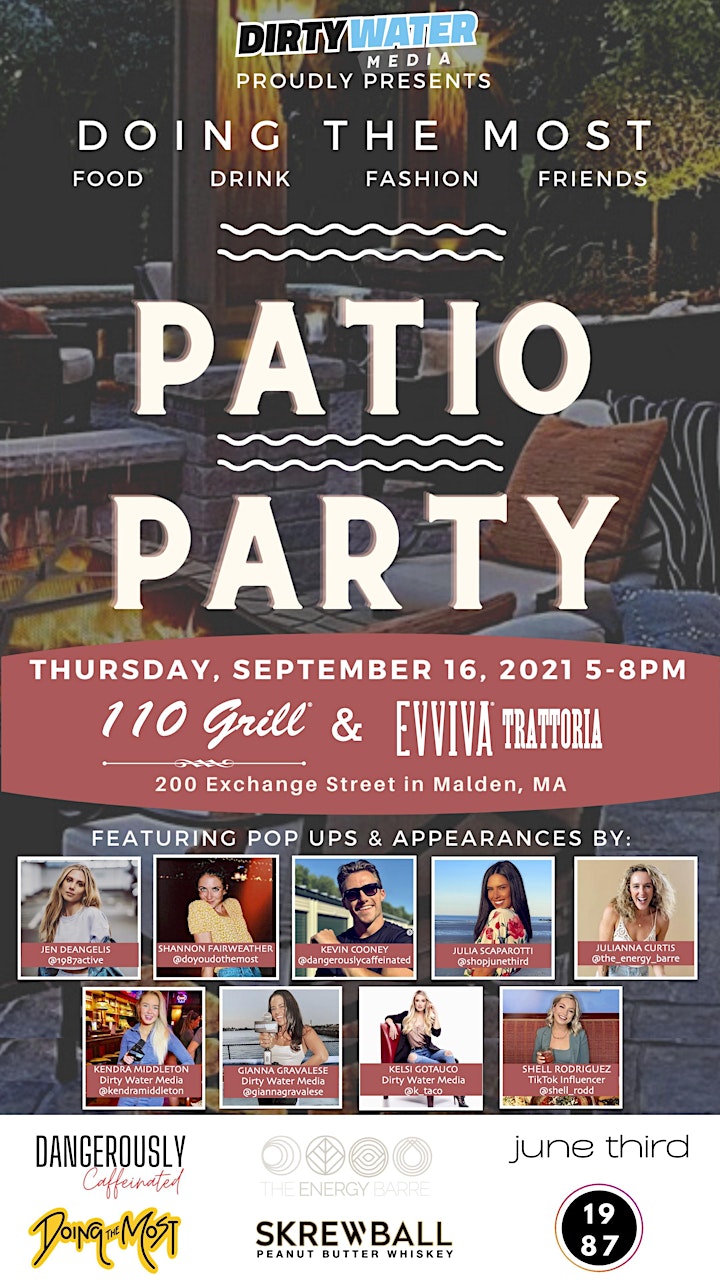 Organizer of Doing the Most Patio Party
The event is being produced in partnership with Dirty Water Media, Greater Boston's go-to source for what's happening in the regional nightlife, sports and entertainment scene. Featuring on air personalities who know the social scene like no others, Dirty Water Media offers reports, reviews, vidoes, blogs, and updates from the hottest parties, events, sports, and concerts in and around Greater Boston.  Delivered by a dynamic team of nightlife aficionados; this cutting-edge entertainment source takes you into the best parties, the hottest venues, and coolest destinations around.  Learn more at http://www.dirtywatermedia.com.