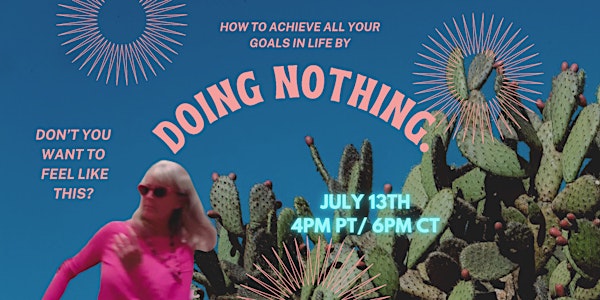 Doing Nothing.
How to Achieve All Your Goals in Life by Doing Nothing.
About this event
We've all heard the quote "Insanity is doing the same thing over and over and expecting different results." Do you want to play around with stepping outside of your mental To Do lists and into feeling the feelings of satisfaction that you think are dependent on how much of something you do?
This experiential workshop is for the overachievers, the big believers, and the mouth-breathers. It will support you in discovering the immense value of doing nothing. It's not that I'm asking you to be indifferent. It's just that I want to do nothing with you for 2.5 hours and see what you/we can create. I cannot tell you exactly what will happen when you step into this workshop, but I can certainly guarantee that you will leave understanding that perhaps you do not have to do SO much.
See you there!