About this Event
Presented by Creative Women's Co.
How do you manage work, life and love as a modern creative women? You see some women do it all, and juggle their work and life trying to create the balance and keeping their sanity.
Our panel of speakers will cover topics like:
How to create boundaries for your professional and personal life
Tips on how to best managing your time and be productive
How to build-in self care for yourself
How to manage the tightrope between your passion for your business and personal relationships
We hope that you'll join us for this lively discussion on juggling time for your career, business, family, and make time for yourself and enjoying love and life. Whether you're a creative women executives, just started your business or you've been in business for years, we are confident that you will enjoy the evening!
MODERATOR
(Shy-Lee) Shaily Hakimian, Head Motivator, Your Social Media Sherpa
Shaily empowers fellow business owners to maximize their referral reputation on social media platforms like LinkedIn with her social media workshops and 1-on-1 training company YourSocialMediaSherpa.com.
Growing up, Shaily was bullied and became determined to make friends. After years of experimenting, she realized that making personal connections was key to starting successful relationships. That skill lives on in how she operates her business today. She helps business owners stay top of mind bringing their offline networks online.
This Persian/Morrocan Indiana grad is a lover of cheesy icebreakers, bubble tea, poker, reality competition shows, TEDx conferences, magic, flea markets, the Jewish community, and her sequin closet.
PANELISTS
Ari Krzyzek is the Co-Founder & Chief Creative Officer of Evanston, Ill.-based branding & digital marketing agency Chykalophia (read: see-ka-lo-fia). Her agency helps businesses who want to achieve their goals with their brand through strategic positioning. She has over 10 years of branding and design experience in multidisciplinary projects, ranging from graphic design, packaging, to digital & UI/UX design. She has transformed businesses visions into a tangible form that help set their business apart from their competitors. As her diverse client roster attests, the one constant in her work is spot-on design for major impact every time.
Continuing her creative exploration, she enjoys peer collaboration, as well as guiding & mentoring women entrepreneurs. Accordingly, she founded Creative Women's Co. to share her expertise and facilitate meaningful exchange among enterprising peers in today's vast marketplace. She's also a member of committee leaders in Women Tech Founders Chicago, mentoring other entrepreneurs at 1871, and she's also an advocate for creative women entrepreneurs in the Chicago creative ecosystem.
Alicia Driskill, Founder of evolveHer, curates events and workshops that help women evolve and live a life they love. Prior to launching evolveHer, Alicia worked as Vice President of Global Partnerships at WME | IMG, one of the world's most innovative companies. She also served as a Senior Executive at Live Nation and People.com. After a 17 year career in entertainment & media working alongside the industry's most elite, Alicia decided to evolve her own career path and disrupt the Chicago market by opening evolveHer, Chicago's first creative workspace designed for women.
EvolveHer provides a beautiful workspace that fuels creativity, along with educational resources that evolve the way women connect and collaborate. Alicia has always been a strong advocate for women. She worked on the founding team of the Together Live Tour and led business development for Pearl xChange, a women's empowerment event co-founded by Nicole Richie & Ramey Warren. Alicia also serves as an active Luminary Member of Step Up, a non-profit organization that helps girls fulfill their potential.
Melanie spent the early part of her career in advertising, working in Account Management in Chicago across a number of consumer brands and agencies. Then she began a 10+ year adventure of living and working abroad across Asia, Europe and Australia. Now back in her hometown of Chicago, this former ad-exec turned purpose-driven entrepreneur has launched an online and events platform called The Next Collective - curating events and experiences that help women answer the question "What's Next?" The Next Collective brings women together in inspired settings to discuss career pivot, entrepreneurship and or simply finding more personal purpose. For the woman who wants to return to work, the woman who wants to explore something different, or the woman looking for more - It was founded on the idea that it's never too late for a new beginning! When she's not working she keeps busy wrangling her rowdy crew of 3 boys!
Creative Women's Co. is a community project by Chykalophia, a digital brand consultancy that help establish brand pillars that elevate the confidence and success of our fellow visionaries through a balance of strategic discovery, eye-catching design and modern digital solutions, all fueled by our collaborative, passionate, resource-packed community
About Creative Women's Co.:
Creative Women's Co. is a series of intimate gatherings for creative women entrepreneurs to connect with each other on a personal level, learn together and spark collaborations.
Our mission is to create an inspiring and collaborative community for women entrepreneurs.
We host monthly events that range from brunch mini-workshop, cocktails & conversations, speed mentoring, retreat, virtual talks, and panel events. Special events like speed mentoring and panel events are hosted annually. Our monthly events are each limited to 10-12 women (total including the host/co-host) in order to create an intimate environment, so it's less like meeting up with random professionals but more like seeing friends.
About evolveHer:
EvolveHer is a beautiful 5,000 square foot loft located in Chicago's River North neighborhood. Our creative work & event space was designed to inspire creativity and foster collaboration amongst women. We create personalized connections and experiences to advance women in their career and life.
WANT TO BE OUR SPONSOR?
See our opportunities for you here.
Event FAQS
Tickets are non-refundable but can be transferred.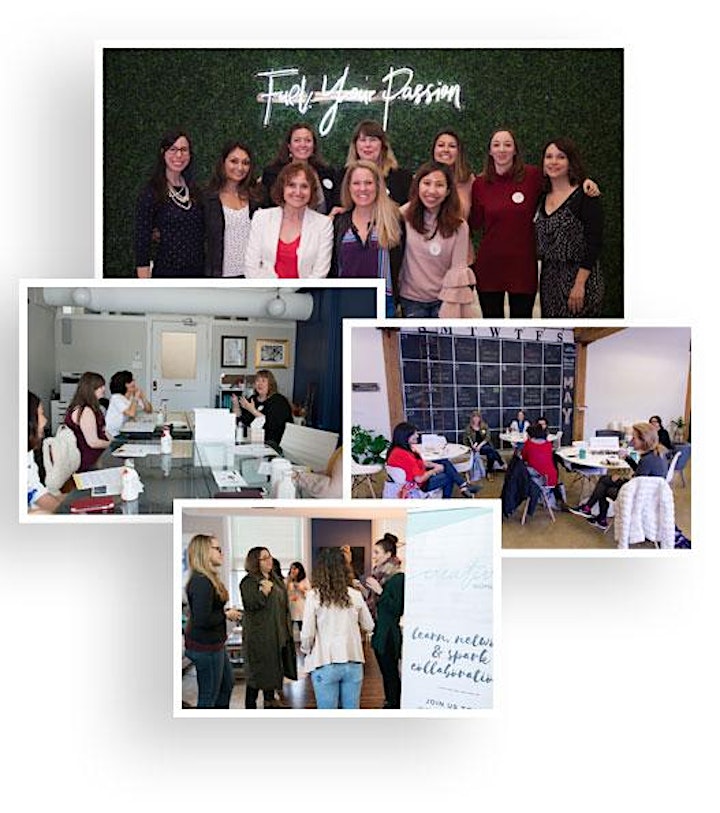 Creative Women's Co. is a series of intimate gatherings for creative women entrepreneurs to connect with each other on a personal level, learn together and spark collaborations.
Not a member yet? Sign up here.
Building and fostering genuine relationships among creative women entrepreneurs can be challenging. At Creative Women's Co. we believe that it all started at a personal level connection. We value intimate networking events as a way for us to get to know each and everyone who attend the events. Our events are less like meeting up with random professionals but a gathering to see friends, learn together and create collaborations.