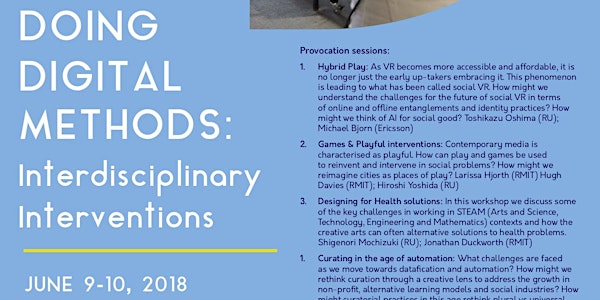 Doing Digital Methods: Interdisciplinary Interventions
When and where
Location
Ritsumeikan University Kinugawa Campus Jūkōkan, Kinugasa Campus, Ritsumeikan University Kyoto, Kyoto 6038577 Japan
Description
Doing Digital Methods:Interdisciplinary Interventions
An interdisciplinary Workshop jointly organized by Ritsumeikan University (RU) and Royal Melbourne Institute of Technology (RMIT).
June 9-10, 2018
Venue: Jukokan Hall, Ritsumeikan University Kyoto Kinugasa Campus. [http://en.ritsumei.ac.jp/access/]
This workshop will focus on interdisciplinary and critical creative methods within mixed reality contexts including VR, AR and AI. It would bring together disciplines such as media, information studies, psychology, anthropology, design and arts. The two-day workshop will consist of a variety of "provocation" sessions. Provocations focus on discursive discussion that can lead to productive synergies and collaboration. The workshop is in English only and no Japanese translation is provided.
PROVOCATION SESSIONS
DAY ONE
1. Hybrid Play: As VR becomes more accessible and affordable, it is no longer just the early up-takers embracing it. This phenomenon is leading to what has been called social VR. How might we understand the challenges for the future of social VR in terms of online and offline entanglements and identity practices? How might we think of AI for social good?
Key curatrors: Toshikazu Oshima (RU); Tadahiro Taniguchi (RU/Panasonic) ); Masaki Fujihata (Tokyo University of The Arts)
2.. Designing for Health solutions: In this workshop we discuss some of the key challenges in working in STEAM (Arts and Science, Technology, Engineering and Mathematics) contexts and how the creative arts can often alternative solutions to health problems.
Key curators: Shigenori Mochizuki (RU); Jonathan Duckworth (RMIT)
3. Games & Playful interventions: Contemporary media is characterised as playful. How can play and games be used to reinvent and intervene in social problems? How might we reimagine cities as places of play?In this session we go on a wayfaring exercise to think about how place-making can be an creative act that reinvigorates a sense of well-being.
Key curatrors: Larissa Hjorth (RMIT) Hugh Davies (RMIT); Hiroshi Yoshida (RU); Hisako Hara (Osaka Electro-Communication University)
DAY TWO
4. Curating in the age of automation:
What challenges are faced as we move towards datafication and automation? How might we rethink curation through a creative lens to address the growth in non-profit, alternative learning models and social industries? How might curatorial practices in this age rethink plural vs universal experiences?
Key curatrorsJacina Leong (RMIT/Ars Electronica); Machiko Kusahara (Waseda)
5. Designing for, and with, Digital and Multisensorial Ethnographic Methods:
How can interdisciplinary digital methodology be deployed to think through solutions to real-world social issues?
Key curators: Annette Markham; Tadamasa Kimura (Rikkyo)
6. Designing Social Futures:
Designing interdisciplinary solutions for social innovation and entrepreneurship in terms of ageing societies and revitalisation of dying towns.
Key curators: Jaz Choi (RMIT); Larissa Hjorth (RMIT), Brendan Barrett (Osaka University)
7. Digital storytelling:
Digital Storytelling(DST), Expanded Participatory Design(EPD) and SoftGIS(Geographic Information System) are tied together and explored as the methodology. This will build a new transdisciplinary approach combining media and communication research, urban planning, participatory design and action research.
Key curatrors: Shin Mizukoshi (U of Tokyo); Rikutaro Manabe (U of Tokyo); Katsuaki Tanaka (Saitama Institute of Technology).
Organizers (Larissa Hjorth (RMIT), Keisuke Kitano (RU) and Shinji Oyama (RU)).
The workshop will be supported by the Australian embassy as part of the Australia-Japan friendship year in 2018.
For complete program follow link here.
Contact details: Ms. Tomoko Takemura <t-take@fc.ritsumei.ac.jp>
---