Doing Data Journalism: It's Not Just Numbers
Description

Doing Data Journalism: It's Not Just Numbers

Data journalism is quickly becoming one of the hottest topics in the industry - but what exactly is it, and what tools, teams and techniques are necessary for doing it well?

On March 28th, the Tow Center for Digital Journalism will host several of data journalism's most prominent innovators and practitioners for a discussion about the possibilities and pitfalls of this evolving field. We hope you will join us at Columbia Journalism School from 6 - 7:30pm to hear their perspectives and join the discussion.
This event will also be livestreamed at:
http://www.livestream.com/columbiajournalism
Special thanks to Sam Guzik and Kenan Davis for their assistance.

Panelists
Julia Angwin
Julia Angwin is an award-winning technology editor and columnist at The Wall Street Journal. In 2003, she was on a team of reporters at The Wall Street Journal that was awarded the Pulitzer Prize in Explanatory Reporting for coverage of corporate corruption. In 2010, she led a team of reporters that chronicled the decline of online privacy in a series of articles titled "What They Know" that won the Gerald Loeb Award.
Scott Klein
Scott Klein is the Editor of News Applications at ProPublica, where he directs a team of journalist/programmers building large interactive software projects that tell journalistic stories, and that help readers find the relevance of complex national stories to themselves and their communities. His team's projects have included Dollars for Docs and The Opportunity Gap.
Jo Craven McGinty
Jo Craven McGinty is a projects editor for Computer Assisted Reporting at The New York Times. She has been a reporter for Newsday, an academic adviser to IRE and NICAR and she taught CAR at the Missouri School of Journalism. She is author of an IRE beat book, "Home Mortgage Lending: How to Detect Disparities," and won the 1999 Pulitzer Prize for public service with a team of reporters from The Washington Post for its series about the use of deadly force by police.
Aron Pilhofer
Aron Pilhofer is editor of Interactive News at The New York Times. His team blends journalism and technology to enhance The Times's reporting online through social media, community and dynamic, data-driven Web applications. He is also co-founder of two news-related nonprofits: DocumentCloud.org and Hacks and Hackers.
Ashkan Soltani
Ashkan Soltani is an independent researcher and consultant specializing in consumer privacy and security on the Internet. He has more than 15 years of experience as a technology consultant and has served as a staff technologist in the Division of Privacy and Identity Protection at the Federal Trade Commission. He also worked as the primary technical consultant on the Wall Street Journal's What They Know series investigating Internet privacy and online tracking.
Mo Tamman
Maurice Tamman is data journalist with Reuters, prior to which he was a database editor and reporter with The Wall Street Journal. Recent works include an extensive analysis of Medicare fraud and abuse and work on home lending, banking and the financial crisis. He also teaches a class in investigative reporting methods with the Stabile Center at Columbia Journalism School.

Moderator
Susan E. McGregor
Assistant Professor, Columbia Journalism School
Tow Center for Digital Journalism

Susan joined the Tow Center following four years as the Senior Programmer of the Online News Graphics team at the Wall Street Journal, where she developed hundreds of interactive graphics and data applications. In 2010, she was named as a winner in the Gerald Loeb Awards' "Online Enterprise" category for her work on the Journal's "What They Know" series, and was also a finalist for the 2007 Scripps Howard award in Web Reporting. Her work with the Tow Center focuses on data journalism and visualization, as well as data standards and cross-platform development.
Organizers
Susan E. McGregor
Lam Thuy Vo
Lam is a multi-platform reporter, producing graphics, photographs, videos and blogposts for NPR's Planet Money. Before joining NPR she was a multimedia editor at The Wall Street Journal, where she headed video operations for the newspaper across Asia. Her reporting has earned her a number of accolades including a Webby Award, a Society of American Business Editors and Writers Award and a Society of Publishers in Asia Award.
Special thanks to Jeanne Brooks and ONA.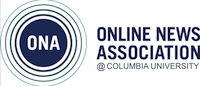 About the Tow Center
The Tow Center for Digital Journalism provides journalists with the skills and knowledge to lead the future of digital journalism and serves as a research and development center for the profession as a whole. Operating as an institute within Columbia University's Graduate School of Journalism, the Tow Center explores how the development of technology is changing journalism, both in its practice and its consumption. Our mission is to help individual journalists, news organizations and media policymakers with their thinking and practice in this area.