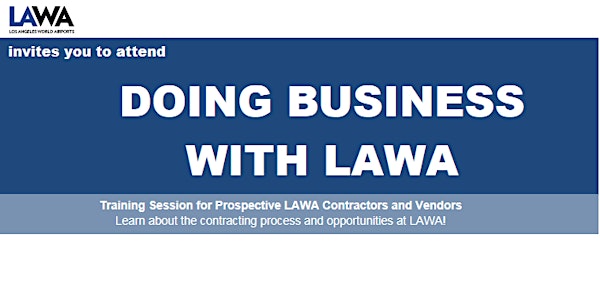 Doing Business with LAWA February 2023 Workshop
The DBWL Workshop is a 2-hour presentation (with Q&A) covering the in-and-outs of contracting at LAX by LAWA's Strategic Sourcing Division.
About this event
Who this is for:
Prospective/current LAWA contractors and vendors looking to learn about LAWA's business opportunities are welcome to join!
Topics to be Covered:
LAWA Procurement Process & Overview
Bid Requirements
Concessions
Regional Alliance Marketplace for Procurement (RAMP) Demo (www.rampla.org)
Business, Jobs and Social Responsibility
First Source Hiring Program
Bond Assistance
Business Enterprise Programs and Certifications
How can I participate in this workshop?
You can access the workshop online. Our workshop is presented through Microsoft Teams, which is free for attendees. A computer and microphone (for questions) are highly recommended since there are visual demos. A phone call-in option is also available for those without computer access.
Post-Registration Steps:
After registration, select this event from your Tickets page and click"View Links" to get access to the Microsoft Teams webinar/phone call-in information. The link will also be emailed to you prior to the event. Questions can be directed to DoingBusinesswithLAWA@lawa.org or (424)-646-7392.