Description
Enterprise Florida and The Scottish North American Business Council are hosting a free event for Scottish companies to present the business advantage of operating from Florida to access and manage North & Latin America markets.

Leading Scottish companies such as Skyscanner (Tech-Miami), Dysis Medical (Medtech-Tampa), City Facilites Management (North American headquarters-Jacksonville) and Edrington (Latin American headquarters-Miami) are successfully operating and growing in the state.

Why attend?
Companies interested in learning more about setting-up operations in the Americas by establishing a presence in Florida are invited to join us to learn more about the state's unique technology ecosystem, access to multilingual talents, lower taxes & operating costs and available financial & tax incentives.

Speakers will include:

* Enterprise Florida - Tim Vanderhoof, Senior VP Business Development
* Skyscanner - Jenny Stephens, Commercial Director and former GM Americas
* Transferwise - a representative from the company that will explain why they chose Florida
* Scottish Development International about the government's support in the US

Sectors of interest are multiple:
* Advanced engineering, Aerospace, Space and Defense / Homeland Security
* Technology, Cyber Security, FinTech
* Life Sciences with Biotechnology/Pharma and Medical Technologies
* Consumer Goods and Food & Drinks

Business operations to consider:
* US Corporate Headquarters
* Americas or Latin American Office
* Commercial & Marketing Office
* Business Process Outsourcing (BPO), Shared Services/Centre of Excellence
* Technology and R&D Centre
* Manufacturing and Final Assembly
All services provided by Enterprise Florida to companies are free-of-charge.
To learn more about Enterprise Florida, visit www.enterpriseflorida.com/uk

To register for this event please visit here to book your place.

Full agenda will be published shortly.
For more information on the event email allan@snabc.org or call him on 07982250682.
PLEASE NOTE THIS EVENT IS SOLELY AIMED AT BUSINESS PEOPLE WHO WISH TO EXPLORE SETTING UP OPERATIONS IN THE US.
Thanks to our sponsors and supporters:
RSM Scotland - Offers transatlantic tax and accounting services
TransferWise - Offers lower cost money transfer services and US multicurrency accounts
Savills - Offers real estate services for companies in the US
Skyscanner - The world's leading travel search engine
Enterprise Florida UK - State economic development agency, your partner to set-up operations in Florida
TechUK - The industry body representing the tech industry in the UK
Scottish Development International - Helps foreign companies invest and thrive in Scotland, and local enterprises make the most of international trade.
The Scottish North American Business Council - Founded in 1999 the SNABC is Scotland's chapter of the British American Business Council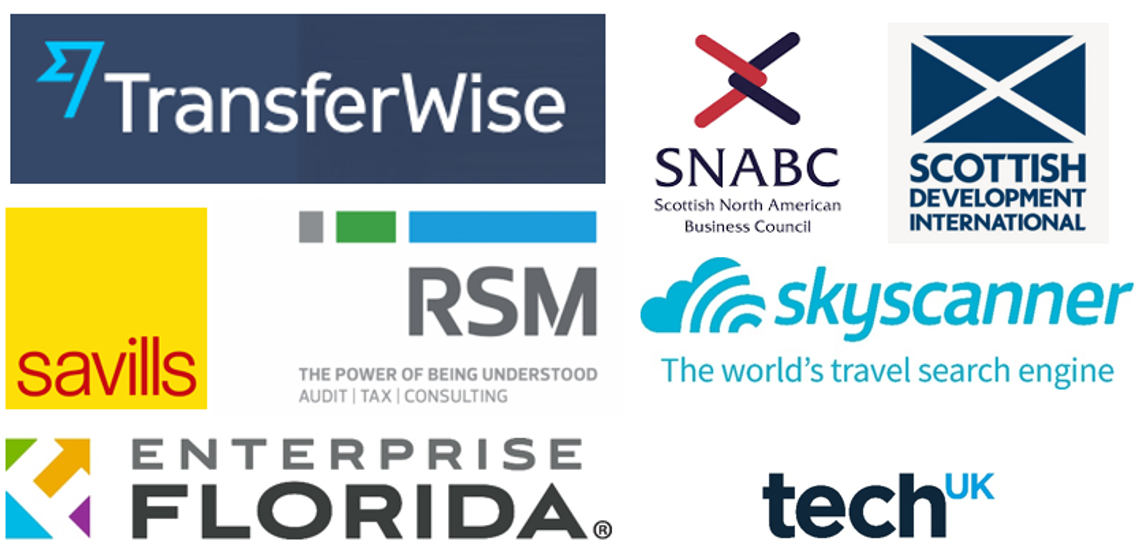 Florida – the Gateway to Latin America
A major hub for corporate headquarters – with 30 Fortune 500 companies headquarters across the state and with about 1,500 multinational companies in South Florida only managing their Latin American operations including companies like Mastercard Latin America, Medtronic Latin America, BBC Latin America and Oracle Latin America.
Access to ports and airports connected to the Americas – Florida is a trading state, with 20%, of the nation's companies that export are in Florida enabled by the 15 deepwater seaports and 19 commercial airports.
Florida – a cost effective location
Lower cost of salaries and living – Compared to cities like New York, Chicago, Boston or San Francisco, regions across Florida will provide your staff a lower cost of living and higher quality of life.
Keep your money – 5.5% corporate income tax rate; 0% personal state income tax; 0% corporate income tax on limited partnerships.
Florida – the place to access a deep pool of talents
Deep and cosmopolitan talent pool – multilingual workforce of 10.1 million in variety of sectors including 307,000 high-tech employees.
Strong technology and R&D ecosystem – Amazon shortlisted South Florida for its HQ2 as it had all the present and future talent required; the High tech corridor Tampa-Orlando-Cap Canaveral where some of U.S. leading discoveries in Space have started.