Doing Business in a GAFA World

Tuesday, April 30, 2013 from 11:00 AM to 1:00 PM (CDT)
Event Details
Doing Business in a GAFA World 
Businesses operating in today's marketplace need to understand the importance of having a presence on the big social media networks and on the web.   Google, Apple, Facebook and Amazon are just some of the tools with which small businesses can differentiate themselves with internet marketing.
Marc Willson, national expert on retail, restaurant and small business issues, will be in town for one week performing customized private business assessments and this workshop.  "Doing Business in a GAFA World" will cover the five internet marketing must haves for small businesses:
Marketing Website

Business Facebook Page

Mobile Enabled Website

Trip Advisor Reviews

QR Codes for website and Facebook

 
"Doing Business in a GAFA World" will only be held once, so register now before all seats are taken.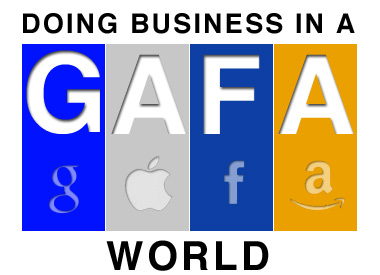 Presented by Marc Willson from the Virginia Small Business Development Center
---
Materials, services or products offered by providers to SBDC clients are available as a resource for you to locate professionals who can assist you with business concerns.  Making these sources available to you does not imply or constitute a recommendation or endorsement by the SBDC, but is only intended to be a convenience for you.  You must perform your "due diligence" by interviewing the individuals or companies to determine if they meet your needs.  If you do retain their services, be sure to obtain your agreement in writing:  who is responsible for what; what work is to be performed; what is not included; what is the cost.
 
A partnership program of the U.S. Small Business Administration and the Bill Priest Campus of El Centro College, a division of the Dallas County Community College District. Funded in part through Cooperative Agreement # 9-603001-0046-22 with the U.S. Small Business Administration. All opinions, conclusions, or recommendations expressed are those of the authors and do not necessarily reflect the views of the SBA. It is the policy of the Dallas County Community College District and Collin College that all persons have equal opportunity and access to its educational programs, services, activities, and facilities without regard to race, religion, color, sex, age, national origin, or ancestry, marital status, parental status, sexual orientation, disability or status as a veteran.
Reasonable accommodations will be made to those individuals with disabilities, as well as to clients with limited English proficiency, who request such accommodations in advance.
Organizer
Collin SBDC
Since 1989, the Collin Small Business Development Center has been a partnership between the U.S. Small Business Administration, Collin College and the State of Texas.Through this collaboration, one-on-one, confidential business consulting is provided at no charge.  Low or no cost workshops and seminars are scheduled on topics that are essential to business success.
Doing Business in a GAFA World