About this Event
Robots and artificial intelligence aren't just rising — they're here, reshaping our digital landscape. AI is revolutionizing highways, hospitals and homes, from driverless cars to automated medical devices and delivery drones. The rewards are promising, but at what cost? And who's left out?
The risks and unintended consequences of AI are not evenly distributed or transparently regulated: data breaches, identify theft, job loss, widening wealth inequality and human rights violations that challenge top programmers and policymakers to search for safeguards. But AI also promises to cure diseases, improve climate science and save more lives.
Is AI worth the risk? Is the revolution even containable? Could we pull the brakes if we tried?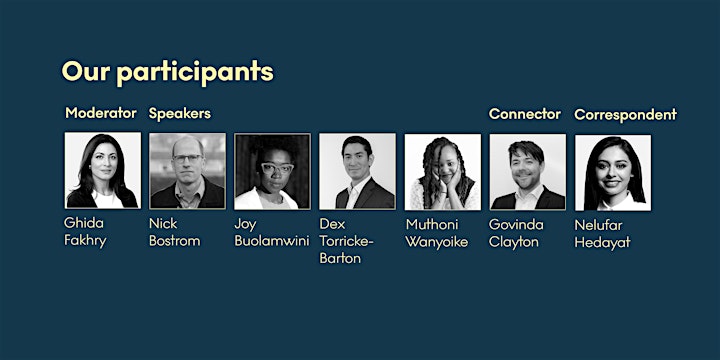 Our participants
Moderator
Our moderator assists the speakers and audience throughout the show and is the audience's advocate for accuracy and insight.
• Ghida Fakhry, international broadcast journalist and award–winning presenter
Speakers
Four speakers, four perspectives. Each invited speaker presents a view and opinion on a possible solution to a world challenge.
• Nick Bostrom, Swedish philosopher, bestselling author, and director of Oxford University's Future of Humanity Institute
• Joy Buolamwini, Ghanaian-American computer scientist, digital activist at MIT's Media Lab, and founder of the Algorithmic Justice League
• Dex Torricke-Barton, former communications executive at Facebook, Google and SpaceX
• Muthoni Wanyoike, Kenyan data scientist, team lead at InstaDeep, and co-founder of Nairobi WiMLDS
Connector
The role of connector is a bridge-builder, combining elements of each opinion to create an unorthodox, challenging response that deconstructs arguments and examines their consequences.
• Govinda Clayton, senior researcher in peace processes at the Centre for Security Studies at ETH Zurich
Correspondent
Our correspondent acts as the voice of the outside world during our live debate.
• Nelufar Hedayat, award–winning journalist and documentary maker