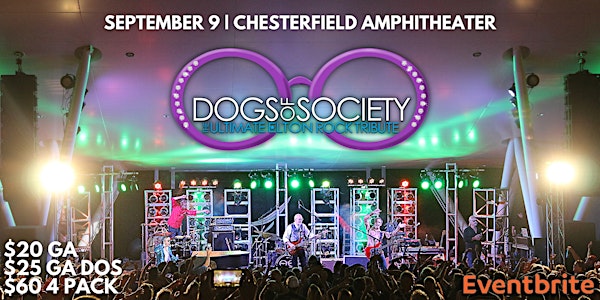 Dogs of Society–The Ultimate Elton Rock Tribute
The Chesterfield Amphitheater
Location
Chesterfield Amphitheater
631 Veterans Place Drive
Chesterfield, MO 63017
DOGS OF SOCIETY spot-on ROCKS classic '70s ELTON JOHN in an ALL-LIVE rock concert experience.
About this event
The Chesterfield Amphitheater presents Dogs of Society - The Ultimate Elton Rock Tribute. September 9, 2022. Doors open at 6 pm. Visit www.chesterfieldamphitheater.com for more information.
$20 - Advanced GA
$25 - At The Door GA
$60 - 4 Pack GA
----------------------------------
Let The Dogs take you on a ride through one of the most epic rock catalogs of the 1970s with Elton John's smash hits like Bennie and the Jets, Tiny Dancer and Crocodile Rock to deeper cuts like Funeral for a Friend, Madman Across the Water, All the Girls Love Alice, Mona Lisas & Mad Hatters and many, many more. No tracks. No tricks. Just a killer rock band delivering a dynamic, ALL-LIVE performance every night (with that extra sauce that comes from an authentic, live show). Just like Elton and his band.
From the first time John Gore heard Elton John's Crocodile Rock on the radio, he was hooked. As a wee lad, Elton's incredible songs and musicianship inspired John to play the piano and sing. And he has rocked the piano and mic ever since, performing in bands since he was 10 years old… original, cover, touring and now tribute. Although he's often been told he looks and sounds like '70s-era Elton John, John Gore formed Dogs of Society with the idea that Elton's songs (not costumes) should be the star of the show. Featuring an incredible lineup of accomplished musicians including John Gore (aka Elton Juan), Steve Johnston (guitar), Louis Michael (keyboard, accordion, guitar), Curt Shaw (bass guitar) and Dave Johnson (drums), Dogs of Society will blow you away with their authentic rock 'n roll tribute to the one of the most celebrated musicians in rock history.
-------------------------------------
COVID-19 is highly contagious and is known to spread mainly from person-to-person contact. By attending an event, program or visiting a City of Chesterfield facility, you agree: (1) to abide by the procedures established by the St. Louis County Dept. of Health and the CDC to help protect attendees and staff; (2) to voluntarily assume the risk that you and/or your family may be exposed to or infected by COVID-19 at any and all Chesterfield events, programs or facilities; (3) to assume all the risks of attendance and participation for you and your family; (4) to waive all liability against the City of Chesterfield and all other parties associated with the event, programs and facilities; and (5) to agree to indemnify the City of Chesterfield for any claims brought against the City of Chesterfield by any person you have agreed to assume the risk for under these terms.