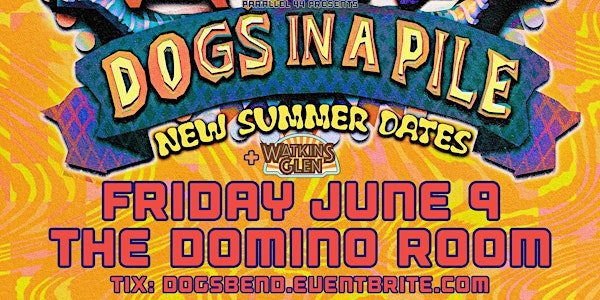 DOGS IN A PILE w/ WATKINS GLEN LIVE IN BEND - FRIDAY JUNE 9 2023
DOGS IN A PILE w/ WATKINS GLEN LIVE IN BEND @ DOMINO ROOM - FRIDAY JUNE 9 2023 - PARALLEL 44 PRESENTS
Date and time
Starts on Friday, June 9 · 8:30pm PDT
Location
Midtown Ballroom/Domino Room/Annex 51 Northwest Greenwood Avenue Bend, OR 97701
Refund Policy
Refunds up to 30 days before event
About this event
Parallel 44 Presents DOGS IN A PILE live in Bend, Oregon on Friday, June 9, 2023 at The Domino Room. We are so excited to be bringing our favorite up-and-coming compositional jamband sensation to Bend for the first time. These boys can play for their lives and their buzz is white hot right now. Join us in welcoming these hard-rocking sweet badasses to our Bend concert community. Doors open 8:30PM. Oregon's finest improvisational Rock band, WATKINS GLEN kicks off the show at 9PM. 21+ only. No refunds.
About DOGS IN A PILE
The sandy shores of Asbury Park, New Jersey are hallowed ground in the northeast; the rolling waves have ushered generations of venerated musicians to worldwide acclaim. Dogs in a Pile, an eclectic quintet, has emerged as the heir apparent to the town's rich musical legacy. Merging funk, jazz, and rock and roll with psychedelia, the quintet presents a completely original vibe built on kaleidoscopic soundscapes eerily reminiscent of the days of yesteryear.
The Dogs employ a unified approach to performance and songwriting, crafting aural mosaics through adept instrumentation and humble precocity. As avid storytellers, they draw inspiration from personal experiences, balancing life's foibles with ever-present youthful sanguinity.
Dogs began when Philadelphia University of the Arts guitar gun-slinger Jimmy Law began playing with young Joe Babick (drums), a student at the Count Basie Theater program in Red Bank, NJ. Lightning struck when they were introduced to Berklee School of Music student and bass player Sam Lucid, who immediately suggested fellow Berklee student and keyboard player Jeremy Kaplan. The addition of fellow Berklee student Brian Murray (guitar) in 2019 made for the quintessential final piece in the Dogs' puzzle.
A string of successful local shows drove the development of a massive northeast fan base, affectionately known as the Dog Pound. The band's astronomical growth culminated in an epic, sold-out performance at the legendary Stone Pony in Asbury Park during the summer of 2021. Armed with a fresh batch of new material, Dogs in a Pile is taking its perpetually evolving testament to the Great American Songbook on tour in 2022, visiting plenty of new cities and spreading good music and good energy to good people along the way.
About WATKINS GLEN:
Named after the largest Rock concert of the 70s, Watkins Glen is an Oregon-based Rock n' Roll band that strives to create truly magical musical moments via the adventure of wanderlust-driven improvisation, while delivering a living, breathing tribute to the enduring legacies of four legendary American Rock n' Roll bands: The Allman Brothers Band, The Grateful Dead, The Band & Little Feat, while also playing original music of their own. Band leaders "Brother Gabe" Johnson & Evan Mullins have gathered some of the very finest players from the Northwest music scene with the intention of creating one of the most authentic, inventive and energetically compelling improvisational Rock bands in the West. Over just a few short years, Watkins Glen has developed a very strong reputation for delivering truly inspirational performances, writing thoughtful and experiential set lists and whipping audiences into a frenzy with their scorching improvisational "magic carpet ride" live jams. Highlights of their history so far have included high profile appearances at 4 Peaks Music Festival, Sisters Folk Festival, Juan de Fuca Festival, US Fest, Bend Summerfest, Bend Fall Fest, Common Concert Series, Bend Roots Revival, and multiple performances w/ top notch national acts Melvin Seals & JGB, Pink Talking Fish, MarchFourth, Scott Pemberton and more.
Watkins Glen core personnel: "Brother Gabe" Johnson (MFG, Elektrapod) - Guitars, Keys, Vox / Evan Mullins (Elektrapod, The Silvertone Devils) - Keys, Vox / Kyle Pickard (Cutmen, Shady GroOove) - Drums, Vox / Mark Karwan (American Babies, Jenner Fox) - Bass, Vox
About the organizer
Parallel 44 Presents promotes musical events in Central Oregon, primarily in Bend. With over 1250 shows presented thus far, P44P's primary focus is promoting, supporting, furthering and developing music that put smiles on people's faces, compels them to move their bodies, and inspires them to ponder the deeper meaning of it all. We hope to see you at one of our events soon !