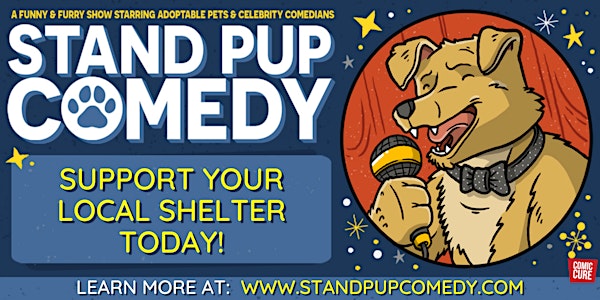 Dogs, Cats and Comedians - It's Stand Pup Comedy Online!
Meet cute adoptable pets while enjoying live comedy from the comfort of your home!
About this event
Dogs, Cats, and Comedians - It's Stand Pup Comedy Online! Starring adoptable pets, funny humans, and YOU!
Past performers have been seen on The Office, Seinfeld, America's Got Talent, Conan, Last Comic Standing, Comedy Central and more!
The zoom link for the event will be provided in your purchase confirmation email.
Event is for mature audiences | Refunds will not be issued unless show is cancelled by venue or producer. Events are subject to change and cancellation.
Pawticipating Organizations:
Anderson County Paws (Anderson, SC)
Bronx Community Cats (Bronx, NY)
Charlottesville Albemarle SPCA (Charlottesville, VA)
Delaware Humane Association (Wilmington, DE)
Feline Canopy of Care (St. Augustine, FL)
Good Life Refuge (Longmont, CO)
Good World Animal Rescue and Protection (Republic of Azerbaijan)
Heartland Animal Shelter (Northbrook, IL)
Humane Society Of Greater Miami (Miami, FL)
Idaho Humane Society (Boise, ID)
Jacksonville Humane Society (Jacksonville, FL)
Joeys PAW (Pittsburgh, PA)
Kershaw County Humane Society (Camden, SC)
Lighthouse Animal Shelter (New Bedford, MA)
Little Black Dog Rescue (Fairfield, CT)
Montgomery County Animal Service and Adoption Center (Germantown, MD)
Pennsylvania SPCA Central PA Center in Danville (Danville, PA)
PAW Partnership for Animal Welfare (Greenbelt, MD)
Paws and Affection Service Dogs (Narberth, PA)
Pennsylvania SPCA Center in Danville (Danville, PA)
Providence Animal Center (Media, PA)
Rescue The Birds (Northbrook, IL)
Road Trip Home Animal Rescue (Acworth, GA)
Rockfish Wildlife Sanctuary (Shipman, VA)
Skywatch Bird Rescue (Castle Hayne, NC)
SPCA Tampa Bay (Largo, FL)
Twenty Paws Rescue (New York, NY)
The Witty Whisker Cat Cafe (St. Augustine, FL)
Williamson County Regional Animal Shelter (Williamson Co., TX)
Wolf Hollow (Ipswich, MA)
Zoe's Home (Allentown, PA)
Produced by Comic Cure this event benefits rescue shelters and pet adoption centers across the country, and the Pitman Revitalization Corp., a non-profit dedicated to attract and retain businesses, and beautify Pitman, NJ.