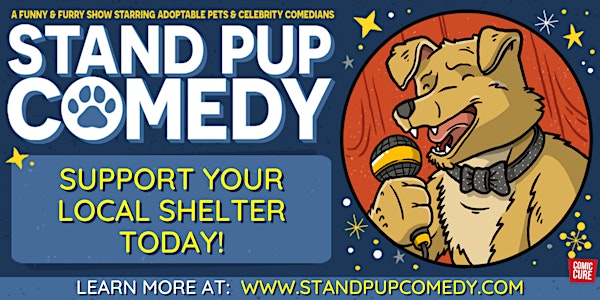 Dogs, Cats and Comedians - It's Stand Pup Comedy Online!
Meet cute adoptable pets while enjoying live comedy from the comfort of your home!
About this event
Dogs, Cats, and Comedians - It's Stand Pup Comedy Online! Starring adoptable pets, funny humans, and YOU!
Performing on the show:
Magician Douglas "Lefty" Leferovich - Masters of Illusion
Gali Kroup - Comedy Central & Sons of Anarchy
Avery Pearson - Netflix, Showtime & USA
Zoltan Kaszas - Winner, The Seattle International Comedy Competition and The San Diego Comedy Festival
Martin Morrow - Last Comic Standing
The zoom link for the event will be emailed in your purchase confirmation.
Event is for mature audiences | Refunds will not be issued unless show is cancelled by venue or producer. Events are subject to change and cancellation.
Participating Organizations:
A Wish For Animals (Southern California)
Best Friends Animal Society (Los Angeles, CA)
Bullies and Buddies (Redondo Beach, CA)
Canine Rehabilitation Center and Cat Sanctuary (New Washoe City, NV)
Coastal German Shepherd Rescue OC (Orange County, CA)
Do Over Dogs (Broomfield, CO)
Feral Change (Oakland, CA)
Forgotten Dogs Rescue (Seattle, WA)
Guidry's Guardian Foundation (Hermosa Beach, CA)
Heart of the Valley Animal Shelter (Bozeman, MT)
Hollywood Huskies Rescue (Studio City, CA)
Homeward Pet Adoption Center (Woodinville, WA)
Kris Kelly Foundation (Los Angeles, CA)
LA Animal Rescue (Chatsworth, CA)
Motley Zoo Animal Rescue (Redmond, WA)
Nevada Humane Society (Reno, NV)
Ohlone Humane Society (Fremont, CA)
Oregon Humane Society (Portland, OR)
Perry's Place / Heaven on Earth (North Hollywood, CA)
Placer SPCA (Roseville, CA)
The Animal Pad (La Mesa, CA)
The Animal Rescue Mission (Los Angeles, CA)
Produced by Comic Cure this event benefits rescue shelters and pet adoption centers across the country, and the Pitman Revitalization Corp., a non-profit dedicated to attract and retain businesses, and beautify Pitman, NJ.