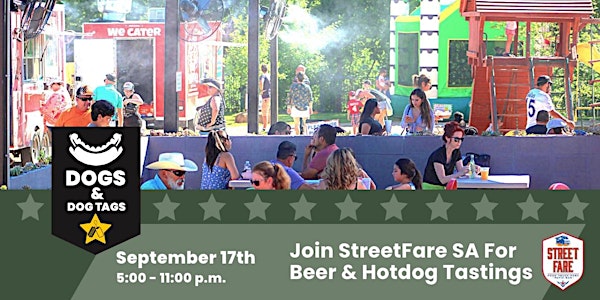 Dogs and Dog Tags
StreetFare SA honors all active duty, retired, veterans and all who supports them! Come out for a great night of food, drinks and fun!
When and where
Location
StreetFare SA 1916 Austin Hwy San Antonio, TX 78218
About this event
Military City honors our MILITARY and VETERANS with a fun event at StreetFare SA! Join us for the BIGGEST party of the year!! We will have great food, drinks, entertainment, local shopping and fun! Pardon the mess on Austin Hwy this weekend. TXDOT has scheduled road construction, BUT we will have a flagger allowing people to enter the park from the Northeast side of Austin HWY (coming from I35). We can't wait to see you at our Dog and Dog Tags event this Saturday from 5-11 p.m.
About this event
STREETFARE SA IS VOTED AS SAN ANTONIO'S #1 FOOD TRUCK PARK! We LOVE to throw HUGE celebrations! Join us Saturday, September 17th from 5-11 p.m. at our DOGS AND DOG TAGS event and enjoy gourmet hot dog tastings along with other great food truck treats, beer tastings, gourmet hot dog contest, pet adoption, dog costume contest, live wrestling, local vendors, music, games, FREE PARKING, and much more fun!
Your tickets will get you 6 hot dot tastings from 6 different food trucks. Please remember to vote for your favorite gourmet hot dog! We can't wait to see what the food trucks' version of the best hot dog will be.
Enjoy lots of fun including:
Gourmet Hot Dog Contest from the Best Food Trucks!
Beer and Bourbon Tastings from Ranger Creek Brewing and Distilling
Pet Adoption from San Antonio Dog Rescue and Rescue Pets Serving Vets
Live Wrestling from Texas Wrestling Academy
Live Music from the RXS Band
Night Market with Local Arts & Crafts Vendors
Dog Costume Contest!
Playground, Yard Games, & Moon Bounce for the Kids
Dog Park (friendly pets are welcome but must remain on their leash)
Airstream Bar with a variety of over 40 beers, frozen margaritas, sodas, water, and more!
FREE PARKING!
Food Trucks:
Bob & Timmy on Wheels
Are'Cebu
Satisfried
Dogmatic
Wienerville
CoCo Leche
Vendors:
Lil' Biscuits & Treats
Barth & Barks
TBD Creation & Design
Color Street
Texas Tiny Wraps
Ana's iDiaz and Creations
Social Work Fashionista
Classy Sassy Croc Charms
Likitysplit
* NO REFUNDS UNLESS THE EVENT IS CANCELLED.
**NO OUTSIDE FOOD OR DRINK IS ALLOWED INSIDE OF STREETFARE SA.
***PRICES GO UP TO $25 ON SATURDAY, SEPTEMBER 17TH AT THE GATE.
StreetFare website: https://streetfaresa.com/