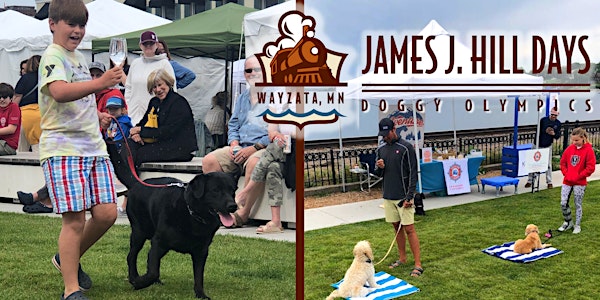 Doggy Olympics - James J. Hill Days 2022
ALL ABOARD! James J. Hill Days is coming up September 9-11, 2022. Presented by Sandvold Financial Group & The Wayzata Area Chamber
When and where
Location
Downtown Wayzata Lake Street Wayzata, MN 55391
About this event
It's all about the dogs in Wayzata! You and your pup are challenged to join us on Sunday, September 11th from 11am – 2pm for the JJHD DOGGY OLYMPICS!
Looking for a great way to engage, burn off some energy and have fun with your pup? Games are the best way to do that – they are fun for you and your dog!
BYOD (Bring Your Own Dog) and take on the challenge of the WINE GLASS WALK, the ever-popular MUSICAL BEACH CHAIRS game, and the ultimate test of focus: our LONGEST SIT-STAY contest.
Wine Walk - Holding a wine glass (filled with water), you and your dog will walk down and back on the Panoway lawn. The team who makes it back with the most amount of wine in the shortest amount of time wins!
Musical Beach Chairs - Just like musical chairs, but with beach towels for your dog to sit on. When the music stops, your dog must sit on the closest towel (one dog per towel). The last dog sitting on a beach towel is the winner!
Longest Sit-Stay Contest - All dogs will sit and stay on a beach towel while an increasing number of "distractions" are presented. The dog who holds their sit-stay the longest is the winner!
Compete for fabulous prizes! The winner of each event will go home with an amazing gift from one of our sponsors: MAVERiiiCK Lead Generation, Adventure Is Barking, Chuck & Don's, Pet Wants Minneapolis and Wayzata Pet Hospital.
Available to all dog sizes/breeds and their humans! The Doggy Olympics games can be played by any doggo/human team – and it's FREE to register!
Don't let your pup miss out on the fun – join us by registering today.