"Dog Day of Summer with Jennie DeVoe" Benefitting IMPD's K9 Unit

Saturday, August 2, 2014 from 5:00 PM to 9:00 PM (EDT)
Event Details
---
"Dog Day of Summer with Jennie DeVoe!" 
Benefitting IMPD's K9 Unit
     Join us for a delightful evening of fun, music, and Police K9 dogs at Crown Hill's "DOG DAY OF SUMMER with JENNIE DEVOE" on August 2! Held on a beautiful shaded section right inside Crown Hill's magnificant 34th Street Gothic gate, this event is a celebration of summer with the award-winning singer/songwriter JENNIE DEVOE and her incredible BAND, as well as a FUNDRAISER for the Indianapolis Metropolitan's Police Department's highly trained K9 UNIT!
     "DOG DAY OF SUMMER with JENNIE DEVOE" is scheduled from 5:00-9:00 pm and will be emceed by ANNE RYDER, freelance journalist, writer, and national speaker. From 5:00-7:00 pm or so, the public can meet and interact with IMPD's three K9 dogs and the officers who train and handle them. Yes! It's going to be a THREE DOG NIGHT! with K9s "Bradway," named after IMPD Officer Rod Bradway, killed in the line of duty on 9/20/13, as well as "Athena" and "Loena." There will also be K9 stickers for all kids, big and small!  Please join us in supporting IMPD and enjoy the best band around! 
     JENNIE'S concert will be held from 7:00-9:00 pm. If you're not already a Jennie DeVoe fan before this concert, you will be afterwards! She's a creative force gifted in so many ways, and has the best band members around to complete her music. With her spontaneous humor and a fantastic voice, DeVoe will entertain from the very beginning and you'll still be laughing all the way home..  
     TICKETS purchased in advance are $10 each; ages 12 and under are free. (Advance sale tickets are only available online through Eventbrite.) Tickets at the door are $15. This is a family-friendly event! Proceeds will benefit the IMPD K9 Unit. 
     The GROOVY GUYS FRIES Food Truck will be at DOG DAY OF SUMMER! 
     Groovy Guys Fries is one of the great food trucks in Indianapolis! They serve hot, fresh, and delicious gourmet fries. Enjoy sweet potato fries with their incredible cinnamon cream or natural cut fries with your choice of topping. Choose BBQ Pulled Pork Fries, Taco Fries, or Steak and Cheese Fries (to name a few). Make your own combo of toppings. Several specialty sauces to dazzle your taste buds! You can follow Groovy Guys Fries on Facebook.
     We encourage you to enjoy some Groovy Guys Fries or to bring a PICNIC and a blanket or chair. 
     You must enter Crown Hill through the 34th St. gate at the corner of 34th St. and Boulevard Pl. The address is 3400 Boulevard Pl., which can be easily found on this MAP. Parking is free and plentiful. Please note that you must have a ticket after 5:00 pm to enter the gate or remain on the property. (The 38th St. gate will close at 5 pm.)
    Sorry, pets and alcohol are not permitted.
Jennie DeVoe
Independent Singer/Songwriter
         JENNIE DEVOE is an independent singer/songwriter with a soulful-blues-Americana vibe whom Bonnie Raitt calls, "A great songwriter," and, "One of the most talented and hardest working musicians I know." DeVoe is a performer who connects with her audience like no other. Says Melissa Mayer of the Boone County Sun, "DeVoe's voice is a delicious mix of scratchy blues and sweet low notes. Her music is born of a unique marriage of folk and funk. She sprinkles in rhythm and blues sounds and a few well-chosen covers to create a great live show. She also manages to draw the audience in with her anecdotes and personal stories between each song. It's hard to attend one of DeVoe's shows and not feel like she's your personal friend by the end of the night." 

       Attracting fans of all ages, Jennie DeVoe is at her best in front of a listening audience, never failing to mesmerize and captivate with her talent, humor and personality. No matter the venue, DeVoe makes you feel like you're in your living room with old friends-until she knocks you flat with her amazing voice, and you forget where you are entirely. She's the kind of singer who makes the hairs on the back of your neck stand at attention. To watch her work is to fall in love with someone who is in love with what they do. Says Klipsch Audio, "Jennie DeVoe never fails to deliver intense, deeply personal songs that draw you into her impassioned world. One part power with two parts raw emotion. Jennie is the perfect blend of spirit, style and originality.
       Fiercely independent, DeVoe has declined numerous major label offers, and produced four studio albums, two live CDs, a Christmas album and a DVD on her own label, Rubin the Cat Records. SonyRED was so impressed with the critically acclaimed Strange Sunshine that they offered her a distribution deal, bringing her to many new ears, while still allowing her to retain her artistic freedom. DeVoe's latest album is Radiator, and you will enjoy a number of songs from it. DeVoe is a prolific writer, with songs stuffed in drawers and often filling up her own voicemail with ideas. 
       DeVoe, an Indiana-native, was recently voted Best Local Musical Artist/Group in Indianapolis by NUVO Magazine readers, on the heels of being named one of Indy's top 50 "Entertainers of the Decade" by The Indianapolis Star. Please visit www.jenniedevoe.com for more information.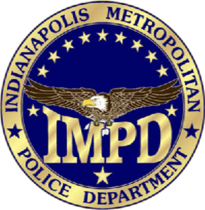 K9 Unit 
     We invite you to join us for this great opportunity to learn about the amazing things these police dogs are trained to do and the role they play in protecting our community! 

     The IMPD K9 Unit is in need of community and corporate support to reach their goals and objectives. A group of local professionals and K9 Officers have formed the non-profit IMPDK9.org organization to assist in raising these funds. 100% of all donations will assist the dogs and handlers with equipment, training, and care.
     Currently, IMPD's retired K9 dogs are cared for solely by the handler, which can become a financial burden in vet bills and food. This is just one of many needs. In addition to the opportunity to donate when you purchase your ticket, you can also donate at the concert or online at IMPDK9.org.
 K9 Unit Facts
IMPD Canine Unit was formed in 1960

The breeds of dogs used are: German Shepherd, Belgian Malinois, Dutch Shepherd, Labrador Retriever, Golden Retriever

The average active service life of a police service dog is approximately seven years.

The IMPD Canine Section conducts an annual certification standard for all police service dogs.

Several IMPD dog teams are dual trained in patrol and narcotics detection duties. Annually, the unit conducts approximately 1,500 searches for suspects and 450 narcotics searches, resulting in numerous seizures of narcotics and crimal suspects. 

Their explosive detector dogs conduct approximately 200 annual searches for guns and explosives.

The K9 section is currently staffed with approximately 40 Police Service Dogs.

The K9 teams train in excess of 6,000 hours annually.

The K9 unit is tasked with requests for demonstrations for numerous community organizations. 

 
Anne Ryder
Master of Ceremonies
           We're very pleased to have ANNE RYDER, a freelance journalist, writer, and national speaker as our emcee. 
     President of Ryder Media LLC, Anne has reported from war zones including Bosnia and Kosovo, and interviewed peacemakers, including the Dalai Lama and Mother Teresa. Her rare interview in Calcutta was the last one Mother Teresa gave before her death. 

     Anne tells stories that celebrate hope, faith and the resilience of the human spirit. She has earned 16 regional Emmy Awards and five national honors, including two Edward R Murrow awards for excellence in television. In 2009 she was inducted into the Indiana Broadcast Hall of Fame.
     A medical emergency prompted Anne to shift her priorities and find more personal balance. She maintains a relationship with the NBC affiliate, writes for an international magazine, and teaches Broadcast Journalism at Indiana University-Bloomington. She has also been a guest host on "Sound Medicine" heard on National Public Radio stations.
     Anne graduated from the University of Missouri-Columbia Journalism School and has Honorary Doctorates from three other Universities. 
     She is the mother of a teenage daughter and is passionate about issues relating to children, cancer, education and poverty. Be sure to follow Anne on Facebook and Twitter.


---
Other Crown Hill Events to Check Out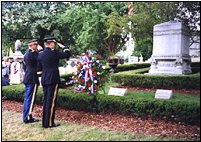 PRES. BENJAMIN HARRISON'S WREATH-LAYING CEREMONY
     Join us on Saturday, August 16 at 10:30 am for a very special wreath-laying ceremony to celebrate the birthday of our nation's 23rd president, President Benjamin Harrison. Harrison was elected to the Presidency in 1888 and service one term as the nation's Chief Executive (1889-93).   
     Brigadier General R. Andrew Bassford is our keynote speaker and our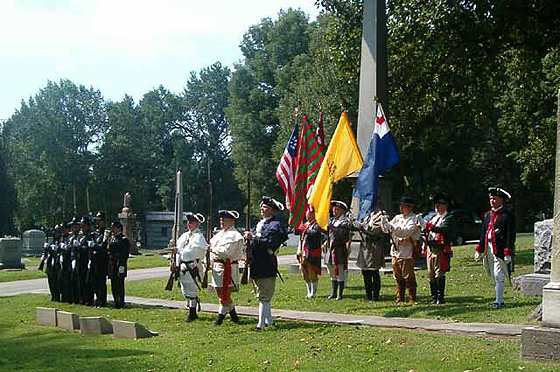 ceremony will include other speakers, the Sons of the American Revolution and Civil War Reenactors, as well as the Crossroads of America Boy Scout Band. The wreath-laying ceremony will be followed by a free guided walking tour, which will last about one hour. 
     To find President Harrison's grave site, follow the white line painted on the road from either cemetery entrance and it will take you to his memorial. For more information, please contact Marianne at development@crownhill.org or call (317) 920-4165.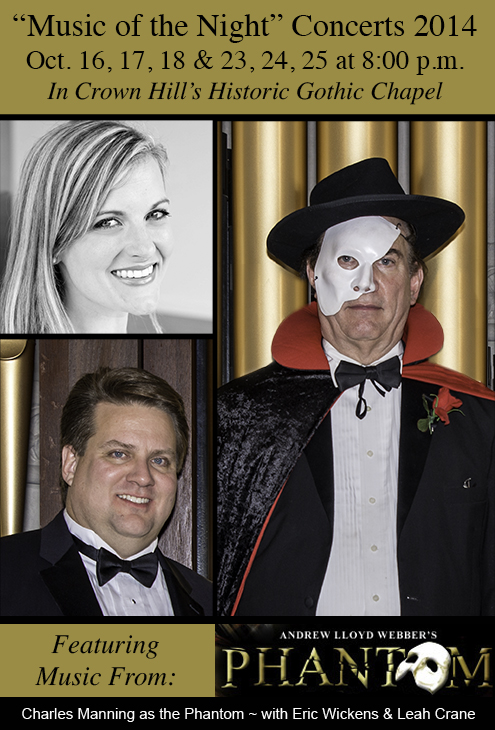 MUSIC OF THE NIGHT CONCERTS!
     Looking for other great things to do at Crown Hill? You must consider attending one of our six MUSIC OF THE NIGHT Concerts held Oct. 16, 17, 18 and 23, 24, 25 in our historic and beautiful Gothic Chapel! These concerts always sell out, and they sell out far in advance!
     Brought to you by the Crown Hill Heritage Foundation and Funeral Home, our MUSIC OF THE NIGHT Concerts are something you won't want to miss! Held in Crown Hill's beautiful and historic Gothic Chapel (1875), these concerts feature professional organist Charles Manning as "The Phantom," along with our awesome "Phantom Vocalists," Eric Wickens and Leah Crane. They will perform music from the famous "Phantom of the Opera," as well as many familiar TV & movie themes that are sure to please. Mr. Manning and the "Phantom Vocalists" will fill the eventing with their wonderful musical gifts as well as humor and drama, followed by great refreshments and a fun guided walking tour held in the dark! Click on one of the links for much more info and ticket sales.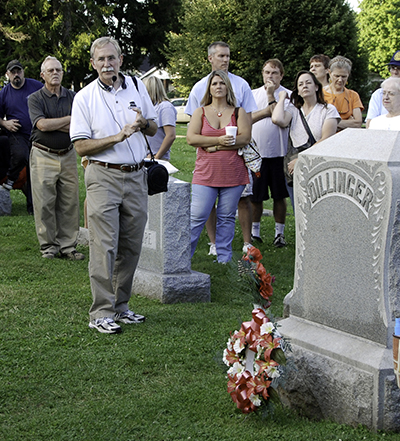 AWARD-WINNING GUIDED TOURS! The Crown Hill Heritage Foundation is proud to present our award-winning guided tours. We offer guide Public Tours throughout the summer and fall, with most held on a Saturday night and scheduled to see the sunset from the Crown, Indy's highest hill. From James Whitcomb Riley's memorial you can take in the entire skyline. 
    Our tours are historical nature, providing an interesting, and often entertaining, glimpse into the history of our state, city, and also country. As you can see in this photo of Tour guide and Crown Hill historian Tom Davis, John Dillinger is one of our stops on our "Dillinger and Other Notables" tour. Check our our list of PUBLIC TOURS and plan to attend lots of them. The cost is just $5 each! 
     We also offer PRIVATE TOURS to groups wanting a tour at a different time, or just for their own group. Follow the link for tons of info, including answers to FAQs!


Be sure to follow us on FACEBOOK and TWITTER for the latest info!
For historical facts, trivia, and photos, follow Tour Guide Tom Davis on TWITTER.

 
When & Where

Crown Hill Cemetery
3400 Boulevard Place
Indianapolis, IN 46208


Saturday, August 2, 2014 from 5:00 PM to 9:00 PM (EDT)
Add to my calendar
Organizer
Crown Hill Heritage Foundation
Crown Hill's Beautiful
Coffee Table Book 
Wins 2nd Place in a
Prestigious National
BOOK OF THE YEAR Contest! 
Available for purchase at our concerts for $20 (50% off!) is Crown Hill's very popular and SILVER AWARD-WINNING* book, "CROWN HILL: HISTORY, SPIRIT, SANCTUARY," a beautiful coffee table book by Douglas Wissing, Marianne Tobias, Rebecca Dolan, and Anne Ryder. Published by the Crown Hill Heritage Foundation and Indiana Historical Society Press to commemorate the 150th Anniversary of Crown Hill Cemetery, it features nearly 400 pages and over 650 full color photographs by Marty N. Davis and Richard Fields. You can purchase your book at the concert or at the Funeral Home and Cemetery Office during regular business hours, or visit us online at crownhillhf.org for ordering & shipping information. They make excellent gifts! *(In June 2014, "CROWN HILL: HISTORY, SPIRIT, SANCTUARY," won a prestigious national Silver Award in the Regional (Adult Nonfiction) category of "Foreword Reviews'" IndieFab BOOK OF THE YEAR Contest, judged by a select group of librarians and booksellers from around the country. Representing hundreds of independent and university presses of all sizes, IndieFab winners were selected after months of editorial deliberation over more than 1,500 entries in 60 categories. Gold, Silver, Bronze, and Honorable Mention awards, as well as Editor's Choice Prizes for Fiction and Nonfiction, were determined by a panel of librarians and booksellers in conjunction with Foreword's editorial staff.) 
~ Our Mission ~
It is the MISSION of the CROWN HILL HERITAGE FOUNDATION to preserve and celebrate the architectural, cultural, and natural heritage of the city's oldest urban green space, Crown Hill Cemetery.
Crown Hill Cemetery, the Nation's third largest non-government cemetery, is located 2.8 miles northwest of Monument Circle in Indianapolis, Indiana. Crown Hill's 555 park-like acres are home to 130 species of trees; twenty-five miles of winding roads; three miles of brick and wrought iron fence; Gothic structures dating back to 1875; a bridge/underpass that serves as one of the City's thoroughfares; and the highest hill in Marion County with a magnificent view of the Indianapolis skyline.
With more than 200,000 burials, Crown Hill serves as a chronicle of the history of Indianapolis, as seen through the thousands of stories of those who are buried within these sacred grounds. These are the stories of politicians and statesmen who shaped our government; authors, poets, and artists who reflected the emotions and feelings of their time through their work; soldiers and military leaders who fought in the nation's wars and conflicts, many of whom gave their final sacrifice to protect the freedoms that we enjoy today. And equally important are the mothers, the fathers, the children, and the individuals who have represented the basic tenets of life – faith, goodness, sacrifice, and happiness, who have made up the fabric of our society.
Crown Hill Cemetery was placed on the National Register of Historic Places in 1973. The Crown Hill Heritage Foundation strives to accomplish its mission with a perpetual historic preservation program based on the guidelines of the National Register. The Foundation is pleased to share the historic treasures, heritage, and great natural beauty of Crown Hill through its award winning tour program and special events calendar.
We welcome your visit any day of the year. Please consider making a donation to support the Mission of the Crown Hill Heritage Foundation. The Foundation is a 501(c)(3) tax exempt organization and your contribution is tax deductible. Thank you! 
Be sure to visit us online at http://crownhillhf.org/
"Dog Day of Summer with Jennie DeVoe" Benefitting IMPD's K9 Unit