Actions and Detail Panel
Dog Aggression: Safety, Defensive, Handling, and Training
Sat, March 4, 2017, 9:00 AM – 5:00 PM EST
Description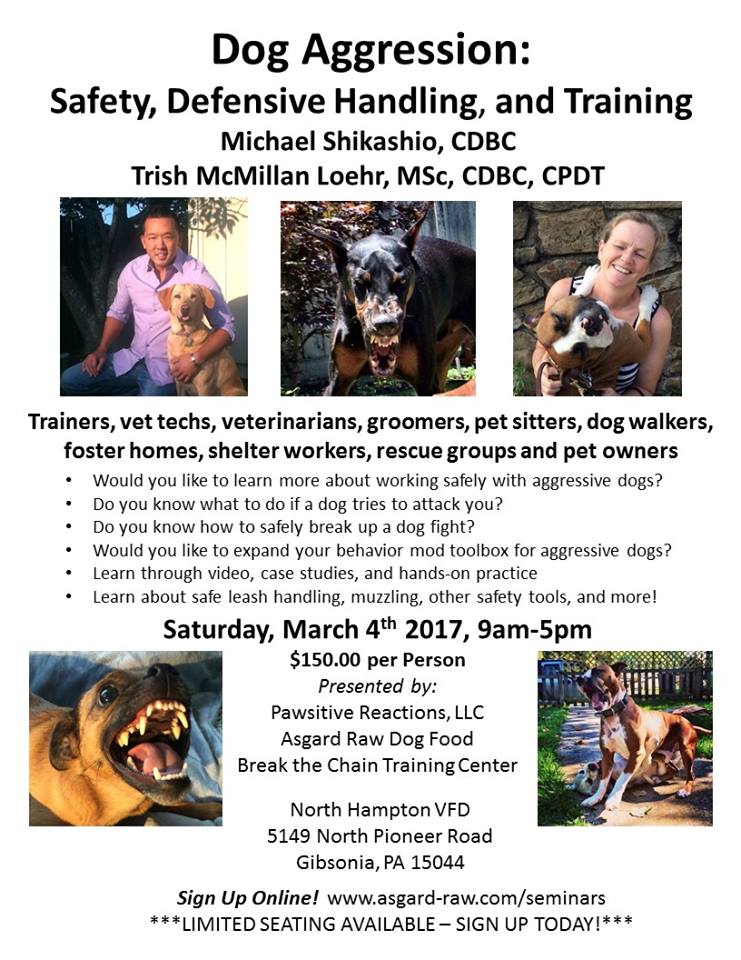 Are you interested in learning more on
safely work with aggressive dogs?
Would you like to learn hands-on defensive handling skills?
Do you want to add more to your toolbox
in modifying behavior in aggressive dogs?
Asgard Raw Dog Food, Pawsitive Reactions Dog Training and Break the Chain Canine Learning Center are proud to host AGGRESSION CASES: APPLIED BEHAVIOR MODIFICATION, SAFETY AND DEFENSIVE HANDLING seminar conducted by the respected Michael Shikashio and Trish McMillan Loehr.
Attendees will learn what is needed before working with aggressive dogs, gain hands-on experience in defensive handling and leash skills; and review videos of behavior modification in aggression cases.
This workshop is ideal for all trainers, behavior consultants, veterinarians and vet staff, shelter staff, rescue organizations and volunteers, animal control officers, law enforcement and anyone interested in learning more about dog aggression and how to stay safe.
Workshop Overview:
• Ramifications for dog bites in aggression cases and with shelter dogs
• What to know before working with aggressive dogs in shelter & client settings
• Recognizing canine body language, subtle signals & precursors before a bite occurs
• What to know and have in place before meeting with clients
• Additional measures to put in place to maximize safety
• How to apply tools and equipment for safety with aggressive dogs
• Initial greetings with dogs having a history of aggressive behavior
• Defensive handling and leash skills
• What to do if you're attacked
• How to safely break up a dog fight
• Managing shelter dog playgroups and off leash dogs
• Behavior modification & applied safety techniques (incl. video ex.)
This seminar is a must-add to your wish list for 2017!
This is a WORKING SEMINAR FOR HUMAN ATTENDEES ONLY!
No Dogs Permitted During the Seminar Please!
CEU's will be available for both CCPDT and IAABC.

***Gift Bag for All Registered Attendees***
Asgard Raw will have dog food, treats, leashes, collars, snuffle mats and more for sale during breaks!


CANCELLATION POLICY:

Due to venue cost, seating fees, speaker commitment and catering reservation; cancellations are very difficult to accept. Please review your schedule carefully before you commit to attending this seminar. Cancellation requests received prior to January 1, 2017 will be honored however there will be a $50.00 cancellation fee deducted from the refund, in addition to any fees incurred by PayPal or Merchant Services for the refund transaction. There will be no refund for cancellations received after January 1, 2017. Thank you!