Description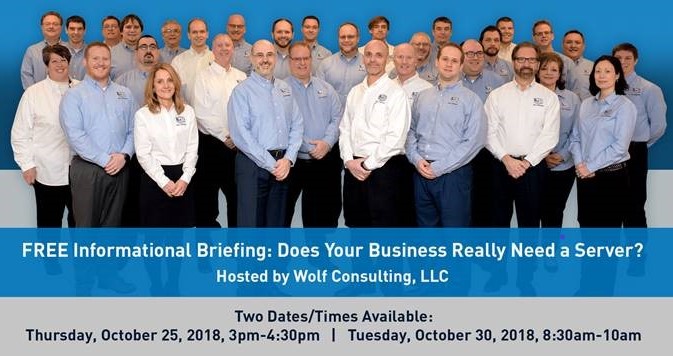 In today's ever changing IT world, more and more business owners are asking; Do I really need a server or how can I better utilize the cloud? As internet access speeds are becoming faster and less expensive, the reality of moving your servers, applications and/or data to the cloud seems reasonable. Some business owners feel moving to the cloud is a necessity, while others like the physical security of having an on-premises server. In reality, most companies have a hybrid approach in which some services and applications are cloud hosted and others are not. So, how do you determine the best answer for your company? Wolf Consulting is holding a free Informational Briefing where you'll learn about the differences so you are better able to make the right business decisions for your company.
In the Informational Briefing, we'll present information and answer questions about the following topics:
Basic terms for cloud hosting and servers.
Factors that need to be considered when moving your server(s) or applications to the cloud.
How does hosting your servers or applications affect remote access?
What is Infrastructure as a Service (IaaS) and is it right for you?
When is a hybrid solution the right answer?
How do you decide whether or not to implement a cloud solution?
This Informational Briefing is designed for owners, executives and managers of existing clients and prospective clients of Wolf Consulting. Naturally, there will be a little bit of technical information weaved into the discussion, but the presentation will be at a higher business level - specifically for business owners and managers.
A note to existing clients of Wolf Consulting: Yes, we already manage many aspects of hosted cloud services for your company, and we do a great job. But you should still attend this Informational Briefing. You will learn valuable information about what cloud offerings are available to help your company be more productive and therefore more profitable.
There are two dates and times available in October. The content and location are the same for each event. Choose the event that is most convenient for you:
If you would like to learn valuable information about cloud hosted services for SMBs, and making sure your company is moving in the right direction, this Informational Briefing is for you! The briefing is free of charge, but seating is limited. Light refreshments will be served. If you have any questions, please call us at 724-325-2900 x 4. To reserve your seat, call our office or register online by: clicking the Select a Date link on this page, then click the Register link that is displayed to complete the registration process and add the event to your calendar.