How can what we wear affect our mental wellness and physical health? In what ways can we use fashion as a tool for self-care?
About this event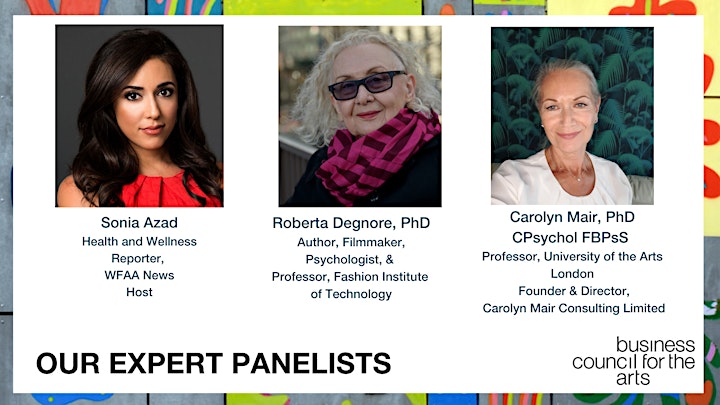 Roberta Degnore, PhD (Panelist): Dr. Roberta Degnore is an eclectic psychologist with degrees in environmental, social, and clinical psychology. She is also the author of thirteen novels and has an MFA in screenwriting. After years in her private practice that specialized in creative work block therapy for artists, she now primarily teaches—and still writes. Most recently Roberta has focused on applied psychology. She developed a unique class at the Fashion Institute of Psychology (FIT) in New York city. It explores the interactions of perception, appearance, and behavior: The Psychology of the Expression and Perception of Gender in Fashion. Based on this unique work, she was awarded an IFFTI grant (International Foundation of Fashion Technology Institutes) to present her class internationally. She did so at the University of the Arts London, London College of Fashion. There, Roberta had the opportunity to share her work with, and learn more from, the originator of the entire field of "Fashion Psychology," Carolyn Mair.
Carolyn Mair PhD CPsychol FBPsS (Panelist): Professor Carolyn Mair, PhD is a Behavioural Psychologist specialising in fashion. She is a Chartered Fellow of the British Psychological Society and recipient of their 2017 Distinguished Contributions to Psychology Education Award. As a Professor of Psychology for Fashion at the University of the Arts London, she established what is now known as 'Fashion Psychology' when she created the world's first MSc, MA and BSc to apply Psychology in the context of Fashion. Over her 20 years in academia, Carolyn published broadly in scholarly journals. She left academia in 2017 to focus on consulting with the fashion industry. Her book, The Psychology of Fashion, was published in 2018. Since then, Carolyn has become the media's go-to person for insights into the interrelationships among fashion (in its broadest sense) and Psychology. She has a PhD in Cognitive Neuroscience, MSc Research Methods, and BSc Applied Psychology and Computing. Among her earlier careers, she worked as a visual merchandiser and graphic designer.
Sonia Azad (Host): Sonia Azad is an Emmy®Award winning journalist and reporter at WFAA in Dallas, TX, specializing in health and wellness. In 2012, the Texas Associated Press Broadcasters named Sonia one of the best reporters in the state. And in 2017, the Texas Medical Association awarded Sonia for her series on Egg Freezing. Most recently, Sonia's coverage spans fitness, nutrition, medical advancements & research, as well as public health and infectious disease, including Ebola, Zika, and CoVid-19. Sonia graduated from the University of Texas at Austin with a Bachelor of Science in Journalism and she also holds a Master of Science degree in Journalism from Northwestern University's Medill School of Journalism. Sonia is also a marathon finisher and certified yoga and meditation instructor.
Arts & Health is a free webinar series organized by Business Council for the Arts that is open to the community. The purchase of a donation ticket allows us to keep creating accessible and innovative programming. Thank you for your support!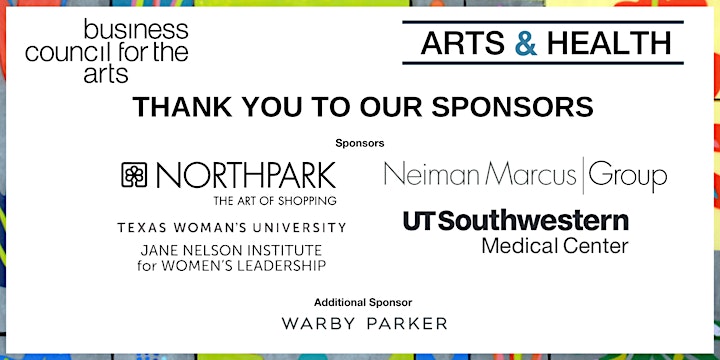 Organizer of Does What We Wear Change How We Feel?