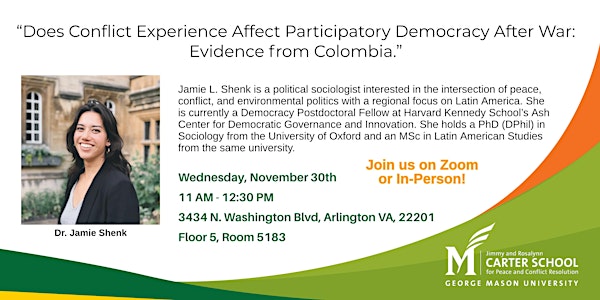 Does Conflict Experience Affect Participatory Democracy After War?
Does Conflict Experience Affect Participatory Democracy After War: Evidence from Colombia
About this event
This is registration to attend event virtually.
Join the Carter School community for a presentation by Dr. Jamie Shenk.
Dr. Jamie L. Shenk is a political sociologist interested in the intersection of peace, conflict, and environmental politics with a regional focus on Latin America. She is currently a Democracy Postdoctoral Fellow at Harvard Kennedy School's Ash Center for Democratic Governance and Innovation. She holds a PhD (DPhil) in Sociology from the University of Oxford and an MSc in Latin American Studies from the same university. Her work is published or forthcoming in Comparative Politics and Journal of Peace Research.
Her current book project focuses on the lingering effects of armed conflict on environmental movements, using Colombia as a case study. She examines the use of consultas populares (local referenda) to contest large-scale mining and oil projects in Colombia as an example of citizen-activated participatory democracy in active and post-conflict contexts. Her research employs a mixed-methods approach, leveraging quantitative analysis of an original dataset she constructed of consultas populares in Colombia and qualitative data collected during fieldwork in-country.