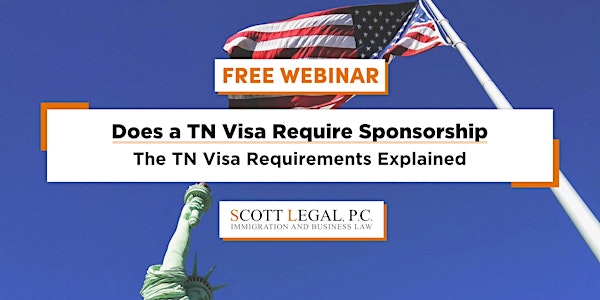 Does a TN Visa Require Sponsorship · The TN Visa Requirements Explained
This seminar will go over the TN visa requirements, and explain most of the rules and requirements governing this type of visa.
About this event
This seminar will go over the TN visa requirements including: The TN visa requirements explained; what is Sponsorship? Why a TN Visa does not require Sponsorship; tips of how to deal with prospective employers; differences for Canadian and Mexican Nationals; difficult TN categories (Management Consultant & Economist); the TN Application process explained; and some tips and common TN visa pitfalls.
Also you will also receive a free TN visa guide.

Speakers
Kelly R. LeGrand Weiner, Esq.
Ms. Weiner graduated summa cum laude (top 3 out of 389 students) from New York Law School and obtained her undergraduate degree in Anthropology from New York University (N.Y.U.). Ms. Weiner recently completed (with honors) an intensive Harvard Business School program that focused on finance and business strategy.
As an intern at the New York Legal Aid Society, the American Civil Liberties Union (ACLU), and the Office of the New York State Attorney General, respectively, Ms. Weiner evaluated case files for the investigatory phase of litigation on improper fingerprinting of juveniles, researched racial disparities in specialized schools and presented findings in anticipation of a published report, and drafted legal memoranda on liability of third-party vendors for discrimination in hiring practices...
View Full Profile: Click Here

Jiyae Hwang, Esq.
Ms. Hwang is a New York-licensed lawyer specializing in U.S. immigration law. Ms. Hwang obtained her J.D. from New York University School of Law in 2018, where she served as Senior Executive Editor (Printing) of the New York University Law Review. Ms. Hwang holds a B.A. in English from Harvard University and M.A. in History and Literature from Columbia University in New York City.
Before joining Scott Legal, Ms. Hwang maintained a commercial litigation and arbitration practice in the Litigation Department, Complex Litigation Group, at the New York office of Paul Hastings LLP, an internationally-renowned law firm for its litigation and corporate practices. At Paul Hastings LLP, Ms. Hwang maintained a personal pro bono law practice in immigration law, focusing on Green Card applications and asylum applications. Ms. Hwang has exclusively practiced immigration law since 2020, focusing on EB2 National Interest Waiver and EB1A Extraordinary Ability petitions.
View Full Profile: Click Here

Аbout Scott Legal P.C.
Scott Legal, P.C. is a New York-based law firm founded by Harvard Law School graduate and attorney Ian E. Scott. We are an Immigration and Business Law Firm and provide legal services in Business Immigration for Investors & Employment, Family Based and Other Immigration Services, New Business Set-Up, Business Plan Drafting, Entrepreneurial Support, and Contract Development. We also provide in-house general counsel services for small and mid-sized businesses. We have asked many people what they consider important and we have consistently heard expertise, fair and reasonable fees, and convenience. At Scott Legal, P.C. we focus on providing each of these to you.