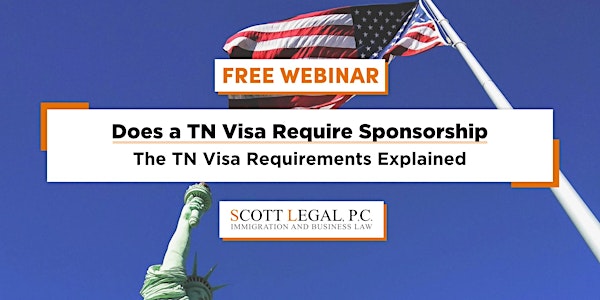 Does a TN Visa Require Sponsorship · The TN Visa Requirements Explained
This seminar will go over the TN visa requirements, and explain most of the rules and requirements governing this type of visa.
About this event
This seminar will go over the TN visa requirements including: The TN visa requirements explained; what is Sponsorship? Why a TN Visa does not require Sponsorship; tips of how to deal with prospective employers; differences for Canadian and Mexican Nationals; difficult TN categories (Management Consultant & Economist); the TN Application process explained; and some tips and common TN visa pitfalls.
Also you will also receive a free TN visa guide.

Аbout Scott Legal P.C.
Scott Legal, P.C. is a New York-based law firm founded by Harvard Law School graduate and attorney Ian E. Scott. We are an Immigration and Business Law Firm and provide legal services in Business Immigration for Investors & Employment, Family Based and Other Immigration Services, New Business Set-Up, Business Plan Drafting, Entrepreneurial Support, and Contract Development. We also provide in-house general counsel services for small and mid-sized businesses. We have asked many people what they consider important and we have consistently heard expertise, fair and reasonable fees, and convenience. At Scott Legal, P.C. we focus on providing each of these to you.