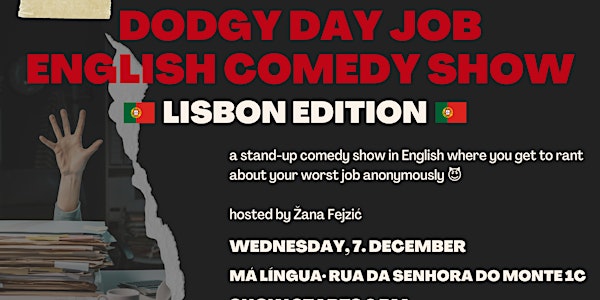 Dodgy Day Job - (Lisbon Edition) English Comedy Show
Coming to Lisbon! The English stand-up comedy show where you get to rant about your worst job anonymously
When and where
Location
Má Lingua 1C Rua da Senhora do Monte 1170-358 Lisboa Portugal
About this event
The standup comedy show where you commiserate with fellow miserable people with sh*tty day jobs, past or present!
`This comedy show features some of Lisbon's best comedians (and sometimes international guests) who'll make fun of their worst day jobs to make you forget you have to go back to work the next day.
Bring the hot work gossip and all your complaints to the show and unleash them anonymously in our Professional Confessional: you'll get a piece of paper to write your experience to share with everyone anonymously and let 👏🏻 it 👏🏻 out 👏🏻
For example:
Sick of coming into the office when you can do your job perfectly fine from home?
Write it down.
Tired of Susan microwaving fish in the office kitchen? (Goddamn it, Susan!)
Write it down.
About to quit the next time you're asked to be "a team player" and take on tasks you know you damn well didn't sign up for?
Write. It. Down!
Bring your friends (work friends if you like them enough) and have a laugh brought to you by Lisbon's best comedians!
How much are tickets?
This is a ticketed event:
€5 at the door with a reservation through Eventbrite
What time is the show?
Show starts at 9 pm
Doors open at 8:30 pm
Who's the host?
Comedian & Producer Žana Fejzic (IG @zanafejzic)
www.zanafejzic.com