DOD Programs Briefing and Guide Specifications Seminar
Description
---
The SAME Anchorage Post hosts a day-long event providing a preview of the construction programs of the uniformed services in Alaska for the coming fiscal-years and a forum to discuss opportunities to improve Guide Specifications in order to deliver state-of-the-art facilities that meet Alaska's cold climate challenges.
SOLD OUT
For more info contact: William (Bill) Kontess at Bill.Kontess@mbakerintl.com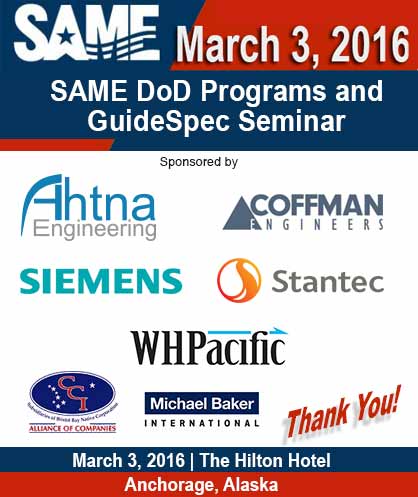 Overview
Department of Defense (DoD) construction programs preview for Alaska for upcoming fiscal-years.
Forum for the architect/engineering and construction industry to interface with DoD counterparts in reviewing and identifying weaknesses in the Unified Facilities Guide Specifications (UFGS) to deliver facilities meeting Alaska's cold climate challenges.
Panel presented by key Alaska-based DoD Agencies and their engineering staff along with lead engineers, architects, contractors from industry, and representation by local Construction Specification Institute leadership.
Roundtable discussions to further identify and prioritize select specifications requiring additional development and review.
Goal Immediate implementation of recommendations on Alaska projects and submission to UFGS for possible inclusion in the master specification. Focus areas include frost susceptible soils, building envelope performance, energy savings, and fire protection specifications.
Professional Development This seminar offers 5 Professional Development Hours/Continuing Education Units, of which 4.5 are anticipated to fulfill Health, Safety and Welfare requirements.