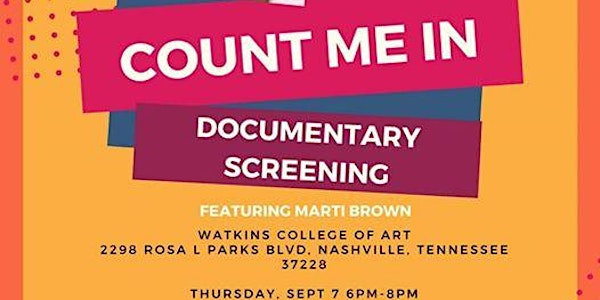 Documentary Screening: Count Me In Featuring Special Guest Marti Brown
When and where
Location
Watkins College of Art, Design & Film 2298 Rosa L Parks Boulevard Nashville, TN 37228
Description
About...

Metro Nashville Community Budgeting will be screening the documentary Count Me In - documentary. Our special guest, Marti Brown, will be shairing her experiences as the former Vallejo, CA Councilmember who spearheaded PB to Vallejo for the first city-wide PB process in North America.

Documentary Background...

At a time when voter frustration is mounting, there's finally a good news story about money and voting: COUNT ME IN highlights an innovative experiment in direct democracy that gives ordinary Chicagoans direct say over local public projects and monies. Pioneered in Chicago, participatory budgeting is rapidly spreading across the country and even the White House recently made it one of its key recommendations for open government.

The first in-depth documentary about this burgeoning national movement, COUNT ME IN tells the compelling stories of regular Chicagoans who are rolling up their sleeves to make an impact in their neighborhoods. The film shows residents pitch ideas for street repairs, bike lanes, or community gardens. Projects get researched, proposals crafted, and at the end, the entire community is invited to vote.

Featured among the participants are Shannon Dudley, a retired IRS agent and passionate gardener; Joann Williams, a feisty community leader; and Maria Hadden, who began as a volunteer, but now teaches people in other Chicago wards how to implement participatory budgeting.

But COUNT ME IN doesn't paint an overly rosy picture: power-sharing happens slowly in Chicago -- city agencies are slow to warm to the process and only a handful of aldermen have been willing to try participatory budgeting, even though residents find it empowering and a great tool for community.

More: http://www.countmeinmovie.com/

Purpose...

Metro Nashville Community Budgeting believes our advocacy work is built upon a framework of informing and educating our Nashville constituents and leaders across the city on the existence of and importance of a full model scale of Participatory Budgeting so all have a fair opportunity to understand the process and can determine if this is the democracy they want to support. This event will allow our attendees the opportunity for a Q&A session with Marti Brown, exchange ideas with our attendees, and most importantly, identifying opportunities for each attendee to imagine how they would play a unique role in ensuring the successful existence of PB in our communities.