Documentary Film

Saturday, June 28, 2014 from 3:00 PM to 4:30 PM (IST)
Event Details
"Objectified"
A documentary on the psychology of Industrial Design (75 mins)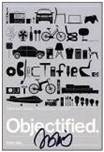 The items you think the least about may have the most effective designs, according to the 2009 film "Objectified."
Take  the Post-it note. Have you ever considered that someone put a lot of time into its appearance?
The movie explores the  unconscious but influential relationship we have with the objects around us, and why the smallest tweaks in design  make an enormous difference.
Nearly everyone spends their life surrounded by the work of industrial designers, but very few people understand the process by which your furniture, cell phone, or alarm clock came to look and feel the way they do, and how the elements of design interact with our own ideas and assumptions about value and functionality.  Objectified, which features interviews with a number of major designers who discuss how products move from the drawing board to the marketplace, and the philosophy behind the look, feel, and function of the things in your home.

Anchored by Firoz Siddiqui
Firoz works  as Inovation Manager with Fauresia Interior Systems. He has also worked with Tata Motors and Mahindra, in their Design Dept.  He has 13 yrs of experience in the field of Design and automotive products. His expertise is in Designing, Prototyping, Testing and Mechanisms. He is a serial innovator with many patents to his credit, some of them being personal
When & Where

Venture Center Library
100 NCL Innovation Park,
Dr. Homi Bhabha Road, Pashan,
Pune, Maharashtra 411008
India

Saturday, June 28, 2014 from 3:00 PM to 4:30 PM (IST)
Add to my calendar
Organizer
A business library dedicated to Entrepreneurship / Innovation / Technology Commercialisation.
Books, Magazines, Reports, Market & Industry Research
Convenient & Affordable Membership Options
Easy of access location. Ample parking space
Well organized library in pleasant and quiet surroundings.
Cafeteria Services