Documentary Film Screening – "Me Facing Life: Cyntoia's Story"
Description
Join the Orange County Women's Health Project on Sunday, September 16, 2018 at The Port Theater for an exclusive screening of the Director's Cut of the documentary Me Facing Life: Cyntoia's Story, followed by Q+A and reception with award-winning filmmaker and producer, Dan Birman.
Me Facing Life: Cyntoia's Story is a documentary film about Cyntoia Brown, a sex trafficking victim who was sentenced to life in prison at the age of 16 for killing a man who had solicited her for sex. The documentary explores how social determinants such as poverty, violence, and substance abuse contributed to Cyntoia's situation.
This film joined the national conversation about the need to change sentencing laws in America, particularly in Tennessee where the crime took place. New developments concerning Cyntoia's sentencing are occurring throughout 2018. Filmmaker and producer Dan Birman will share highlights of how his film impacted the legal system's approach to sentencing children and caused national attention in 2017. Read more from NYTimes, NPR or CNN.
Human trafficking is a growing problem throughout the United States, including in Orange County, where in 2016 there were 284 known victims of sex and human trafficking in 2016, 92% of whom were female (see OC Register, January, 11, 2018).
Daniel H. Birman is an award-winning documentary producer and a Professor of Journalism at the USC Annenberg School of Journalism. He produced, directed, and wrote the world-acclaimed documentary Me Facing Life: Cyntoia's Story, which aired on PBS | Independent Lens and worldwide in 2011. In 2017, Birman Productions produced a spinoff of Cyntoia's story, Sentencing Children, a digital series for Independent Lens and The Tennessean about a legal challenge to juvenile sentencing laws in Tennessee. Birman also recently completed The Earliest Americans, The Hunt for Dark Matter, and Conscious Capitalism, all for CuriosityStream. At USC, Birman developed the nonfiction television / documentary production track and is the executive producer for Impact, the school's student-produced documentary series. Read more about Dan Birman here.
---
EVENT DETAILS:
Program:
4:00 pm – Check-In and Reception
4:30 pm – Welcome Remarks
4:40 pm – Film Screening of "Me Facing Life: Cyntoia's Story"
5:50 pm – Talk, Q&A, and Reception with filmmaker and producer, Dan Birman
7:00 pm – Program End
Ticket Sales: Ticket sales will close on Wednesday, September 12 at 5:00 pm PST.
Attire: Business casual
Parking: Parking is available on the streets surrounding the Port Theater. Please be mindful of metered parking. No valet parking is available.
Parental Advisory: Contains strong language and mature content. This film is not recommended for audiences younger than high school.
---
SPONSORSHIP:
Thank you to our current sponsors!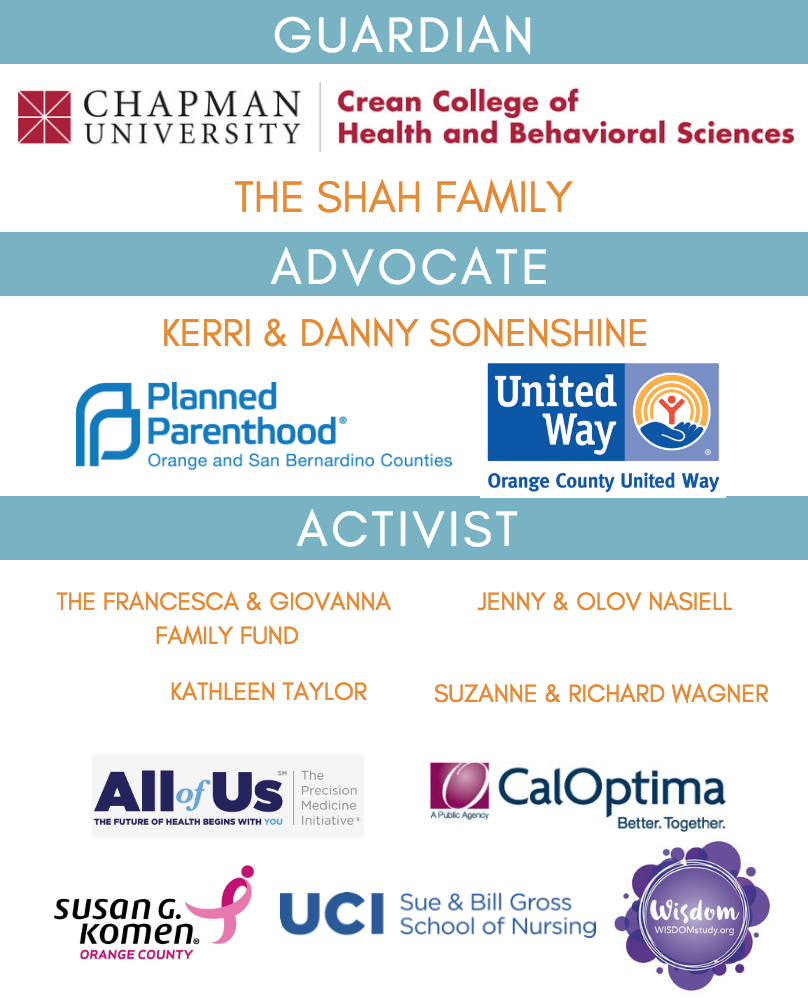 Additional sponsorship opportunities are available at www.ocwomenshealth.org/events/film-screening.
All proceeds support the OCWHP's work to advance the health and well-being of women in Orange County.
---
QUESTIONS: If you have any questions please contact Sydney Minchin, Project Coordinator for the Orange County Women's Health Project at (714) 619-8419 or minchin@ocwomenshealth.org.
Event updates will be posted here.
---
Peeps are community leaders that make the work of the Orange County Women's Health Project (OCWHP) possible by contributing financial support and volunteerism in our programs and special events. Peeps ensure that the OCWHP will continue to be Orange County's voice for women's health. In addition to supporting women, Peeps' contributions makes a difference for all of Orange County; for when we improve women's health we positively impac the health of their children, families, and communities.