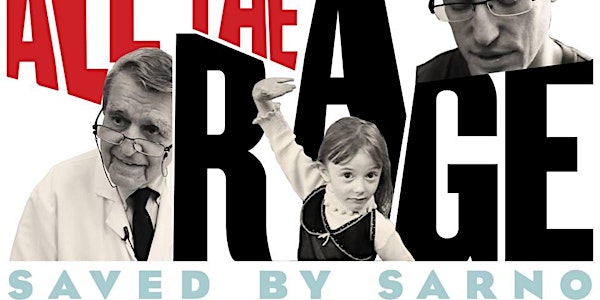 Documentary Film Screening: All the Rage. Followed by audience Q & A with Dr. Angela Cooper
When and where
Location
Centre for Peace (Canadian Memorial United Church) 1825 W. 16th Avenue Vancouver, BC, V6J 2M3 Canada
Refund Policy
Refunds up to 30 days before event
Description
Exclusive Film Screening of: All the Rage, followed by audience Q & A with Dr. Angela Cooper, from Dalhousie University's Centre for Emotions and Health
When: August 11, 2017: 7:00pm - 9:30pm
Venue: Centre for Peace (Canadian Memorial United Church)
Cost $20
Please join us for a screening of the newly released documentary ALL THE RAGE, featuring Dr John Sarno and other experts who are pioneering mind body approaches to treating chronic illness.
Dr. Cooper will take questions from the audience and further explore connection between emotions and health – and the pros and cons of taking a mind-body approach to persistent physical symptoms.


Following the screening, on August 12, 2017 there is a Professional Workshop on the Role of Emotions in Health: For more information: https://role-of-emotions-workshop.eventbrite.com
Film Backgrounder:
HAVE YOU EVER SEEN A FILM THAT HAS CHANGED YOUR LIFE?
What do Howard Stern, Larry David, John Stossel, Senator Tom Harkin, Pro-Golfer Ben Crane, and thousands of others have in common? They all suffered from debilitating pain until they met Dr. John Sarno.
"We're in the stone ages, and Dr. Sarno is from another planet. He's way ahead of his time. It is mind-blowing what he's uncovered." – Howard Stern
"[After talking to Dr. Sarno,] all of a sudden the pain was gone, it was the closest thing I've ever had in my life to a religious experience, and I wept."– Larry David, creator of Curb Your Enthusiasm & Seinfeld
By filmmakers Suki Hawley, David Beilinson and Michael Galinsky (RUMUR Inc), All the Rage has been ten years in the making. This documentary began as a profile of Dr. John E. Sarno, a back pain and rehabilitation specialist who has pioneered a successful mind body approach to treating chronic pain. Called the "best doctor you've never heard of" by Forbes magazine, Dr. Sarno has cured thousands of patients, and sold hundreds of thousands of books, based on the philosophy that knowledge can be the cure. Over the course of shooting, we've talked with dozens of notable patients and specialists, and we've expanded the focus to an exploration of the connection between our emotions and our health.
Through interviews connecting Dr. Sarno's work with that of doctors at the forefront of mind body medicine – gastroenterologist Dr. David Clarke, physician Dr. Gabor Mate, and many noted psychologists – All the Rage will help illuminate the powerful impact emotions have on our health.
The documentary also includes interviews with Dr. Andrew Weil, Arlene Feinblatt, Ph.D., Dr. Andrea Leonard-Segal, Ashok Gupta, Dr. Dennis Turk, Tom Chi, Ram Dass, and dozens of other mind body medicine and pain experts, as well as patients.
All the Rage: http://alltheragedoc.com/
Background on Dr. Cooper's research:
The psychological and emotional factors involved in physical health and wellbeing are becoming increasingly important to understand. Research now demonstrates the intimate connection between adverse childhood experiences, how the brain processes strong emotions, and the effect on the body's immune, nervous, and hormonal systems. When emotions automatically trigger the fight/flight/freeze response in the body, persistent physical and emotional symptoms (such as headache, fatigue, chronic pain, gastrointestinal disturbances, anxiety and depression) can result. Traditional medical investigations are often unable to detect the causes of these symptoms – hence the name, Medically Unexplained Symptoms (MUS).
Dr. Cooper, a Psychologist and Assistant Professor at the Centre for Emotions and Health (Dalhousie University, Halifax, Nova Scotia), is leading research in assessing and treating 'MUS' using an evidence-based psychotherapy approach known as Intensive Short Term Dynamic Psychotherapy (ISTDP) within two family medicine centre's in Halifax, Nova Scotia. .
For more information on this research and registration for the Professional Workshop on August 12, 2017 see: https://www.eventbrite.com/e/role-of-emotions-in-mind-body-health-professional-workshop-tickets-34669034014 ( *This Workshop is designed for healthcare professionals registered with a licensed body, only)
Meet the Presenter:
Dr. Cooper is a Clinical Psychologist and ISTDP therapist, originally from the UK. Her collaboration between the Centre for Emotions and Health, and Dalhousie's Department of Family Medicine enhanced her burgeoning interest in the assessment and treatment of patients with medically unexplained symptoms. Dr. Cooper's three-year pilot project aims to highlight the potential clinical and cost benefits of providing short term dynamic pschotherapy for Medically Uexplained Symptoms in a primary care setting. In addition, she is incredibly passionate about developing and enhancing the emotional capacities of healthcare professionals. By building clinician's emotional resilience, she hopes to reduce stress, burnout and medical errors, and improve the relationship between patient and healthcare provider.