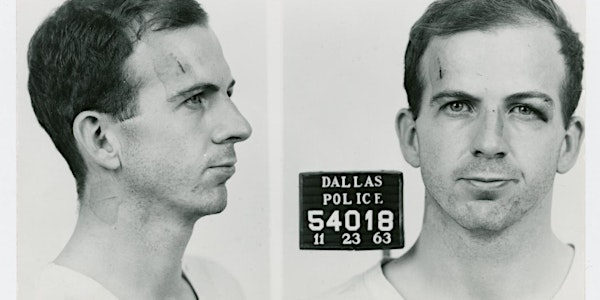 DocuClub LA: The Assassination & Mrs. Paine
When and where
Location
Film Independent 5670 Wilshire Blvd. 9th Floor Los Angeles, CA 90036
Description
DocuClub LA is a collaboration between the International Documentary Association and Film Independent. This work-in-progress screening offers the public and members of the film community advance access to new documentaries in progress, and the opportunity to participate in behind-the-scenes conversations with filmmakers and creators. DocuClub offers filmmakers a place to share their stories in a safe and supportive environment and receive constructive feedback that will get their projects festival ready.
Please join the International Documentary Association and Film Independent on Monday, July 15, for the second DocuClub LA of 2019 with a screening of The Assassination and Mrs. Paine. Following the screening, we will be joined by director, Max Good, and producer, Christopher Noviello, for a feedback discussion moderated by Simon Kilmurry, Executive Director of the International Documentary Association.
Doors open at 7:00 pm. Screening, followed by a moderated feedback discussion with the filmmakers - 7:30 pm - 10:00 pm. Drinks and snacks will be available for a modest suggested donation.
Space is very limited so please update your RSVP if you can't make it so we can have a real count of the attendees. Admission not guaranteed, all RSVP's are first-come, first served.
Film Independent
5670 Wilshire Blvd. 9th Floor
Los Angeles, CA 90036 (Map)
THE FILM
The Assassination and Mrs. Paine is a documentary thriller about an unassuming Quaker woman who may hold a secret to one of the great mysteries in American history–the assassination of President Kennedy. The film traces the experience of Ruth Paine, a close friend of Marina and Lee Harvey Oswald at the time of the assassination. Fifty-five years later, she is one of the few surviving central witnesses.
According to her detractors, Ruth Paine is a government agent who helped frame Lee Harvey Oswald as the assassin of the president. According to her defenders, Ruth is an innocent bystander caught up in history; a liberal, pacifist, Quaker and good Samaritan. The Assassination and Mrs. Paine juxtapose Ruth's first-hand account alongside the conspiracy theorists who suspect her and the defenders of the official story with whom she sides.
In the age of fake news and post-truth politics, we return to the foundational conspiracy of our time through the lens of this critical but little-known character. This unsettled history, embodied in the story of Ruth Paine, is an opportunity to understand divergent visions of the truth and America itself.
Leading up to the assassination in November 1963, Ruth and her former husband Michael were friends and benefactors of Marina and Lee Harvey Oswald. Marina lived in Ruth's house and Lee spent weekends there. Ruth also helped Oswald obtain his job at the Texas School Book Depository, the building from which he allegedly killed the president. Oswald's rifle was stored in Ruth's garage and much of the evidence against him was found there.
Over the decades, Ruth and Michael Paine have appeared in many network specials on the assassination, intoning on Oswald's guilty character. In April 2018, Michael Paine passed away at age 89 after granting us his last interview.
Max Good, Director
MAX GOOD released his first feature documentary in 2011, Vigilante Vigilante: The Battle for Expression, a provocative exposé on the phenomenon of anti-graffiti vigilantes. The film enjoyed a small theatrical run, playing at theaters including San Francisco's Roxie and the IFC in New York. Variety said of the film, "Engaging…Entertaining…Nary a dull moment" and it went on to a highly-rated run on Netflix. Max's short documentaries have played at festivals including the Sheffield Doc/Fest and the Big Sky Documentary Film Festival. Max is fascinated by marginal characters and subversive stories. His films aim to challenge comfort and complacency. Max holds a B.A. in Communications from The University of Pennsylvania and an MFA in Documentary Film & Video from Stanford University. He is based in Oakland, CA.
Christopher Noviello, Producer
Christopher Noviello has been a producer and post production supervisor on such documentaries as How to Die in Oregon, Sky Ladder: The Art of Cai Guo-Qiang, and Homecoming: A Film by Beyoncé. He states, "My uncle won a betamax deck in 1982 and I became fixated with watching Clash of the Titans and King Kong over and over to try to comprehend how the films were created. Pretty much after that, I was hooked on post production whether it be on music videos, commercials, features or documentaries.I just wanted to be part of the storytelling process."
Simon Kilmurry, Moderator
Simon Kilmurry is the executive director of the International Documentary Association (IDA). He oversees all IDA programs and operations, including filmmaker services, funding, educational programs, the IDA Awards, IDA's Getting Real conference, and advocacy for the field. In 2017 he launched IDA's Enterprise Documentary Fund, a $1 million annual fund supporting documentary journalism. He serves on the board of jurors of the George Foster Peabody Awards and is a member of the Academy of Motion Pictures Arts and Sciences, the Producers Guild of America, and the National Academy of Television Arts and Sciences. Prior to IDA he was the executive producer of POV, the PBS showcase of independent documentaries where he received one Prime Time Emmy, three Prime Time Emmy nominations, 17 News & Documentary Emmy Awards, more than 60 News & Documentary Emmy nominations, and six Peabody Awards.
Directions:
Driving & Parking: Validated parking available in the building after 5:31 pm (Enter from Hauser or Masselin). Check in at the security desk in the lobby to gain access to Film Independent's offices. You may have to show ID.