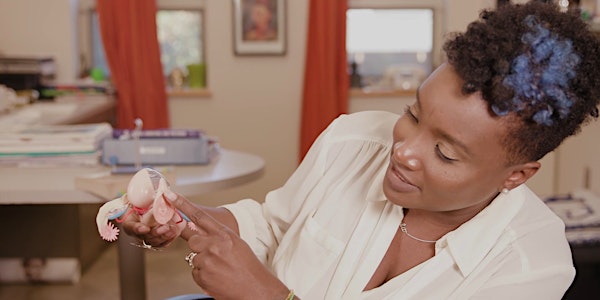 DocuClub LA: Dilemma of Desire
When and where
Location
Film Independent 5670 Wilshire Blvd. 9th Floor Los Angeles, CA 90036
Description
DocuClub LA is a collaboration between the International Documentary Association and Film Independent. This work-in-progress screening offers the public and members of the film community advance access to new documentaries in progress, and the opportunity to participate in behind-the-scenes conversations with filmmakers and creators. DocuClub offers filmmakers a place to share their stories in a safe and supportive environment and receive constructive feedback that will get their projects festival ready.
Please join the International Documentary Association and Film Independent on Monday, August 5, for the third DocuClub LA of 2019 with a screening of The Dilemma of Desire. Following the screening, we will be joined by director/producer, Maria Finitzo, producer, Diane Quon, and producer, Cynthia Kane, for a discussion moderated by independent producer, Katie Doering.
Doors open at 7:00 pm. Screening, followed by a moderated feedback discussion with the filmmakers - 7:30 pm - 10:00 pm. Drinks and snacks will be available for a modest suggested donation.
Space is very limited so please update your RSVP if you can't make it so we can have a real count of the attendees. Admission not guaranteed, all RSVP's are first-come, first served.
Film Independent
5670 Wilshire Blvd. 9th Floor
Los Angeles, CA 90036 (Map)
THE FILM
The Dilemma Of Desire explores the clash between gender politics and the powerful imperatives of female sexual desire, by following two scientists and two artists who are using their work to shatter myths women have been taught about their sexual desire and their bodies. Included are portraits of five who share their stories of what it means to be sexual today. What's allowed for men, must be allowed for women - that's where equality starts and is at the heart of The Dilemma Of Desire.
Maria Finitzo, Director/Producer
MARIA FINITZO is a three-time Peabody Award-winning filmmaker who has won every major broadcast award including most recently the Alfred E duPont Award. Her films have screened in festivals around the world. A coming of age story that reveals the resilience of adolescent girls (5 GIRLS), a father determined to heal his daughter after a tragic accident (MAPPING STEM CELL RESEARCH: TERRA INCOGNITA) investigates the role of science in a democratic society, a young man, leaving foster care (WITH NO DIRECTION HOME) explores the challenges of trying to find one's place in the world, a soccer coach committed to teaching his players – Hispanic girls – about winning in life (IN THE GAME), and a young couple, both working minimum wage jobs struggling to make ends meet (HARD-EARNED) are all films that explore different realms of storytelling by investigating the important social issues of the day. She is an associate of four-time Oscar nominated Kartemquin Films, one of the most respected social issue documentary film companies in the country. Finitzo is also a screenwriter and fiction film director. In 2014, she founded Film Film Arts Productions, LLC a Chicago-based production company dedicated to producing independent fiction films. She is currently in post-production on THE DILEMMA OF DESIRE, a feature length documentary that explores female sexual desire and women's equality. She is a 2018 Film Independent Fellow.
Diane Quon, Producer
DIANE QUON is the 2019 Oscar-nominated and Emmy-nominated producer of MINDING THE GAP directed by Bing Liu. She worked in Los Angeles for 17 years as a marketing executive for NBC and Paramount, ultimately leading a team responsible for a $55M budget. Diane currently produces documentaries with Kartemquin Films, including: LEFT-HANDED PIANIST co-directed by Gordon Quinn and Leslie Simmer and FINDING YINGYING directed by Jiayan "Jenny" Shi. She is also producing the feature length documentary, DOWN A DARK STAIRWELL directed by Ursula Liang and is also developing a fiction film based on a the New York Times best-seller. Diane is a 2017/2018 Film Independent Fellow, a 2019 IFP Cannes Producer Fellow and a 2019 Sundance Creative Producer Fellow. She is a mother of four and lives and works in her hometown of Chicago.
Cynthia Kane, Producer
CYNTHIA KANE created DOCday on Sundance Channel, shepherded over 150 international and U.S. co-productions for public media at ITVS, and at Al Jazeera America was Senior Producer in the Documentary Unit overseeing Kartemquin's series HARD EARNED winner of the 2016 Alfred I. DuPont-Columbia Award; Albert Maysles' final work, IN TRANSIT; Leon Gast's SPORTING DREAMS; Barbara Kopple's SHELTER, Jennifer Maytorena Taylor's DAISY AND MAX, Michelle Shephard and Patrick Reed's GUANTANAMO'S CHILD, Marc Levin's FREEWAY: CRACK IN THE SYSTEM among others. With gbgg productions and Les Film de l'Après Midi, Kane executive produced, NEW EYES, director: Hiwot Admasu Getaneh, (Venice, TIFF, Rotterdam.) Kane joined forces with former NYC Film Commissioner Cynthia Lopez as creative consultants for Zeva Oelbaum and Sabine Krayenbühl's LETTERS FROM BAGHDAD about the extraordinary life and times of Gertrude Bell.
Liz Kaar, Editor
LIZ KAAR is an independent filmmaker and editor based in Chicago. She has worked closely with Chicago's documentary powerhouse Kartemquin Films for the last decade, and most recently co-directed and edited HARD EARNED, the company's six-part series about people living on low wages across the US, airing on Al Jazeera America. The series won a prestigious Alfred I. Dupont-Columbia Journalism Award in 2016 and was nominated for an IDA award. She is currently directing, producing, shooting and editing STRANDED BY THE STATE, a web series and TV miniseries, about the human cost of the almost two-year Illinois budget impasse, the longest a state has gone without a budget since the Great Depression. In the past, she edited and associate-produced the music documentary ANDREW BIRD: FEVER YEAR, festival-favorite ON BEAUTY, and was lead editor for the web series VETERANS COMING HOME. She also edited Kartemquin's TYPEFACE and IN THE GAME. Kaar was Director of Post-Production at Kartemquin Films from 2008-2012 and has also produced and directed non-profit videos for such organizations as the CDC, Illinois Department of Public Health, and the Newberry Library. Fluent in Spanish, her next project will be completing her film THREADS about women engaged in a fair trade business together, connecting the mountainside communities of Guatemala to downtown Chicago.
Katie Doering, Moderator
KATIE DOERING is an indie producer working in both non-fiction film and series. She most recently served as a producer of Sundance Catalyst where she shepherded projects such as Morgan Neville's WON'T YOU BE MY NEIGHBOR?, Yance Ford's STRONG ISLAND, Ryan White's THE KEEPERS, Nia D'Costa's LITTLE WOODS, and Boots Riley's SORRY TO BOTHER YOU by preparing filmmakers to engage with investors committed to a vibrant independent film economy. Katie also led the Women at Sundance fellowship nurturing mid-career women filmmakers through bespoke, year-round support via career coaching, mentorship and industry introductions. Recent fellows include Ramona Diaz (MOTHERLAND), Janicza Bravo (LEMON), Elyse Steinberg (WEINER) and Eliza Hittman (BEACH RATS). Prior to her work at the Sundance Institute, Katie produced the documentary feature ANGRY SKY for ESPN's Emmy Award-winning 30 for 30 series, which premiered at the Tribeca Film Festival. She has also co-produced MEET THE HITLERS, which premiered on Showtime and THE WILD WONDERFUL WHITES, executive produced by Johnny Knoxville and distributed by Tribeca Films. She has served on nomination committees for the Sundance Creative Producing Lab Fellowship as well as both IDA and PGA awards and produced content for A&E, PBS, TLC, and Discovery channels among others. Prior to that, Katie began her career on MARTIN SCORSESE'S THE BLUES, before working at the PBS series P.O.V., television's longest-running showcase for independent nonfiction films.
Directions:
Driving & Parking: Validated parking available in the building after 5:31 pm (Enter from Hauser or Masselin). Check in at the security desk in the lobby to gain access to Film Independent's offices. You may have to show ID.