Description
This upcoming Health Summit and Gala in Orlando, November 3rd & 4th is for PATIENTS, PUBLIC AND THOSE WHO KNOW PERSONAL POWER HEALTH IS THE KEY TO THE FUTURE
We have several events taking place that are all part of one fabulous weekend but three different websites to access. We apologize for any confusion this may be causing.
Meet the Rockstars of longevity, detoxification, regeneration, Epi-Genetics, CBD products and all inclusive solution-oriented Integrative Medicine Summit called GET YOUR LIFE BACK NOW. This two day Summit will provide you with health tips and solutions for your chronic health issues. The illuminating two day event starts FRIDAY November 3rd at 8am at the Florida Hotel and Conference Center in Orlando.
FOLLOWED BY....
Nov 3rd @ 5:30-10pm DOCTORS WHO ROCK AWARDS Black Tie Gala. Come party with a purpose and the movers, shakers & rockstars of health wellness.
Doctors Who Rock Awards is a Black Tie Gala celebrating the Medical Doctors and Health Practitioners that are pioneering paradigm shifting solutions in the fields of longevity, regeneration, and chronic health issues such as Autism, Heavy Metal Toxicity, Lyme's Disease, Cancer Diagnosis, Heart Health and Neurological issues.
We will be celebrating these THOUGHT LEADERS, GAME CHANGERS, WORLD CHANGERS, TRAILBLAZERS and PIONEERS OF TRUTH who are TRANSFORMING HEALING WORLDWIDE.
As a special tribute, we will honoring the legacy of Burton Goldberg, the Founder of Alternative Medicine Magazine and Future Medicine Publishing with a LEGACY of LEADERS Award and Scholarship. Heroes Awardees include: Dr. Olympio Pinto, Dr. Christopher Shade, Dr. Andrew Wakefied (director of "Vaxxed"), Dr. Lee Cowden, Dr. Rashid Buttar and Del Bigtree (producer of "Vaxxed'). Performance by legendary drummer Mark Schulman (drummer - Cher, Pink) and Michael Tyrrell, Inspirational Performing Artist and Creator of Wholetones, the transformational high frequency experience.

Awardee's from left to right: Dr. Burton Goldberg, Dr. Nicholas Gonzalez, Dr. Hal Huggins

Awardees from left to right: Dr. Joe Mercola,, Dr. Lee Cowden, Dr. Andy Wakefield, Polly Tommey, Dr. Jonathan Wright, Dr. Garry Gordon, Ty Bollinger, Charlene Bollinger, Dr. Rashid Buttar, Dr. Norm Shealy, Dr. Gary Sconyers, Erin Elizabeth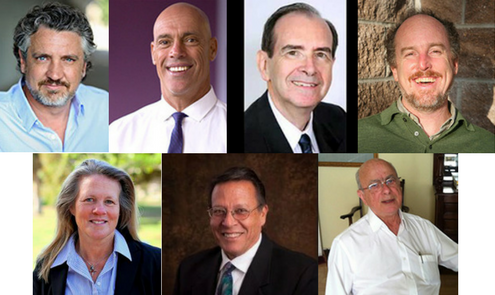 Awardees from left to right: Del Bigtree, Dr. Billy DeMoss, Dr. Jerry Tennant, Dr. Chris Shade, Dr. Judy Mikovits, Bill Gonseaux, Dr. Olympio Pinto (Not pictured) Ann Sconyers, John Hunksraker.
The Doctors Who Rock Awards Celebration kicks off Friday night November 3rd at 5:30pm with a Red Carpet VIP Reception and meet and greet with all the Awardees joined by Mark Schulman, the Drummer for Pink, and Super Model and Health Advocate, Elle Macpherson.
The night will continue with a High Vibrational Dinner that includes ingredients from Dr. Stephen Sinatra's healthy gourmet food company, Vervana and then celebrating The Game Changers, The Paradigm Shifters and the Legacy of Leaders and Heroes Awardees like Dr. Olympio Pinto, Dr. Christopher Shade, Dr. Andrew Wakefield, Dr. Lee Cowden, Dr. Judy Mikovits, Dr. Rashid Buttar, Del Bigtree and Polly Tommey to name a few and wrapping up the evening with a transformation surprise from the high Frequency musician, and Wholetones Creator, Michael Tyrrell.
The Legacy Scholarship Initiative for Medical Students is being created to support the future of whole body integrative medicine.
Please join us at The Florida Hotel and Conference Center for a weekend of fun and learning about personal power health solutions while rubbing elbows with the greats.
ALTERNATIVE HOTEL SUGGESTIONS ON www.doctorswhorock.com
Come party with a purpose. Meet and mingle with the best in integrative medicine.