About this Event
They hate school. They hate work. They've got social anxiety and depression.
But they really fuck with music.
Joe Culpepper, drums, Jonathan Joubert, vocals, keys and bass, Jacob Lewis, bass and guitar, and Mike Taylor, guitar, are the musicians behind DOCTORS, a band that's here to challenge your preconceived notions of what pop music can be.
Staying true to themselves in their lyrics while still remaining accessible through their sound, DOCTORS takes the template of pop music and makes music that's relatable and truly authentic. In their top track, Slip, Taylor's dreamy lyrics and Joubert's syrupy voice take the edge off of Culpepper's wild drum playing and Lewis' extensive guitar riffs. Inspired by the brazenness of proto-punk to the sweet, synthesized sounds of EDM, the band is here to shatter the stereotype that pop has to be happy, feel good music. DOCTORS, see 'pop' as just a format, a starting point that they can build off of and improve by channeling their inner struggles into that template, reimagining the genre with complete sincerity.
DOCTORS doesn't have a crazy origin story, but the band seem to have the universe on its side. Having all met one way or another in high school, Culpepper, Joubert, Lewis and Taylor fell out of touch. For Joubert and Culpepper, the trauma following their teenage screamo band proved to be too much, and they fell out making music together for a while. Rumor has it a video of that trying time still exists, but it's hard for the guys to stomach. "I can only bare to watch thirty seconds of it at a time," said Joe, who's still shaking off the PTSD. As for Culpepper and Lewis, they knew each other from middle school drumline, at the same school as Mike. Come graduation time, they all went their separate ways.
It wasn't until the summer of 2017 that they would be reunited through pure coincidence. Joubert and Lewis ended up tossing pizzas at the same Italian restaurant chain. Missing their teenage jam sessions, the two hit up Culpepper. The guys still hadn't seen Taylor since high school, but a freak occurrence would change that. Driving around, Taylor would just happen to roll past two drivers exchanging information over a busted headlight, only to see Lewis standing beside the damaged Chrysler. Rolling past, he acknowledged his old friend with a head nod and peace sign. Two weeks later Mike showed up at one of the aforementioned jam sessions, and through pure chance DOCTORS was born.
Back together, it didn't take long for DOCTORS to find their sound, releasing their first EP, And I Slip Away, less than a year later in September of 2018. The group likes to joke that they're now inseparable, and that a blood pact or branding might have been involved. Though neither of those is true, probably, DOCTORS is here to bless the indie rock world with their addictive tracks.
Culpepper has aspirations of one day becoming a fulltime cowboy and Taylor can't wait until the day when he's at that age where he's just too old to let anything bother him. In the meantime, as Culpepper works on buying some land and a few dozen cattle and Taylor waits for his future retirement, DOCTORS will be making music.
In Joubert's words, it'll be "forever and always 'til one of us dies."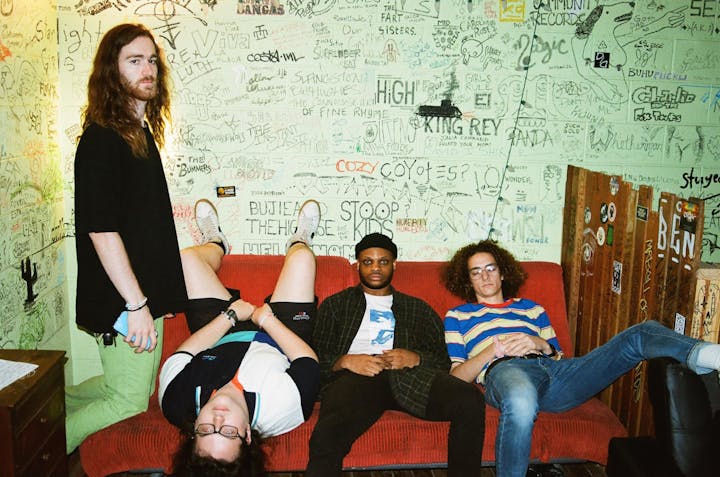 Performers
Date and Time
Location
Refund Policy