About this Event
Experience the refreshing and bitter taste of 100% chemically pure, liquid emotion- new from Foster Labs.
The Burning Peppermints Present their latest "total immersion" concert experience: Doctor Foster's Incredible, Edible Psychedelic Mystery Experiment.
Located conveniently at the bottom of the rabbit hole, beyond the doors of perception and on the other side of the fourth wall, Foster Labs has been a leader in the Micropsychedelic industry since 1941. Join us for the night as we explore the deepest recesses of the human psyche with our Founder, CEO and Lead Chemist, Dr. Franz Foster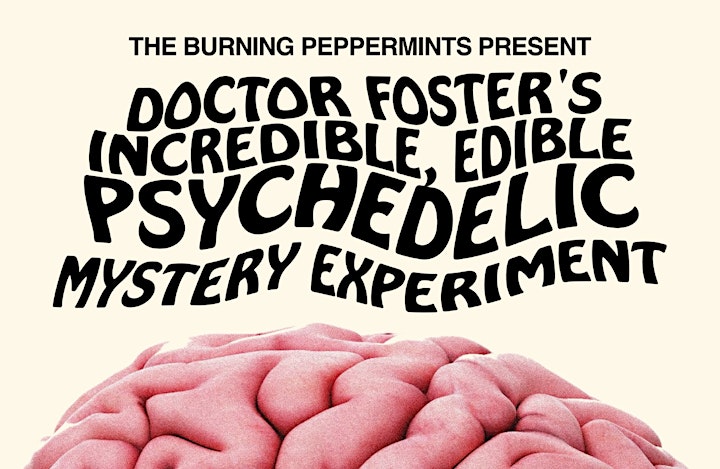 The Burning Peppermints
While their name evokes candy-colored images of rock revivalists like The White Stripes, The Burning Peppermints' sound is hard to pin to any single influence. Rock champions like Jack White and Led Zeppelin clearly served as early influences, but the Peppermints have fused a visceral combination of dingy garage rock and West Coast surf, all delivered via an infamously aggressive live performance.
Jake Wittig's workhorse guitars are laden with fuzz, and alternate between groove-heavy riffs and devastating chords in tandem with rhythm agent Ahmad Farzad. Wittig's tonal dynamics recall the monstrous crunch of Thee Oh Sees' John Dwyer, while vocals suggest the manic charisma of Ty Segall.
Farzad administers bass and baritone via guitar, allowing him a sweeping range of unfathomable low registers and sharp, cutting notes. Daniel Powers' keys provide a fluid layer of retro character and synth effects, from moody drones to siren calls. Ryan Colebeck holds the entire volatile ensemble together with airtight percussion.
The Burning Peppermints formed in 2012, after Wittig began jamming on garage rock tunes with an abandoned drum kit. Lineups changed and styles evolved over time, and the Peppermints gigged relentlessly throughout the erupting music scene in Birmingham, Alabama. The band quickly earned an enthusiastic following, playing in alleyways, breweries, and lately working their way into genre-defying music festivals.
The group has shared the stage with touring acts like The Dirty Lungs, Diarrhea Planet, and St. Paul & the Broken Bones, and have developed a reputation for their genuine intensity. The Burning Peppermints put on a viciously engaging show, and audiences can't help but move to the driving sounds generated by the frenzied band.
"If a band is just going to play their music for an audience and not perform the hell out of it and try to connect with them, then you might as well just plug someone's iPod into the venue's PA and everyone can just sit and listen to it together," says Wittig.
While composure is ripped away on stage, the musicianship never fails- It takes over. Many artists explain that their instruments are an extension of themselves, but The Burning Peppermints are clearly the mortal conduits of a wild and instinctive sonic force.
Their powerhouse sound was captured on their first album, the live-recorded Dirty Rainbow, and will be expounded upon in the upcoming Witch Mountain.
Performers
Date and Time
Location
Refund Policy