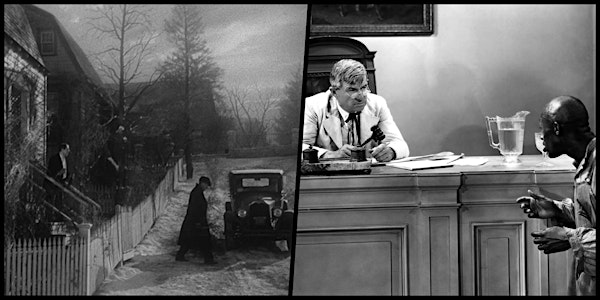 DOCTOR BULL & JUDGE PRIEST @ The Secret Movie Club Theater
DOCTOR BULL & JUDGE PRIEST @ The Secret Movie Club Theater
When and where
Location
The Secret Movie Club Theater 1917 BAY ST 2ND FL LOS ANGELES, CA 90021
Refund Policy
Refunds up to 1 day before event
About this event
SECRET MOVIE CLUB presents
Part of our JOHN FORD FUNDAMENTALS Series, Saturday, December 17, 2022
LOCATION: The Secret Movie Club Theater, 1917 Bay Street, 2nd Floor, Los Angeles, CA 90021
*Please note entrance/parking is actually in the back of the building. Make a right on Wilson Street, then a right behind the building. We're the first set of black steps after the big gate.
12pm DOCTOR BULL (1933, dir. John Ford, Fox, USA, 77mns, DCP)
2pm JUDGE PRIEST (1934, dir. John Ford, Fox, USA, 80mns, DCP)
Today we're proud to screen a double feature of John Ford's collaboration with one of America's greatest humorists, Will Rogers.
The Will Rogers-John Ford collaborations were crucial in Ford's continued maturation as a brilliant filmmaker. Rogers showed Ford how one could be both incisive and folksy, artistic and seemingly artless. In some ways, Will Rogers was the John Ford of comedy. John Ford the Will Rogers of cinema.
Plus, these movies are two of John Ford's greatest from the 1930's and two personal favorites of this Programmer.
First up is Doctor Bull. Here Will Rogers plays. . .you guessed it Dr. Bull who fights his small town's typhoid outbreak and its hypocrisies and prejudices. At the same time he woos a local widow further enraging the town gossips. Will Rogers and John Ford were made for each other in that they both loved the United States but also clearly saw its flaws and shortcomings. The Will Rogers character is always a kind of Abraham Lincoln of the silver screen: he often acts bemused and befuddled and folksy (and he is those things) but he actually is cleverly getting things done with a razor sharp intelligence he obscures. The movie features beautiful moments of Fordian lyricism and some of the most natural humor of Ford's career.
Next is Judge Priest, a very funny and interesting (and problematic) variation on Doctor Bull. Bull had been one of Fox's biggest hits of 1933 so they rushed a follow-up into production which turned out to be every inch as good as the first movie. Here Rogers plays Judge Billy Priest, a confederate war veteran, who nevertheless believes in tolerance, counts Jeff Poindexter, a black man, as his closest confidante, and uses his sly wit and hidden cleverness to aid his family and town. This movie is also notable for giving Hattie McDaniel one of her first prominent roles. Though the movie's representations of African-Americans is, by today's standards, CERTAINLY dated at best and outright racist at worst, when looked at in the context of its time (the early 1930's when Jim Crow and segregation were still accepted as normal by most white Americans), it is wildly progressive. Rogers and Ford always smuggled in progressive messages in a sly middle of the road kind of way and you see that here. Ford so loved Judge Priest he remade it in the early 1950's as The Sun Shines Bright.
So come enjoy two amazing collaborations by two of America's greatest artists-folksy or otherwise-of the 20th century.
Best always,
Craig Hammill
Secret Movie Club Founder.Programmer
FREQUENTLY ASKED QUESTIONS
REFUNDS:
We can offer refunds up to 24 hours before showtime. Please request a refund through Eventbrite and we will process ASAP. After that, no refunds. Sorry.
However if something last minute comes up and you can't make the screening, for whatever reason, just write to us before showtime: community@secretmovieclub.com and we'll offer you complimentary tickets to a future screening, good for 90 days. (Disclaimer: Future screening must have available tickets, cannot be a fundraiser, and must be comparably priced)
HELPFUL SECRET MOVIE CLUB (1917 Bay Street, 2nd Floor, LA, CA 90021) THEATER PARKING TIPS:
We recommend that you park just outside our theater. Remember our theater is actually in a beautiful street art alleyway in the back of the 1917 Bay Street building. You get to our entrance by taking a right on Wilson, then a right behind the building. We are the first set of black steps on the right after the big gate.
There is also a parking lot at the corner of Mateo and Violet Street, just 2 blocks from our theater, which costs $7 per car.
HOW CAN WE STAY ON TOP OF NEWLY ANNOUNCED 35MM SCREENINGS, EVENTS, ETC?
You can follow us on Instagram/Twitter: @secretmovieclub or Facebook: @secretmovieclub35mm
You can also subscribe to our weekly email newsletter at secretmovieclub.com or by writing to us at community@secretmovieclub.com and using the header "SUBSCRIBE ME TO NEWSLETTER".
HOW CAN I CONTACT YOU IF I HAVE OTHER QUESTIONS/RECOMMENDATIONS:
You can always email us at community@secretmovieclub.com with any other questions, concerns, thoughts, recommendations.