Dock Street + Vegan Commissary Dinner In The Brewery
Description
Dock Street Brewery and Vegan Commissary are teaming up for a summer treat this June.
Join us, our brewers, and the chefs from Vegan Commissary for a four course dinner back in our brewery with beer + Vicio mezcal pairings.
Sunday, June 26th
Four courses (including dessert) + Beer/Mezcal pairings
$65 includes tax + gratuity
Two seatings, at 6pm & 8pm
UPDATE 6/23/16
Vegan Commissary just released the menu for Sunday!

Rye Pretzels
cheddar, pickles
Beer Pairing: Rye IPA

1st | Tomatoes
heirloom tomato carpaccio | watercress
fried green tomato | avocado mousse
fermented tomato | balsamic, basil oil
Beer Pairing: Golden Saison

2nd | Corn Croquettes
Red pepper, saffron, buttered radish, charred corn, english peas
Beer Pairing: Summer in Berlin

3rd | Truffle Gnocchi
wild mushrooms, cauliflower cream
Beer Pairing: Dunkel Lager

4th | Chilled Sour Cherry Soup
pound cake crouton, creme fresh, stone fruit
Cocktail Pairing: Vicio Mezcal Eclipse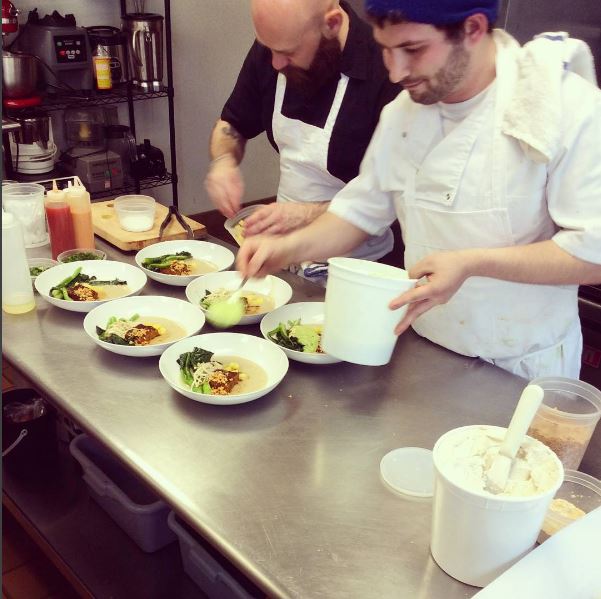 We've only done dining in the brewery once before in our eight-plus years in the brewery, and this dinner in particular will be a super sensory experience. Our brewery's kettles, tanks, and barrels will be the perfect backdrop to enjoy the fare, which will be prepped on-site (and a couple will be prepped before your eyes) and will be perfectly paired with our brews. Dock Street brewers Vince, Mark and Sasha will be seated with guests for both sittings to chat about the beer and the process, and to answer questions.