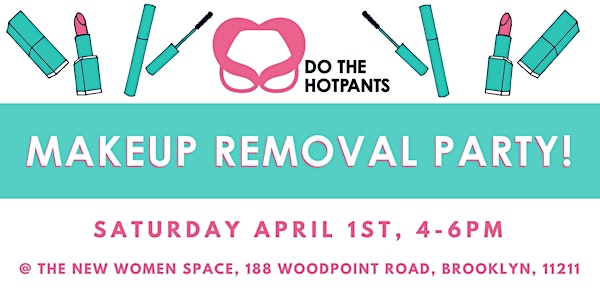 Do The Hotpants Makeup Removal Party!
When and where
Location
New Women Space 188 Woodpoint Road Brooklyn, NY 11211
Refund Policy
Contact the organizer to request a refund.
Description
Join us Saturday, April 1st!
For years, American women have had an interesting relationship with makeup...
While the current trend of using makeup as a beautiful form of art and self-expression can be incredibly empowering, women have had a long history of using makeup to conceal, fit in, cover up, and adhere to society's impossible and ever-changing beauty standards.
This event is not to shame anyone for wearing makeup, as it can be an important tool for self-empowerment. Instead, we are going to take a closer look at some of the reasons women wear makeup, the pressures society places on us to be beautiful, and how beauty brands use deceptive marketing that prey on our insecurities to make their profits.
You'll be in a room full of awesome women, in a safe and non-judgemental space in Brooklyn.
So let's wipe away our insecurities together!
See you Saturday, April 1st!
---
Makeup Removal Party Details!
This event is open to all ages

Arrive in whatever level of makeup you feel comfortable in

We'll kickoff with an awesome speaker led discussion on society's beauty standards

Then together we will remove our makeup while working through any insecurities that come up

There will even be cake and a raffle

And at the very end you'll have time to redo your makeup if you choose to
---
Do you offer Financial Aid?
Yes!
For those in need of financial assistance, Do The Hotpants offers a Financial Hardships Program. Please contact us at Finance@DoTheHotpants.com for more information.
---


What is Do The Hotpants?
Founded in 2012, Do The Hotpants is Dana Suchow's body positive and women's empowerment agency!
Since overcoming bulimia and compulsive exercising that resulted in permanent injuries, Dana has become a champion for women's rights, eating disorder issues, and body positivity. Dana started Do The Hotpants as a fashion blog, but once she realized that fashion's unattainable beauty standard was fueling her eating disorder, she switched gears.
In 2014 Dana gave up her dream of becoming a famous fashion blogger, and has now made it her mission to use her own life experiences to educate, empower, and uplift anyone struggling with bad body image. Dana now curates and hosts women's networking and empowerment events that support all self-identifying women and focus on the importance of female safe spaces.
Contact us at Events@DoTheHotpants.com if any questions.