DO IT! Career Workshop - Demystifying The Federal Job Application Process &...
Description
Do you have an interest in applying for a federal positon but find the process to be intimidating? Have you applied to a federal position and feel like your packet fell into a black hole? If so, this workshop is for you!
This hands-on work will:
PART I - Demystifying the Federal Application Process
demystify and explain the federal hiring process.

provide an understanding of the definitions of each section listed on a USAJOBS vacancy announcement.

explain how to determine if you meet the required job criteria before applying.

Teach techniques to explain how to customize your resume to align with the duties listed in a vacancy announcement.

provide an understanding of the terminology used for qualifications, such as specialized experience, time-in-grade, selective factor, etc.

provide insight on how human resources review your resume against the criteria of a job announcement.


provide insight on how you write your resume so that it stands out against your competitors and catches the eye of selecting officials.

explain how to interpret response letters from human resources regarding your status

Provide an understanding of the occupational questionnaire and how the selected responses impact your ranking.

how to track and follow up on your application through completion of the process.

include a question-and-answer session.
PART II - Special Hiring Authorities
learn about special hiring authorities for recent graduates

learn about special hiring authorities that qualify as disabilities and illness. You will be suprised at conditions that fall under this category that makes one eligible for a noncompetitive appointment. Asthma, anemia (low blood count), , sickle cell anemia, diabetes, kidney issue which requires dialysis, facial birthmarks, dyslexia, ADD/ADHD, and others.
Class size is limited to 20 participants.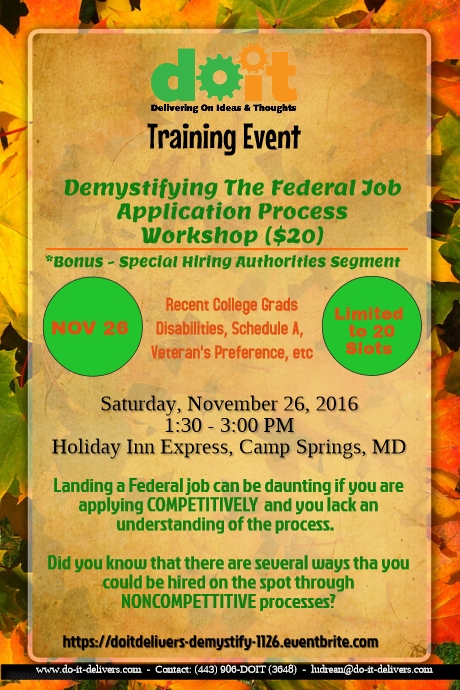 Other Career Workshops Offered:
Saturday, 11/26/16, 11:00 AM - 12:30 PM
College Student & Recent Graduates Internship/Job Preparation Series-$20 Student Initial Fee
Limited to 16 Students (10 Current College Students/6 Recent Graduates)
*Sponsorship/Donations Opportunities Available