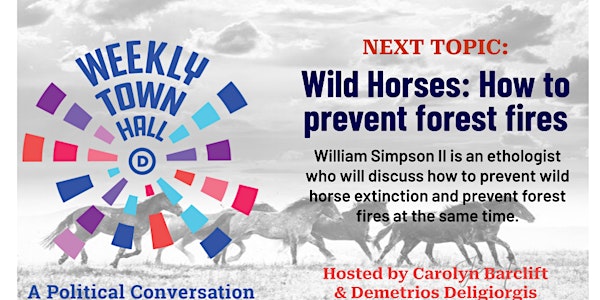 Multiple dates
DNC Weekly Town Hall Podcast
Weekly Town Hall Podcast is hosted in partnership w/ Democratic National Committee discussing pressing issues with distinguished guests.
By Democratic National Committee
Date and time
December 9, 2022 · 12pm - December 15 · 3pm PST
About this event
HERE IS YOUR CHANCE TO BE ON A LIVE ZOOM PODCAST DISCUSSING PRESSING ISSUES OF THE DAY WITH DISTINGUISHED NATIONAL GUESTS
Friday December 9, 2022:
William Simpson II is an ethologist who advocates for solving two environmental problems with one solution: relocate the endangered US wild horse population into fire-prone national forest lands, and save them both.
Horses are herbivores, and eat what is the overgrown undergrowth that fuels super-hot and super-catastrophic wildfires we see in today's forest lands.
Mr. Simpson was recently featured on NPR, and has been advocating for eco-based common sense solutions to our crisis-driven environmental problems. He is the author of two published books and more than 100 published articles on subjects related to wild horses, wildlife, wildfire, and public land (forest) management.
LINK TO NPR STORY ON THIS TOPIC: https://www.npr.org/2022/10/23/1130782366/meet-the-man-who-says-wild-horses-could-help-prevent-the-next-wildfire
Weekly Town Hall is a political discussion with guests who are experts and have personal experiences to shine light on issues which concern us. Our podcast serves as a beacon, and community space, curating content that informs and inspires any listener.
Here's your chance to participate in the live taping of our podcast. Our hosts will lead Q&A to establish a basis for discussion, yielding to open questions and conversation with the audience.
Your hosts are Carolyn Barclift and Demetrios Deligiorgis.
https://www.mobilize.us/mobilize/event/542858/?referring_vol=5176532&rname=Demetrios&share_context=event_details&share_medium=copy_link
(The views, thoughts, and opinions expressed are the speaker's own and do not represent those of the Weekly Town Hall (WTH) Podcast (pending LLC), the Democratic National Committee, County Democrat Reader, the Democratic Party, or any other political organization, elected official, candidate, nonconnected, or regular PAC.)