Description
DNA Successes In-And in Spite of—Endogamy
A Jewish Genealogical Society of Greater Orlando Program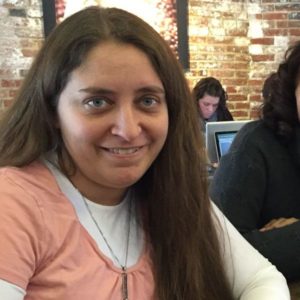 Join the Jewish Genealogical Society of Greater Orlando (JGSGO) to hear a highly-experienced Jewish genealogist discuss her experiences studying her own family history as an example of the complications and complexities of using DNA in an endogamous population. Lara Diamond will speak at the Holocaust Memorial Resource and Education Center in Maitland, on Sunday, March 17, 2019 at 12 P.M
Lara Diamond has been researching her family for over 25 years, since she was too young to have a driver's license and had to rely on her mother as a chauffeur. She has traced all branches of her family back to Europe and most multiple generations back in Europe using Russian Empire era and Austria-Hungarian Empire records. Most of her research is in modern-day Ukraine, with a smattering of Belarus and Poland. She is president of the Jewish Genealogy Society of Maryland, leads JewishGen's Subcarpathian SIG, is on Ukraine SIG's board of directors, and runs several town-focused projects to collect documentation to assist all those researching ancestors from common towns. She regularly lectures on Jewish genealogy, Eastern European research, and genetic genealogy. You can and find her blog at http://larasgenealogy.blogspot.com and follow her on Twitter (@larasgenealogy).
Lara has used many resources and tools in her family research and to help others in their research, including DNA. Her blog includes her extensive experiences using DNA to find and confirm relatives, and she has presented on this topic at recent IAJGS conferences in Orlando, Florida, and Warsaw, Poland. Her talk will illustrate the challenges and rewards of using DNA when you are a member of an endogamous group.
An article on this subject originally appeared on The In-Depth Genealogist , Wednesday, March 29, 2017, at https://larasgenealogy.blogspot.com/2017/03/endogamy-in-practice-updated.html .
Light refreshments will be served. Time will be reserved for meeting new members, mentoring, and carrying out your own research. Bring your laptop to work on your own or with a mentor.
(PLEASE NOTE: this specific program is scheduled for a different time, date and location than regular JGSGO programs).
REGISTRATION: Required for either in-person or online participation at http://jgsgo.org/programs-jgsgo
DATE: Sunday, March 17, 2019
TIME: 12:00 P.M. – 2:00 P.M.
ADMISSION: No charge for this specific program.
LOCATION: Holocaust Memorial Resource and Education Center, 851 N. Maitland Ave., Maitland, FL 32751
The JGSGO is a non-profit organization founded in 1990, dedicated to sharing genealogical information, techniques and research tools with anyone interested in Jewish genealogy. For more information visit www.jgsgo.org and "like" us at www.facebook.com/jgsgreaterorlando.
Questions? Email info@jgsgo.org, or call 407-494-4230