DMZ PEACE TRAIN MUSIC FESTIVAL 2020
About this event
Peace Train Music Festival sings out the message of peace in the center of the only lasting divided nation in the World, Korea, in its demilitarized zone (DMZ) in Cheorwon, Gangwon Province. Over the course of five days, Peace Train's priority is to deliver how music helps us overcome differences in political views, economic disparity and ideological conflicts, to collectively reach an ultimate state of freedom and peace. Peace Train aims to uncover important values in life that are often overlooked and forgotten through the power of culture, hoping that values such as freedom, peace, human rights, and generosity continue to hold significance for the generations to come.
PEACEFUL BODY, DANCEFUL MIND!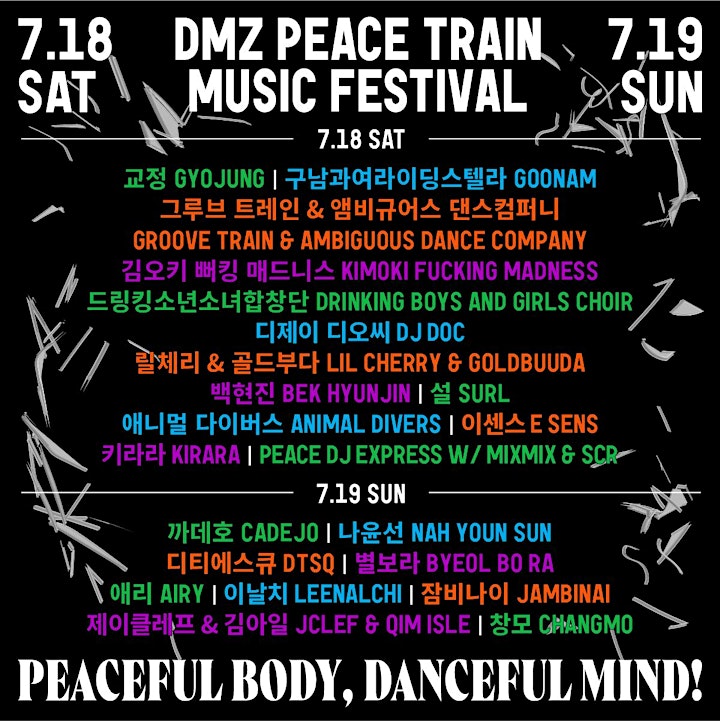 ▶RESERVATION INFORMATION
• A one-day pass is reserved for a specific date. You may only attend on the day for which you make a reservation. Please be sure to check the reserved date.
• If you would like to attend on both days, please make a reservation for 1-day pass on each day. (We do not sell 2-day pass)
• Tickets can't be purchased on-site.
• When making a reservation, please use the name listed on your passport or ARC (alien registration card). You may be denied entry at check-in if the name on the ticket does not match.
• Individuals may buy a maximum of one ticket for 1-day pass.
• Those under 13 years old (born after 2008) can enter with a guardian without tickets. *please be sure to bring passport or ID Card to identify their age.
• Barcode Ticket will be sent by e-mail after July 13th, which you can exchange to wristbands at the festival site for entrance. *please keep in mind that we will send you email additionally apart from the confirmation email from Eventbrite.
▶REFUND
• Ticket cancellation will be available up to a week before the festival.
• You can't change or get a refund on the day of the festival.
▶ON-SITE & ENTRANCE INFORMATION
• On-site, as part of precautionary measures against COVID-19, audiences must get their temperature checked at the entrance and fill out the Health Questionnaire. You may receive the wristband by self-check in after entry procedure.
• Please be sure to bring your mobile ticket with you.
• The reservation name and number will be checked at the on-site ticket booth. Please be sure to bring your passport or ARC (alien registration card).
• Anyone showing respiratory symptoms or a temperature higher than 37.5 degrees Celsius will not be allowed to enter the festival site.
• Please note that wristbands must be worn at all times.
• Wristbands will not be re-issued for any reason. (Lost, Damage, etc)
▶ DEPOSIT & GIFT CARD INFORMATION
- The ticket reservation has a special deposit system. When arriving at the festival, you will receive a gift card, 10,000 won per person, usable anywhere within the festival grounds and in Cheorwon-area convenience stores, accommodations, etc.
For more information, please see the website: dmzpeacetrain.com